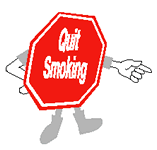 The first time I puffed a cigarette was when I was 18 years old in utter defiance of an ex-boyfriend who refused to leave me alone. Thinking he'd get turned off with my smoking, I blew smoke into his face. Unfortunately, that didn't work. He continued to pursue me relentlessly until I met my husband. (having another boyfriend didn't stop him but that's another story) The sad thing was I got hooked into cigarettes till my mid-thirties. Until one day….an 8 year old Lauren wrapped her arms around me and begged me "Mom, smoking is bad. I learned in Science class that you could die of lung cancer. I don't want you to die. I love you mom"
The heart rending plea tugged at my heart. Of course I didn't want to die. How could I leave my children alone? I looked into Lauren's imploring eyes "Yes, dear. I will stop smoking". I kissed her cheeks. I couldn't stop smoking right away but the thought did occur that I should give this vice up. And I did . It wasn't hard. In fact, I felt triumphant that I conquered the smoking habit.
Little did I know that 8 years later, a reversal of roles would occur.
A text message arrived on my cellphone "Don't blog about you and me smoking". Obviously the text message wasn't meant for me. I was totally appalled. How could she be smoking!! Livid with anger, I rang her cellphone and rattled of a litany of lectures on the evils of smoking. "STOP SMOKING OR ELSE….blah blah yadda blah" I threatened. My anger only made matters worse, I think. I was in a state of denial that she could easily stop her smoking. I often smelled cigarettes at home but she quickly denied it was her. I believed her until I caught her smoking again.
Sending her to the USA for a two month vacation in 2005 seemed like a good idea for her to stop smoking. I told my sister to strictly follow the "No smoking" rule in her household. Maybe she quit smoking during her two month stay but she returned to smoking once again. I became worried that her asthma would recurr once again. I recalled our fateful conversation when she appealed to me. Maybe I could use the same technique she did on me.
Last year, I sat down with her and said "Isn't it funny that it's my turn to beg you and stop this smoking habit?" I implored upon her to stop while her asthma was still dormant. I hugged her and told her repeatedly that I loved her and didn't want her to get sick. She could only promise that she will stop soon but didn't know when. Having been there, I know the thought of quitting is a seed that needs to be planted in the mind. I will be patient.
Then a few days ago, I read her Goodbye Cigarettes entry. I was so happy for her. She warned me "I am grouchy when I don't have my nicotine fix". But I added "You'll feel triumphant that you conquered the habit and that makes up for the grouchy feelings"
I pray Lauren continues to stop smoking. She texted her dad yesterday and proudly announced that it's been 6 days since she stopped smoking. My husband can only give her moral support.
I learned a lot from my experience with Lauren. Our children need to be taught how to help themselves. They need our love and guidance. They need consistent enforcement of boundaries, once we've established limits. They need a supportive nurturing environment in which to grow. They need to help learning values. But as parents, we are not responsible for controlling our children. I grew up with very controlling parents so I didn't know any better.
Controlling doesn't work. Discipline and nurturing do if combined. I let my children have their own process of living and hold them accountable at an age-appropriate level.