The Groovies, my high school classmates (circa St Theresa's College Cebu 1974) once again got into the groove of bonding moments. There were reasons to celebrate. Our class salutatorian, Deirdra came home from New Jersey for a visit. Birthday celebrants needed to make a wish and the groovies from Manila missed Cebu. You know, I look forward to these small reunions. Groovies remind me that we are still cool and awesome despite the passage of time. I draw inspiration from classmates that still manage to look good.
Marget Fernan-Villarica not only hosted the party but our stay as well in her lovely, comfy home. Our current president, Nerissa Soon-Ruiz gave this brilliant idea of auctioning off our give-aways to raise funds for our batch project. What fun!
Tess, the preceding batch president told me to write an article for our Coral reunion last year. It is only this year that I got to read the printed version of the STC Annual 2009.
Here it is:
Is there life after high school? To be honest, I was relieved when my high school graduation ceremony ended. In high school, I was a painfully shy, mediocre student with average grades (as in 81 to 85). I often felt intimidated by the smart and outspoken girls. You know how it is in high school – there are the popular girls and the invisible girls. I was one of the invisible girls but I was lucky enough to have a few friends who made me feel like I belonged to a group.
So do people ever recover from that intense high school social experience? Some don't. They spend the rest of their lives trying to justify what they were, or were not, in high school. This is why high school reunions are so emotional, especially the first one. I declined to attend the 25th High School class of 1974 reunion because I was not ready to face that dreaded high school experience once again. Coupled with five deaths of family members in Cebu, I felt Cebu was just bad news for me and going home was not an option at that point.

Then the 35th Coral Reunion was announced. When I heard the news, I shrugged with indifference. Then I gave it more thought. What is there to gain by not attending? My life in Manila would go on as usual, but here was an opportunity to reunite with old friends and classmates, listen to their life stories, and gain a little bit of closure.
I decided to go. As I flew in from Manila to join the reunion, I realized that it was not high school itself that made my teenage years such a sad experience for me. It was just me, my attitude. In high school, I never realized what I was capable of; it was only at the University of the Philippines in Diliman that I realized my potentials. However, my STC education made college such a breeze even though I was not the best student. I knew I just had to re-visit the high school that provided me the foundation to excel in my college course and my current career in online media.
Upon arriving at the Plantation Bay on July 23, I found myself surrounded by a whirlwind of hurried greetings, endless beso-beso, the non-stop posing for all the cameras, and the loud, raucous laughter of classmates. At that moment, I felt glad to be there and embraced this momentous affair. The noise decibel was beyond what I expected. I let my hair down that night as I danced to the tune of Dancing Queen, sashayed to the macarena, and joined in all the wackiness and antics of the night.
The costume changes from bikini t-shirts, maxi dress, and an all white outfit in one day reminded me of the mini plays we used to do in the classrooms. For one brief moment, we were once again giggling
teens as we posed for the cameras flashing here and there.
Nostalgia Night the following day at the Casino Espanol gave me the opportunity to check out the memorabilia, albums, photos that we kept since our preparatory years. The best part was meeting a few of our teachers like Mrs. Jane Young Llaban, Mrs. Montano and Ms. Abellana. These teachers shaped my basics in math, English and science in preparation for college.
The Manila group sponsored the lunch buffet at Majestic Restaurant before proceeding to the STC campus for the Jubilee celebration.
Seeing the STC campus for the first time after so many decades was just overwhelming. I have been an STC student since prep, and every single spot had a special memory. The chapel, in particular, was my favorite place. Ever since I could remember, I always felt awed, humbled, and reverent, as I stared at its majestic architecture and elaborate altar. When I re-entered the chapel for the Eucharistic Celebration, I discovered that the feeling has not diminished after many years of being away from Cebu.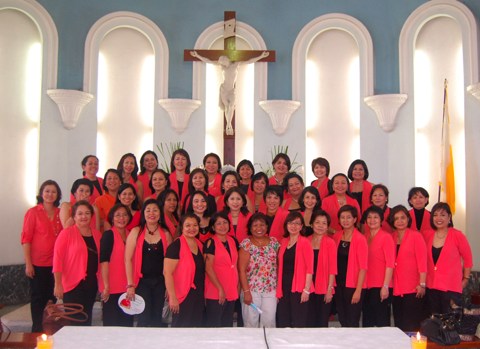 When the mass was over, we headed to the STC auditorium for the formal Jubilee celebration. My only regret was that I did not have time to rehearse with my classmates for the Macarena dance number, because it looked like so much fun. I contented myself with watching the dancers in their fruit headdresses and colorful ruffled costumes.
Kudos to all my classmates for coming up with the Coral Reunion exciting activities. These are just some of the wacky and creative ideas that we enjoyed. Allow me to borrow some of the words of Tess Albulario, our energetic class President, as she described the people behind the success of the reunion.
1. To our congresswoman classmate, Neri Soon-Ruiz for the for the first night accommodation and dinner, the yummy bibingka, suman, and masi, and the crazy beauty pageant complete with a ""surprise number".
2. To Rosemarie Lim for sponsoring the Shabu-Way lunch owned by Ana Lee Roa and family.
3. Ada Trinidad-Martinez, our dear classy fashionista with such pizzazz and like magic (at such short notice) presented us the tote bag to GLOAT
4. Ma. Paz Olaez-Sepulveda , the knighted Chief of Staff, with the cute betty boop lips, magically made it possible to let us live out our one biggest fantasy even just for a few hours with our femme fatale body in bikini t-shirts;
5. Ma. Rowena Marquez-Lizares for the ""WE HAVE ARRIVED" look and body flattering draped cardigan with the free classy brooch to match, and a 185 song compilation of 70's music in a CD.
6. Tess Albulario, our Class President then Ada and Marget Fernan-Villarica for the Ways and Means Committee. They were very busy running here and there.
7. Dorothy Fuentes-Bagnall for the the composition of the reunion theme song,""Song of Friendship". Our batch is so blessed that she also composed ""Saying Goodbye" song for our 1974 High School graduation . Her brother (Ray An Fuentes) liked it so much and converted it to a jazz version which became a hit in the mid-seventies.
My high school experience was neither an accident nor a mistake. I have been where I needed to be, with the necessary people. I embrace my history, its pain, its imperfections, its mistakes and even its tragedies.
I changed because I made it happen. What I think about and THANK about is what I bring about. I'm so happy and grateful now that I have made peace with my past. This epiphany reminded me of our gorgeous class president's simple secret: ""Whatever is going on in your mind is what you attract." The Book ""The Secret" often asks: ""Are your thoughts worthy of you? If not – NOW is the time to change them. You can begin right where you are right now. Nothing matters but this moment and what you are focusing your attention on."
Happy feelings towards the Coral Reunion indeed attracted a happy experience.
Thank you to my dear classmates for making each lunch or dinner celebration possible. My heart is full of treasured memories to look back and future reunions to look forward to.