In memory of Jose Luis (Luijoe) Dado, on his 7th Angel Date
May 27, 2000- May 27, 2007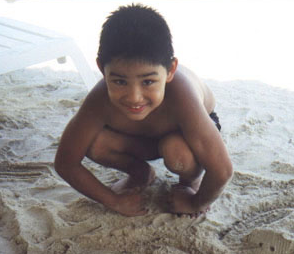 My son , an hour before he went to heaven
Dear son,
It's been seven long years since I last cradled you in my arms.
For many years I struggled searching for answers to the question…
Why God?
Why God is it taking so long for the judge to act on the (our) civil case?
Despite your dad being a lawyer and a law office to defend our case,
the wheels of justice grinds ever so slowly.
Yes, Why God ?
Why did God take you away from me in the first place?
Other evil persons continue to thrive and survive
yet God had to take you away, my good, beautiful and religious boy!
Why God , is justice over your death not yet served to this day?
But I have long since moved beyond "Why God?"
Some things I am never going to understand.
Only God knows the answer.
What I do understand is God will give me the important answer , in HIS time.
God promises to work all things together for good.
I have faith that justice will be served , my son.
I will wait patiently.
I love you, my Luijoe.
Your Mama.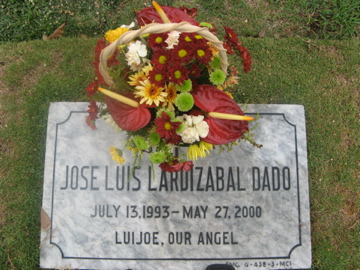 Flower Basket at his resting place today at the Loyola Memorial Park, Paranaque