I am an early bird at the First Philippine Blogcon 2006 here at the National Sports Grill, Greenbelt 3 Makati. The reason I am early is because I have to fix my powerpoint for my talk "Content is King".
5:20 P.M.- The Globe-Innove Group, our gracious sponsors for this event are here busy fixing the place. As you register, they hand out out 100 pesos worth of Globequest internet wifi access. It looks like they are giving out other prizes in their game portion.
6:54 P.M.– Abe and Jayvee are busy fixing their visual presentation. Abe Olandres will talk on "History of Blogging in the Philippines & Professional Blogging" , Jayvee Fernandez on Blogging as New Media vis-a-vis MSM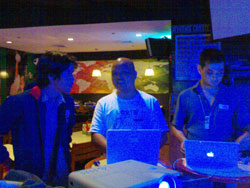 And Marc Macalua on "SEO and Blog Make-Over". I had to end my live blogging when dinner started. Just View the Photo Gallery for the highlights of the event.
At the meet, I met new and old faces like:
Abe Olandres; J Angelo Racoma; Marc Macalua; Kevin Codamon ; Jayvee Fernandez; Rico Mossesgeld; Jennifer Velasco (Globe Innove) ; Mike Abundo ; Bimbo Isidro ; Gail de La Cruz; Marc Villanueva; Gloria Gamat; Annalyn Jusay; Markku Seguerra; Jun Asis; Dominique Cimafranca; Ade Magnaye. Sorry if I missed out on anyone. My memory fails me nowadays. Hehe, blame it on old age.
The photos show the events as it unfolded ( I still have to label them soon). Since I took these photos, I am not in the gallery but thanks to Annalyn, here is a photo with both of us posing. Another photo here, thanks to Mimi and Karl and from Eugene.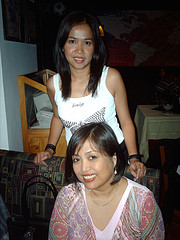 All I can say about the meet is that it was so much fun. Being the oldest among the bloggers made me feel younger and completely at home. I thought I'd feel out-of-place but no…it shows that the internet knows no "age" boundaries. Maybe we can continue this meet on a regular basis? Now what does Globe Innove think about this?


Other Bloggers who wrote about this event
and Blog-o-rama mention.
More links at the Blogcon wiki