If you're a blogger, you probably have your own typical blogger Conversation within your family.
What if you have a food blogger in the family?
You know how it is. I post food photos in my Pinoy Food Photo Blog to complement my entry. Naturally, when my family eats out, I snap away at the food we order. So here was a typical scene when I first started my food blog in July 2006.
Husband: Don't eat that yet. Your Mom hasn't taken shots of that dish.
M: (irritated) Have you taken a shot of this? Can I eat now?
L: (pouting) Hurry. I'm hungry. I wish cameras are banned in restaurants.
I bet they got tired of waiting so…
This is my family two years after.
Lauren learned to take shots of her food (at Pepper Lunch) so she can eat it as soon as the dish arrives.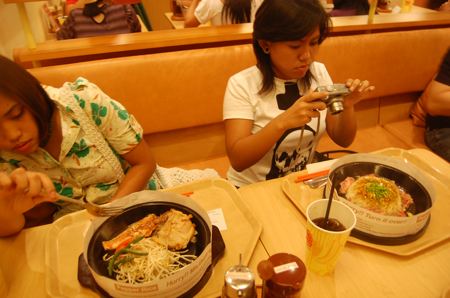 And M too!
If you can't beat your mom the food blogger, join her. or else, starve.
What is a typical scene with your family or friends? especially non-blogging friends and family?
In other New Media Events
1. I love Ethan Allen furniture designs that a few of my furniture was heavily inspired by it.
Here is a video I took of the showroom,

2. HTC Touch Diamond in the Philippines Mid-July
Imagine having broadband-like Internet with HSDPA 7.2 mbps wireless connectivity right in the palm of your hands?
3. Join the Buhay Coke Contest and get a chance to win a Phillips LCD TV, an Apple iPhone, a Sony Cybershot 7.2 MP Digital Camera, and an iPod Nano .