A strong earthquake hit Manila at around 12:27 PM, November 27, 2007. It lasted around 5 seconds or so but it was strong. At the second floor of my home, I could see the hanging lights sway. Feeling like the world was going to collapse, I yelled at Lauren who happened to be at the phone oblivious to the earth rocking to and fro. I kept yelling "earthquake" but no she ignored me and continued yakking on the phone. Oh and as I was getting dizzy, I could hear a barrage of text message alerts spewing out of my cellphone . AJ Matela , Jeff , Marhgil and others were twittering (Aka micro-blogging) live as the earthquake shook Metro Manila.
The Twitter alerts…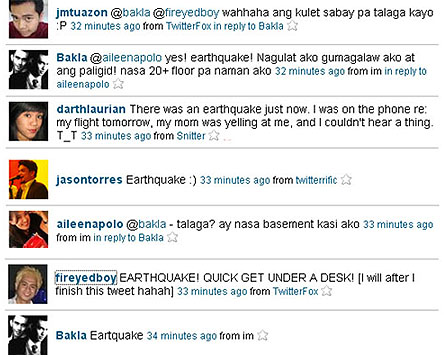 (To my Twitter Friends: If you feel offended with the screencap, please let me know so I can delete your twitter. I just wanted to post the sequence of events as it happened. Hope you don't mind)
12:48 PM, November 27– Read the report on Magnitude 6.0 – LUZON, PHILIPPINES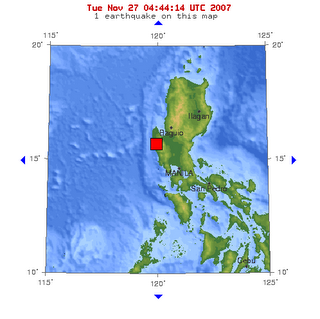 Magnitude 6.0 – LUZON, PHILIPPINES
2007 November 27 04:27:01 UTC
* Tuesday, November 27, 2007 at 04:27:01 UTC
* Tuesday, November 27, 2007 at 12:27:01 PM at epicenter
Location 16.037°N, 119.906°E
Depth 62.5 km (38.8 miles) set by location program
Region LUZON, PHILIPPINES
Distances
* 46 km (28 miles) W (268°) from Dagupan, Luzon, Philippines
* 87 km (54 miles) WSW (241°) from Baguio, Luzon, Philippines
* 120 km (75 miles) NW (325°) from Angeles, Luzon, Philippines
* 195 km (121 miles) NW (324°) from MANILA, Philippines
Location Uncertainty horizontal +/- 9.2 km (5.7 miles); depth fixed by location program
Parameters Nst= 47, Nph= 47, Dmin=917.9 km, Rmss=1.16 sec, Gp= 61°,
M-type=moment magnitude (Mw), Version=7
Source
* U.S. Geological Survey, National Earthquake Information Center:
World Data Center for Seismology, Denver
12:58 PM – From GMANews.TV Manila skyscrapers sway in earthquake
In a phone interview with GMANews.TV, Jenjen de Ocampo, science research specialist of the Philippine Institute of Volcanology and Seismology (Phivolcs), said the tremor measured 4.2 on the Richter Scale.

De Ocampo said the quake's epicenter was located 77 kilometers northwest of Lingayen, Pangasinan.

She said the quake was tectonic in origin and had a depth of 32 kilometers. The possible source of the earthquake was the Manila trench.

The quake was felt at intensity 3 in Manila and at intensity 2 in Quezon City, Pasuquin, Ilocos Norte and Gapan Nueva Ecija, De Ocampo said.

Interviewed over QTV's Balintanghali, Phivolcs chief Renato Solidum said intensity 4 was felt in La Union.

Solidum said significant damages to property were not to be expected given the magnitude of the earthquake
Did you feel it? What would you do if an earthquake rocked again? Twitter? or Run?