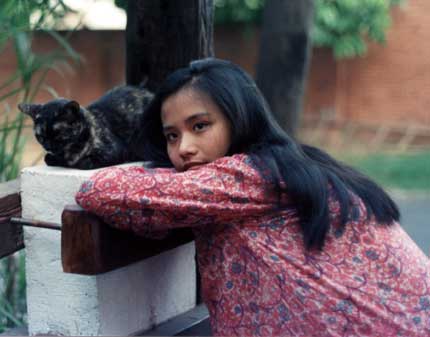 Traffic was unusually light that Friday Morning. Maningning reached the Far Eastern University from Diliman in less than an hour. Maningning plucked a stem of bougainvillea at the trellis and carried it with her as she greeted the clerk seated at the office on the ground floor of the Institute of Architecture and Fine Arts. She then took the elevator to the seventh floor where her class usually met. The quiz she would give today would be unlike all others.
She was fifty minutes too early. The Brigada Siete TV crew, which featured her later, took a picture of the flowers she left in the women's comfort room. She walked along the corridor. To one side was the row of empty classrooms, to the other were the railings that guarded people from falling to the empty space below. I should think her heels ached, because stunned witnesses claimed that she removed her shoes. Wings grew from where she felt the pain. The wings lifted her to the railing where she sat for a while facing the classroom walls, to her back the gaping space into her underworld. I imagine how she imagined wings growing from her pained heart. She lifted her head and prepared to lie in the air. But hearts in pain do not grow wings. She fell to the awning six floors below. She was twenty eight.

Excerpt from Mario Miclat's "Coping" from Fallen Cradle.
Maningning died on September 29, 2000. It has been a very long hard struggle for the Miclat Family. One single moment turned to eternity for Alma, Maningning's Mother when she smelled Maningning's perfume while she was climbing down their stairs.
Always, there's the numbed pain and the unfathomable yearning to see her, to hold her, to embrace her once again, to talk to her again, hear the erudite longings and dreams of a young life cut short. But then again, in this world which is not an ideal place to live in anyway, it is consoling to know that Maningning would remain young forever.
– Excerpt from Alma Miclat's "China Lass" from Fallen Cradle.
Every year on the month of September, my friends Mario and Alma Miclat honor the memory of their precious Maningning through The annual Maningning Miclat Award for poetry and painting. Nine finalists in the 2007 Maningning Miclat Poetry Competition in Filipino, English and Chinese have been named and will vie for the grand prize to be awarded during the poetry awards and musical concert to be held at the Philamlife Theater, UN Avenue on Wednesday, September 26, 2007, at 7:00 P.M.
More details:
What : MANINGNING: AN EVENING OF POETRY & MUSIC
Awarding of the 2007 Maningning Miclat Poetry Competition Winners in English, Filipino & Chinese
Concert by Cynthia Alexander, Susan Fernandez & Girl Valencia
When : Wednesday, September 26, 2007, 7:00 P.M.
Where : Philamlife Theater, United Nations Avenue, Manila
Ticket Price : PhP 500.00
20% Discount for all writers & artists
20% Discount for 10 tickets up
Where to get tickets : Pls. call or SMS Alma ( 0918-905-7311) and/or Astrid
(0916-434-0167) , Call 812-4885/6 ; Philamlife Corporate
Affairs Office( 526-9259/72/65) ; Conspiracy Cafe (453-2170);
Mag.net Katipunan (929-3191) ; ALIWW/Gemma (426-6001,
loc 5811) ; KAISA (526-6796, 527-6023)
Beneficiary : Maningning Miclat Art Foundation