What a timely theme for this week's Photo Hunt, RED. It's my favorite color of the Holiday Season. That's Lauren, my daughter showing off her RED wordpress t-shirt. I am raffling off three red shirts for those who have FilipinaImages.com linked entries. Your old Filipina themed entries will do as long as you link them to FilipinaImages.com. I am giving away three shirts and the deadline is December 5. If you haven't joined yet, sign up here.
For some of you who feel left out of the red wordpress shirt, here's another red photo of Lady, my daughter's pet cat.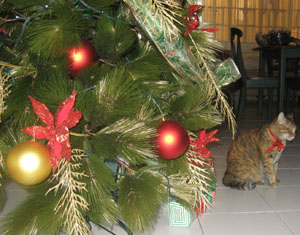 Every Christmas season, I tie a red bow around our cats. Lady looks so cute posing beside the tree. It's as if she knows that her red bow matches the red Christmas balls. I just love the color red. It's festive and brightens up the room.