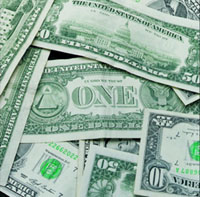 Normally, I just let my dollar earnings sit in the bank because I am lazy to visit the bank and have them converted to pesos. Banks also have silly rules on dollar withdrawals. Anyway, the good side on all this is I am able to save for a rainy day. However, the strong peso got me thinking. I started to convert my dollars on "what could have been" at the old exchange rate and the current rates. I refuse to think of "what could have beens" because I should be grateful that I am still liquid. After reading Abe Olandres' Weakening Dollar hurts Probloggers, I started to think that maybe I need to spend a little more.
That's a net loss of Php13.13 for every dollar that I have in the bank. That loss closely amounts to a brand new car or a down payment for a house and lot.
Ugh, I did lose a lot on the conversion.
So what did I do? Oh yeah, I went on a mad shopping spree for Christmas presents.
I followed Ely's advice on What To Do With Your Dollars When The Foreign Exchange Rate Is Hurting You.
Ely says DO buy dollar-based items – those you couldn't get before because you thought they were too expensive.
Yes, I went gadget shopping which I would never do in the Philippines.
(I hope I don't appear to be bragging here but I just want to illustrate the bright side of spending in devalued dollars.)
I bought a Black Macbook for myself (giving my white mac to Lauren), an Acer Aspire 4710Z for my mother-in-law so she can blog, an HP 520 for Murielle and a new Nokia E51 for myself. Originally, I wanted an Asus EEE PC for M which was priced at $300 to $400 but it was not yet available in Singapore. Take note, the HP 520 and the Acer 4710Z are the most affordable laptops priced at only 30,000 thousand pesos each. Think about it, if I bought all of these gadgets in the Philippines, I would have missed a vacation with my husband. The savings alone in buying the macbook is 18,000 pesos. The plane fare, travel taxes for both of us amounted to 25,000 pesos ($581.00).
My favorite purchase of all is the Nokia E51, a business smartphone. Why? It's simple, slim, sleek, and ideal for a user like me wishing to leverage broadband connections to access mobile Internet telephony from homes and hotspots. One of the best feature of all is the SMS Spam Manager which came pre-installed. I had been besieged by spam SMS in the past and I had no way to control it. Fine, Globe said I can report the spammer at the National Telecommunications and Communications (NTC) but nothing came out of my complaint. Am I so glad that I finally have an anti-spam application!
Look, I placed this person's cellphone number in the backlist rule.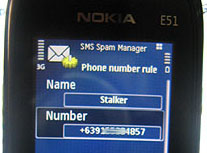 This person has been spamming me with senseless messages containing nothing else but "gma gmd gm…" as if he suffered a muscle tic on his/her fingers. Ugh after my cellphone was flashed at Salamat Doc , a particular stalker caller texts me more than 25 times in a day and or calls 4 times a day. These text messages are either blank or contain garbage words. Mind you, that show was last December 24, 2006. If we can control some spam messages in our email programs why not in cellphones? There are more applications that works out for me such as checking emails, twittering or using the VoIP phone application. (See more photos here). And guess how much? With the GST refund, I got this uber-cool phone for 14,000 pesos or US $325. I bet this would cost 20,000 pesos or more when the Nokia E51 arrives in the Philippines. When I went to SMART Telecom to buy a similar WLAN enabled phone, the cheapest they could offer was an old model worth 25,000 pesos.
Did I go overboard with the shopping? I believe it was a wise move for some of my sleeping, devalued dollars to purchase affordable gadgets that we need not merely "want or like gadgets". The Nokia E51 will serve as a modem when I need to go online ( I haven't figured that out yet). M has no laptop and with her exceptional grades, she deserves to own one now. Lauren likes the mac features that enable her to do guitar recordings and podcast. My mother-in-law will definitely find blogging or chatting via webcam very entertaining. The savings alone are worth it.
The best thing of all was I had a great weekend with my dear hubby, dragging him to the Funan Digital Mall, learning a thing or two about computers and indulging in a gastronomic feast after a tiring day of shopping. Now, he yearns to own a macbook to replace his 5 year old durable Thinkpad. Uh-oh.