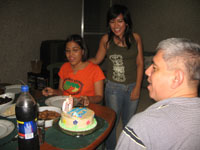 My dear husband turned 47 years old last night. Heh, he's 2 years younger than me. We thanked God for another year. I told my husband that every year after 46 years old is a celebration for me. My mother died young at the age of 45 and I am full of gratitude that for every year added to my life. Every year I buy practical gifts for my husband usually kitchen appliances. How boring is that? I should be more romantic in my gift choices. This year, I wanted to buy him the Super Kalan, the Magic Stove. In times of high energy costs, we need to be fuel efficient. It costs less than 5000 pesos if I remember right , including the stand. The Super Kalan utilizes any kind of locally available unexpensive fuel like newspaper, wood, charcoal, carton, sawdust, ricehusk, twigs etc.. But I needed more time to order it. So I scrapped that idea and bought instead a pressure cooker. Our old pressure cooker just conked out and I keep forgetting to buy a replacement.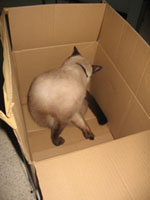 The cat jumped right into the box after the gift opening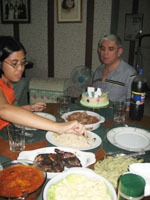 I prepared a lot of food for his birthday dinner such as beef stroganoff, Lemon-Thyme Barbecued chicken, Shrimp Potato Salad, Pepperoni Pasta and Jasmine Rice. The 2 girls arrived from the dorm that night just to be with their dad. Awww. It's a rarity to have these close moments with your college kids. They have their own friends and social life. Inspite of having midterms exams the next day, the celebration of their dad's [tag]birthday[/tag] was more important to them. It was a wonderful celebration only made more meaningful when my aunt called to say that her house (which we sold to her in 1998) is up for sale exclusively for us. We were delighted to hear the good news. There were tenants who were still living in the house so that was an obstacle to the sale. What a wonderful birthday gift from God.