It is two months before May 10, 2010, the Election day. The Day we vote for a president and the rest of the national and local posts.
I made a choice.
I have chosen my presidential candidate.
I want my candidate to win.
Yesterday, my husband and I decided to openly support our presidential candidate (not here online). The past month, we began discussing our choices, analyzing and researching on the nine presidential candidates. I am blessed and privileged to have interviewed seven presidential candidates and attended three presidential forums. It has given me an opportunity to understand their platforms, the issues and over-all impression of the presidential candidates. I know their strengths and weaknesses but there can be only one President.

How did the decision process go?
1. I already knew what I wanted in a president.
2. Character, competency, coherent platforms and clear vision are the criteria that I look for in the presidential candidate.
The present times call for a tough administrator, statesman and economic leader. That was the critical factor for me.
3. I narrowed down the nine candidates to just three. My initial short list was based on my selection criteria on character, competence, coherent platform and clear vision. My short list of candidates composed of Manny Villar, Dick Gordon and Nick Perlas.
4. I decided to make my short list a bit more quantifiable by using this voting matrix.
5. I wrote about How to Select a candidate to vote for President.
The result ?
Manny Villar, Dick Gordon and Gibo Teodoro is now my refined shortlist.
6. Over many lunches and dinners, my husband and I discussed all these. Two more factors affected our choice which cannot be quantified and this is where gut feel came to play.
– The candidate's sincerity (my perception based on interviews) to serve our country.
– The ability to communicate with the candidate in case of questions on their governance . A vigilant citizenry is crucial to monitor the powers of the presidency.
A decision is made to support our candidate because we want our candidate to win.
You ask, "So who are you supporting?"
It does not matter who my candidate is. As project editor of Blogwatch.ph, it is prudent that I keep that choice only to myself and my close friends, the people I trust. Certain quarters cannot distinguish me as a voter and me, as the editor. Blog Watch remains non-partisan.
My motives for Blog Watch have been questioned. Some people think that money is always part of the equation just because one presidential candidate has so much money to spare in his campaign. Can't people think for once that money is not everything?
What a shame!
Is it hard to believe that my only motive is that I love my children, that I think of their future? I have a stake in their future. This is how I can be a part of my children's future.
The process of selecting a candidate is more important and which I have shared to you.
I believe one should make a rational informed decision, not one based on emotions or bandwagon effect. Discuss them with your family, your friends and the non-internet users.
The only way we can learn more about the candidates is if we educate ourselves and others, we can do this if we help foster discussions of platforms, encourage a healthy debate of issues, raise the level of intellectual discourse and analysis.
All in the hope that we can come up with the optimum choice for our next generation of leaders.
Are you ready to make a choice and support that candidate?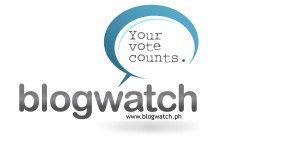 Visit BlogWatch.ph to read more on the presidential candidates, automated election, the party list and campaign finance.