These little town blues, are melting away
Im gonna make a brand new start of it – in old new york
And if I can make it there, Im gonna make it anywhere
It up to you – new york new york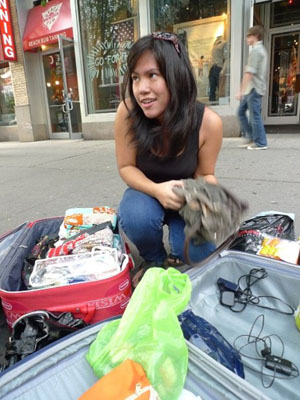 There is no truth to the rumor that Lauren is now a homeless person begging and living in the streets of Manhattan.
There is also no truth to the rumor that she is selling her UkayManila.com wares to earn her keep.
Most of all, there is no truth to the rumor that she flew all the way to New York in search of branded ukay-ukay selections for her Ukay Ukay Store

I am just kidding of course, but I felt sad when I saw this photo. Even her dad "oh poor girl!" I wish I were there to hug her and say "it's okay". Apparently, the handle of her luggage broke in transit and she had difficulty traversing during Manhattan's Gay Pride festivity with a broken baggage. She ended up buying a new one.
Lauren has now been a week in New York and like any mother, I worry about her safety. Sure, she has traveled alone in the past but the destination always had my sibling within driving distance and that surely gave me comfort. I was around her age when I first toured New York and I didn't really like the bustle and hassle of the city. Maybe I am transferring negative vibes to her because we both love San Francisco. Despite my apprehensions, I also know she is a responsible adult who should be able to take care of herself. Our children need to be taught how to help themselves from the start….from tying their shoes to making social plans to fixing a problem and planning vacations. So when she told us she would leave for New York, I suddenly got reminded of the song…New York New York
Start spreading the news, Im leaving today
I want to be a part of it – new york, new york
These vagabond shoes, are longing to stray
Right through the very heart of it – new york, new york
She wants to see the city that never sleeps. Oh well.
Driving Lauren to the airport last week left an an ache in my chest, a dark shadow looming where the sun once shone…I suddenly felt an empty nest in my home , now that M is also at work. I know I have let go already but still I will always be a mother.
Her dad's only advice: "Don't look like a tourist".
Transferring clothes in the streets of New York may not a big deal but it must have been stressful for her. Just like the song,
if I can make it there, Im gonna make it anywhere

It up to you – new york new york
Now why do I imagine Lauren humming that song now?
Happy Fourth of July to all those celebrating it in the USA.