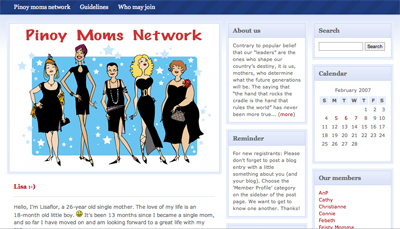 On a lazy sunday night (February 4, 2007), I surfed to Connie's blog and saw her mommy links. I thought about the wonderful moms on my own blogroll and wondered if these mom blogs garnered adequate exposure to the blogosphere. I knew I could just link them in my blogroll but I thought linkages did not cut it enough. Last Monday, Connie talked to me via Google Talk about the possibility on ""pinoy mommy blogs to go high profile".
She added ""wouldnt it be nice to bring everyone together in one site?"
Rewind. Connie first introduced me to a possible mommy network as early as March 30, 2006. I am not sure on the reasons for the delay of the initial plans. The thought of having Mommy network is indeed a blessing! To think that I was just thinking about it the day before . Talk of ESP and perfect timing.
I was like ""YES". We then decided or rather Connie decided on the ""pinoymomsnetwork.com and pinoymomsnetwork.net" since pinoymoms.com was taken.
That is how I came to be part of the [tag]Pinoy Moms Network[/tag]. I am honored to be partners with Connie for this landmark project for [tag]Filipino mothers[/tag] around the world.
Read more on Pinoy Moms Network
But you ask…
There are only three qualifications for joining:

1) You are a Filipina or of Filipino parentage;

2) You are a mother; and

3) You are an active blogger who post regularly in your blog.
If you decide to be a part of Pinoy Moms Network, just click on the ""Register" link on the sidebar and it will take you directly to the registration page. Please do not forget to provide the URL to your blog since ownership of a blog is a requirement for membership. It would be nice if you can post your profile as your first entry as soon as the registration process is complete.