Today is Blog Action Day. On October 15, bloggers around the web unite to put a single important issue on everyone's mind – the environment. Every blogger will post about the [tag]environment[/tag] in their own way and relating to their own topic. I chose to talk about my recycled old home furniture in our environmentally friendly home. Building an [tag]Environmentally-Friendly[/tag] Home meant discussing big ideas behind even the smallest details.
When my husband and I discussed the theme of our furnishings, we decided on eclectic design so we had a reason to utilize our antique furniture which have been passed on to us by our great grandparents. Butch said "wood adds warmth to a home. How would I know? I am not an interior designer. Butch had been researching for the past year on the look of our new home. I wanted contemporary furniture because well, I wanted something new. We compromised by blending old and new furniture in our cozy home.

Allow me to show 2 furniture pieces crafted by using old discarded wood for new "old-look" furniture. These pieces of wood were taken from the junk yard. So anyway, let's start with the this lowly carabao cart used by farmers in the rice fields.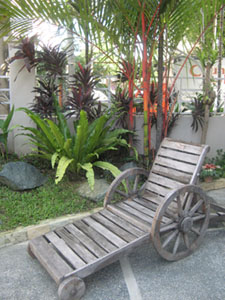 With the advent of metal drawn carts, the rickety wooden carabao cart is dumped in junk yards. Besides, the life span of the wood drawn cart is very limited due to wear and tear. Designed by Butch' cousin, the creative furniture designer, turned it into a relaxing wooden lounge chair just beside the pocket garden. This is a perfect example of using old wood (not necessarily furniture) into a new old-feel furniture design. Lauren is the main user of this wooden lounge. The cut wood from the hardwood tree did not go to waste as it served a farmer once upon a time and is now best recycled and appreciated in our home.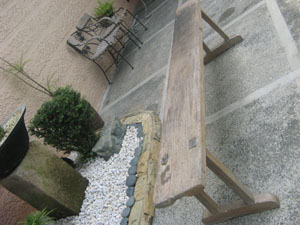 Next is the outdoor bench which was also constructed from old pieces of wood. This lowly looking bench is often used when we have outdoor parties. It doesn't take a lot of space and can be kept at the far corner of the garden where it even serves as a decorative furniture because of its sturdy look.
Reusing old wooden pieces saves trees from being cut down for furniture use. Naturally, preservation of the trees protects our immediate environment from pollution, floods and heat.
How have you reused your old furniture in your own homes?
Note: There's stilll time. Join [tag]Blog Action Day[/tag]. (click here)