It's a glorious sunday morning. The empty nest will be back to a full house. M will soon fly in from a vacation in Singapore. Lauren is expected to be back from an overnight beach trip from Zambales. So it's just me and my hubby. Butch and I enjoyed our quiet morning with a hearty breakfast just a few hours ago. For the first time, I ditched my usual caffeine fix from brewed coffee. I wanted something different.
My pantry contains tea bags, three boxes of instant Lipton Milk Tea (Gold, Vanilla and Original), Tropicana Orange and coffee beans. I picked the Lipton Milk Tea Original Flavor.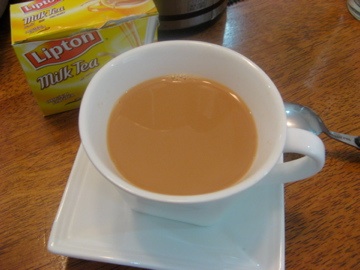 It was M who first introduced me to milk tea when she dragged me over to her favorite beauty salon. "They serve milk tea there". The combination seemed a bit off. I've always associated tea with bitter aftertaste. I never knew one could mix milk with tea. Ever since I drank Milk Tea, I associate it with relaxation and childhood memories of mom handing me over a cup of hot tea to calm my upset tummy.
Come to think of it, no wonder I associate tea with relaxation. A tea drink calms my nerves.
According to the UK Tea Council, 72% of women tested admitted to feeling more refreshed after drinking a cup of tea.
Tea's secret weapon is the naturally-occurring amino acid, Theanine. Theanine naturally stimulates activity in the brain called alpha waves, which are associated with a relaxed but alert mental state. Isaac Newton for starters, discovered the universal law of gravity while having a cup of tea.
Theanine is also a known mood booster, which is why it's the beverage of choice of those who want to reflect and relax. No wonder.
But milk tea? The warm Lipton milk tea tasted really good. I thought it would taste milky and overpowering the tea flavor. The milk and tea taste were both distinguishable unlike the milk tea I drank at the beauty salon. What a better substitute to coffee! The sweetness and smoothness of milk balanced the bitter taste of the strong black tea I associate as a child. The delicate balance of milk and tea, gave such a rich, smooth, and subtly sweet taste.
It's delightfully delicious and soothing setting me into an alpha state that I completed my scheduled tasks quite early enough.
The girls will be home soon and I am ready to listen to their banter.
What type of drinks gives you a relaxing feeling (aside from alcohol)?
—
Upcoming Bloggers' Events
1. Food Tour at Trinoma Malls, Serendra and Bonifacio High Street
When: April 25 at TriNoma Mall and and April 28 at Serendra and Bonifacio High Street
Time: 2:00 PM to 6:00 PM
Read more details at Spot Pass Bloggers' Food Tour
2. Let's Party- 88DB.com Bloggers' Night
Confirm Attendance before April 26.
3. What's Your Coffee Bean and Tea Leaf Story Contest
Win a trip to Hollywood, Los Angeles, USA for 4 days and 3 nights, with accommodations and pocket money. How? Join the What's your Coffee Bean and Tea Leaf Story? Contest. Submission of entries will be from April 18 to May 18, 2008.
4. Havaianas Flipping for the Beach Contest
The contest, which will run nationwide from April 1, 2008 to May 1, 2008, is open to all Filipino citizens of legal age and challenges you to write (maximum of 500 words, with at least 3 photos- taken at the destination) or document via video (60 to 90 seconds running time in VCD or DVD format) about a unique beach getaway in the Philippines, focusing on the distinctive experiences that you can expect from your chosen destination.
Read more details at the Havaianas Flipping for the Beach Contest