My default birthday present for my husband is always a kitchen appliance. I just realized we have all the kitchen appliance we will ever need. This year, I wanted to give him something romantic! So I asked my awesome plurk buddies for romantic gift ideas. The unanimous suggestion was a romantic getaway outside the city preferably with spa pampering. I was searching for the best spa hideaway nearest Metro Manila because my husband hates driving far and I remembered that Claire invited me to visit Nurture Spa a few weeks ago. I totally forgot the Nurture Spa invite until a day before Butch's birthday.
I ditched the romantic spa weekend for a future date and decided to give him another practical and boring gift …tuition fee for a short course in Ateneo which cost me four times the price of an overnight spa weekend. I added dinner at Polu Kai Grill for a change instead of cooking my usual birthday celebration dishes at home.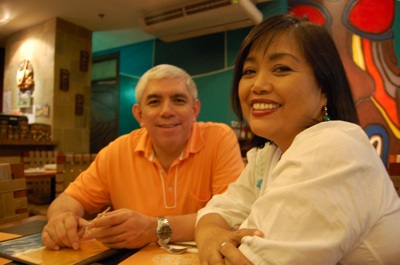 The next day, I cajoled Butch to go with me to Nurture Spa in Tagaytay for a look-see on our future romantic weekend. It's been years since we last visited Tagaytay together. For some reason, Tagaytay evokes poignant memories when the kids were so much younger. Sometimes it is just hard for us to go back to places that bring these bittersweet memories. This trip is a first since 2003. Good thing Butch agreed to come along. It helped that he knew Claire and some of the bloggers traveling with us. Butch can be shy in a social setting.
What can I say? Butch and I enjoyed our day trip to Nurture Spa. Though not as breathtaking and surreal as San Benito Farm, the tropical garden amidst the coffee tree orchards and pineapple plantations is a pretty sight to behold. I love the idea that massage treatments can be held outdoors so close to nature. I often get massage treatments indoors so why not bask in the garden while enjoying the cool Tagaytay breeze for a change?

We decided to avail of the foot spa massage in this beautiful cottage. I love feet pampering. Our feet carry our weight throughout the day, and then at the end of the day, our feet deserve care. I felt the foot massage will not only keep my feet in good condition but will act as a great pain relieving therapy.

I sat beside Butch and laid Kippy Cat to my left.

The soothing massage felt so heavenly as I heard the birds chirping around us. You know how some spas turn on "chirping birds" background music to simulate nature? Well not at the outdoor garden of Nuture Spa. I got to hear it live. Positive energy definitely abounds here. I opened my eyes to see butterflies fluttering here and there.

Seated to my left is Butch who snored in unison with the birds as the latter continued to sing their hearts out. We both dozed off as the chirping birds lulled us to sleep.

Unlike some spa resorts, Nurture Spa does not limit itself to vegetarian dishes to the delight of my husband. I blogged more about Dining at Nurture Spa over at my Food Blog.

It was an opportunity to talk with Dr. Mike Turvill, a chemist and the owner of Nurture Spa.

I like the idea that Nurture Spa owns the oils used for our massage, the Spa Essentials (Philippines' exclusive distributor of of Australia Botanical Products, the leading supplier of essential oils in Australia). I was even more impressed to discover that they run a spa school, the Spa Professionals International Development Center, the first internationally accredited and TESDA-accredited Spa Academy in the Philippines.
It's always nice to know the people behind any business. You feel their passion for running their business the way they do. Not only did I get to plan for a longer romantic weekend in the future, I learned a lot about the industry standards of any spa resort.
It was time to check on their accomodations.

Though I got to visit the Igorot hut, my husband (being half Igorot) felt at home right away in this cozy abode.

I finally found the Romantic Spa package that will provide overnight accommodation with breakfast and snacks for Butch and myself, as well as a full romantic dinner with flowers, wine, and candles.
Though we didn't exactly stay long enough for a spa weekend, just being together and loving each other's company made our day. We allowed our minds and bodies to take a sojourn in peace and tranquility.
We all need a place to relax, refresh, rejuvenate and retreat. Butch and I brought back these positive vibes from Nuture Spa to our home in Manila.
Ah, what a feeling!
Do you believe in the therapeutic benefits to spa pampering?
More Nurture Spa Photos