If there is one place I want to add to my Europe Travel destination list, it would be Sabrosa, Portugal. Imagine rolling hills of vineyards and most importantly, a shared history. Let Butch , my husband and guest blogger, elaborate.
A Common Past, A Promising Future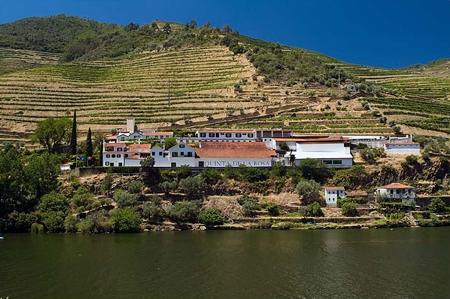 Photo courtesy of Quinta de la Rosa
Every Filipino child of school age knows who Ferdinand Magellan is, but only as a name from a dim, distant past. The first European to reach the Philippine archipelago, he was a trailblazer, the first explorer to lead an expedition across the Pacific Ocean. This was also the first successful attempt to circumnavigate the globe in history. And although he went on his adventures under the banner of Spain, we all know that he was Portuguese.
This is the extent of most of our rote knowledge, and Magellan is mostly identified here as the man who opened the door to the annexation of the Philippines by the Spanish conquistadores. Our ties to Portugal are not commonly known.
It was therefore a delight to be introduced to a modern-day descendant of Fernão de Magalhães (as it is spelled in Portuguese), who, if not exactly a blood relative, is a direct heir to the beautiful, sometimes stark, land that gave birth to the intrepid explorer. Jose Marques is the present mayor of Sabrosa, Portugal where Magellan was born. We were invited to break bread with Alcalde Marques at the Casino Espanol, and to meet a warm, cultured and gracious man who is visiting the Philippines for the first time. He is a man on a mission, which is to establish cultural ties among the countries and places where Magellan dropped anchor in his historic voyage, spanning the vast distance between the Canary Islands and Butuan City in Northern Mindanao, and all the points in between. He had just returned from a trip to Cebu, where Magellan perished in the battle of Mactan and the Magellan cross is a famous tourist attraction.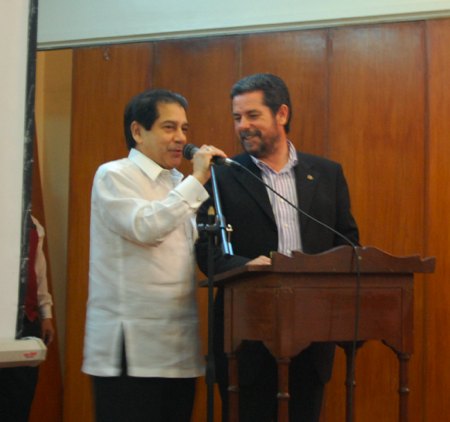 Jose (Manuel Carvalho) Marques, mayor of Sabrosa, Portugal to the right and Ricardo Centenera, his interpreter is to the left
His undertaking is a lead-up to the 500th year celebration of the European discovery of the Philippines in 2021, which is envisioned to be a recognition of our common history and a celebration of a promising future of friendship and closer cultural and economic ties with our Iberian cousins. We have much to learn about Portugal, specially off the beaten tourist paths of Lisbon and Fatima, and what better introduction to Sabrosa than through a video presentation and talk by the mayor himself.
Sabrosa is located in the traditional wine-making region of Northern Portugal. Set along the winding and placid Duoro River, its terraced vineyards, similar our own Banawe Rice Terraces, has been declared a UNESCO World Heritage Site. Sabrosa is home to various centuries-old wineries and villas, the source of the world-famous Portuguese port wine. Its rustic charm and breathtaking scenery make it an ideal retreat for those weary of the pace of urban life. Of course, the fact that it is the birthplace of Ferdinand Magellan adds to its special allure. The house where he was born still stands, perfectly preserved. Sabrosa is full of history, which it now wants to share with the world. Thus, Mayor Marques' efforts to trace the Magellan expedition's route around the world and establish a chain of friendship along it.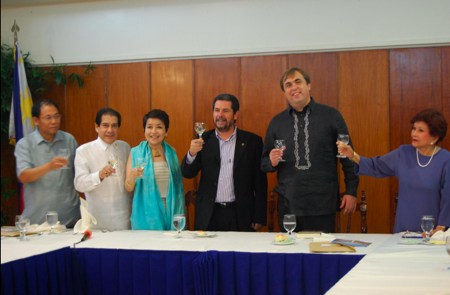 Left to right: Exequiel Sabarillo, Ricardo Centenera, Dr. Genevieve Huang, Sabrosa Mayor Jose (Manuel Carvalho) Marques, Czech ambassador, Ambassador Jarislav Ludva and Esther Vibal
We were joined by the amiable Czech ambassador, Ambassador Jarislav Ludva, a member of the Knights of Rizal, who gave us some insights on the special relationship between the Philippines and the Czech Republic, as forged by historical events. Ferdinand Blumentritt, Jose Rizal's best buddy, was in fact a Czech. Rizal's letter to Blumentritt written on the eve of his execution is in a museum in Pargue. The Sto. Nino, the patron saint of Cebu and possibly the Philippines' most popular saint, is an exact image the Infant Jesus of Prague.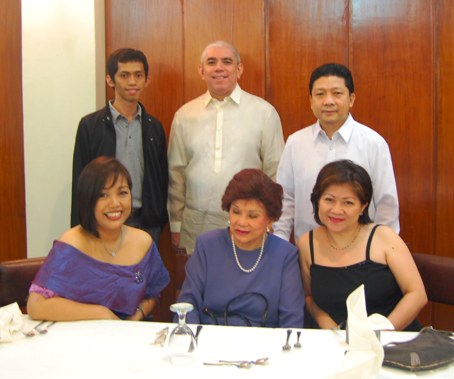 Left to right: Christian from wikipilipinas, Butch, Alan Racoma and seated: Me, Mrs. Esther Vibal and Dine
Also with us were the members of the Butuan Global Forum, a world-wide community of Butuan natives, with lawyer and OFW advocate Gigil Jimenez, and distinguished academicians from U.P. They were there to represent the City of Butuan and expound on its historical significance, not only as regards Magellan's journey, but its role as a center of trade and government in Pre-Hispanic Philippines.
The occasion was made more lively by the presence of charming and glamorous ladies: Esther Vibal, the President and Publisher of Vibal Publishing House and bon-vivant Dr. Genevieve Huang. Vivacious bloggers Dine Racoma (with hubby Alan) and Noemi Dado rounded up the intimate post-dinner discussion.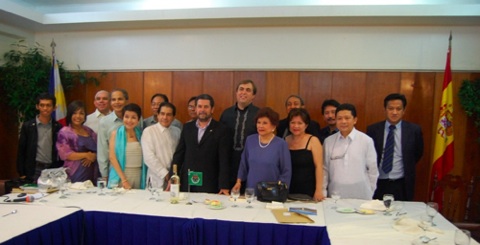 A wonderful evening of Fernão Magalhães wine or Magellan wine and entertaining conversation, a fitting start to what one hopes to be a stronger relationship between our two countries.
Saude! (pronounced Sa-ood)

Read more on Magellan Wine from Sabrosa, Portugal
Thank you to my loving husband for the post. Early last week, Dine and I got a breakfast invite to discover a new Magellan– Sabrosa's new Fernão Magalhães wine or the Magellan Wine. While I discovered Magellan wine , the Sabrosa mayor also happened to discover Lapu-lapu for the first. time. What sweet irony. Hearing the mayor speak in Portugese is like listening to a romantic poet sounding pretty much like a Frenchman.

Exequiel Sabarillo was thrilled to see our blog entries and just had to invite us and our spouses to this special Philippine-Portugal Friendship dinner last sunday night.
Oh yes, if you ever need a tour guide in Spain or Portugal, Exequiel is the man. Contact Exequiel Sabarillo at [email protected]