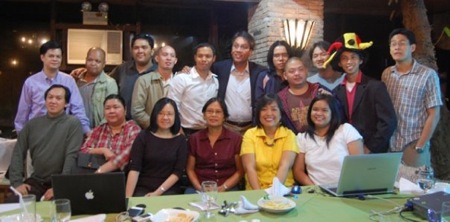 When Carlo Ople, the New Media Consultant of Senator Mar Roxas invited me for a bloggers' meetup, I almost choked:
"Whaaat? I hope you won't ask me to endorse him or something".
My imagination started to run wild. The buzz is Senator Mar Roxas is likely to run for the 2010 Presidential Elections. I could see it clearly now. He sees the potential of bloggers and new media to promote his advocacies! I was really hesitant about the whole meeting idea because first of all, I don't like politics. Second, I felt uncomfortable having to "chikka" with a senator. I sort of nodded "yes" to Carlo, unsure if this was my kind of thing. During the last senatorial election, I only blogged of Alan Cayetano, a family friend the day after the elections. I rarely discuss politics in this blog especially if there is no bearing to my blog's theme.
So I raised the question in plurk to see if my plurk buddies had the same sentiments as mine, if a senator invites you for a meet-up would you go?
Surprisingly, majority said they'd take the opportunity depending on the senator. Of course, it hit me. This is new media content. I cover food events, press conferences and even the launch of a Governor's blog so why not a senator's request to meet bloggers? This is a perfect opportunity to meet a senator up close and know the person behind the senator. Definitely a first in the Philippine blogosphere.
This afternoon, I finally met Senator Mar Roxas. I sat across him so I could easily snap photos of the event. But due to the mirror behind him, he moved over to sit beside me. Great.
He saw my plurk name, momblogger on my macbook and asked, "Is that your name, momblogger?"
"It's my plurk name. Do you plurk?", I asked.
He laughed "Not yet. I use Twitter". Not bad. The senator is very tech-savvy.
I couldn't contain my plurk addiction so I wrote this momblogger is seated beside Senator Mar Roxas and he is asking if momblogger is my username since he noticed my plurk. and even showed him the replies to my plurk. He was surprised at the plurk greetings.
Bloggers from FilipinoVoices.com, Susan ""Toots" Ople,Lester Cavestany, Jester, Arbet Bernardo, Marck Rimorin, Juned Sunido, Sonnie Santos, Abe Olandres, Paolo Florenda, Ding Gagelonia, Gail Villanueva, Marc Villanueva, Ellen Tordesillas, Manolo Quezon, Ricky Carandang, Carlo Ople and myself introduced ourselves to the senator. He scribbled the names of each blogger on a sheet of paper and made sure he remembered each one of us. He even drew a seating layout with our names in it. A man of details. Very impressive, indeed!
The serious talks on VAT on oil started. He said that:
The 12% VAT on oil was imposed in 2005 when the world price of oil was only $30 per barrel and public deficit was at an all-time high. Today, the situation has revered itself. The price of oil has exceeded $100 a barrel and is still rising while our budget deficit has been tamed. In 2005, at the time government sought a higher VAT, the intention was clear: to put our fiscal house in order. Today, at a time when people's incomes remain largely stagnant against soaring prices of food and oil, it is government's turn to make the supreme sacrifice of leaving money in our people's pockets. Stop collecting the oil VAT. This will immediately result in savings of P6 per liter of gas and P66 per LPG tank. Such savings will be felt more by the poor than the rich. These savings will also benefit the government since whatever we buy with it would be VAT-able anyway.
Listening to Senator Roxas, I am very impressed with the structure of his talk. He is highly organized and smart. I would not have known this if I didn't attend this intimate gathering. The senator seemed unfazed even under difficult questions from political bloggers.
The question is: Do I really want to remove the VAT on oil? Where will the government gets its revenue? The move seems to favor the poor more than the rich but his Senate bill 1962 on a proposal for a 6-months suspension of the 12% VAT on oil has not moved at the Lower House.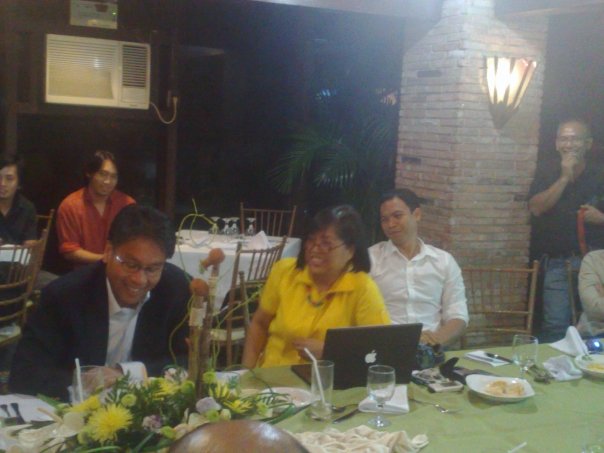 (Photo from Carlo Ople)
A cute question raised by Marck was "Who would he want to meet among the three characters in The Dark Knight?" The senator's answer is 2 Face and he wants to ask him "What happened to you?". Nick wondered out loud in plurk "if he thinks two face is what happened to Neri.."
Since his committee is on Trade and Industry, I asked him about consumer protection when Internet Service Providers (ISP) don't deliver.
His answer: Write him and he will coordinate with the Telcos. Wow. I will probably do that only if I exerted all means to fix the problem with my ISPs.
At the close of our
chikahan
, Senator Mar Roxas launched his new site called
VirtualRally.net
. This virtual rally site is his way of inviting the public – students, parents, private and public sector employees, and fellow Netizens – to look at issues, pick a side, and make a stand. The current virtual rally is all about protesting high fuel prices and government's refusal to suspend the 12% VAT on oil despite the added pain it inflicts on people's pockets.
He also launched his Mar Roxas Blog which he promises to update once a week.
What do you think of a senator tapping bloggers or new media to promote an advocacy?
More photos of Senator Mar Roxas and Bloggers
Other Bloggers' entries
Blogger Meet up with Senator Mar Roxas
Up Close with Senator Mar Roxas
Mar Roxas Asks: What Do We Have To Show For P7-Trillion?
Sen. Mar Roxas blogs, for real
Mar Roxas Asks: What Do We Have To Show For P7-Trillion?