Our little ones are a bottomless wellspring of delight, no doubt. "A baby is a blessing. A gift from heaven above, a precious little angel to cherish and to love."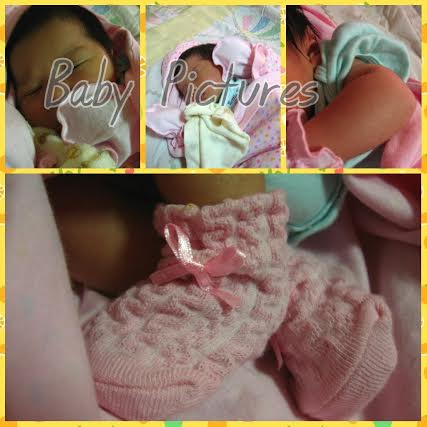 To some they are like angels sent from above to bring joy and laughter; while to others, they are promises of immortality who will carry on the family's name. Still to some, they are perceived to give purpose and direction to an otherwise meaningless life.
Adults marvel how babies manage to sleep peacefully, hence people say "Let him sleep, for when he wakes up, he will move mountains." And really, there nothing more adorable than a baby sleeping … well … like a baby. CLICK!
"There's nothing really quite so sweet like tiny little baby feet." Tiny, pink and chubby toes are so cute one can play "This little pig…" rhymes while holding these toes one by one. CLICK!
Babies are a wonder because in just a year, as they celebrate their monthly birthdays, they grow from closed-eyed and needy infants to toddlers taking one step at a time while babbling their favorite syllables. CLICK!
"Babies smile in their sleep because they are listening to the whispering of angels." Don't we gush when a baby smiles while sleeping and even more so when she is awake and looking into our eyes? CLICK!
From just milk to nourish them all day long, they start to be given nutritious and delicious food. They even try to feed themselves and really, parents don't mind the mess because their babies are growing up to be independent! CLICK!
Toothless smiles are really precious but when there's a tooth or two, they even look cuter.. CLICK!
New clothes, toys, baby gadgets and other thingamajigs from thoughtful friends and relatives? CLICK!
A baby's "firsts" are widely celebrated amidst proud announcements that she can now babble, feed herself, walk, navigate an electronic tablet, hold the bottle independently and so on and so forth. CLICK! CLICK! CLICK! CLICK!
CLICKS. You ask why so many clicks? I say "why not?"
Taking endless photos and videos are the things people do to record, remember and share baby milestones with family and friends. Photos and videos show babies' developmental new tricks and other developmental progress.
People with social media accounts like Facebook, Twitter and Instagram usually see these baby photos and videos posted by relatives and friends. Of course, there's no denying that we love "oohing" and "aahing" these photos of the little ones.
On the other hand, there are times when it feels like there is over sharing and too much "exposure" for the baby.
OH MY! UMAY!
"OH MY! Your baby is soooo cute and adorable!" These we read in the comments. But if it the same baby in her blissful sleep in an album with 59 photos taken within an hour or so, doesn't it become "UMAY!" already?
SO CUTE! SO (NOT) CUTE!
All babies are cute, right? Yes, all babies are cute but some are just way cuter and more adorable and more cuddly than others. If someone posts an album of a baby that belongs to the "others" in the previous description, what would you say? Would you comment that the baby is cute, adorable and cuddly when in fact he doesn't measure up to your personal standard of what is cute, adorable and cuddly?
OH WOW! OA.
We usually gush when we see something really great and say "Oh wow!" This could be for a video that shows your friend's 10-month old baby taking his first steps. This could be for a photo of a baby who loves eating mashed peas.. We usually say "OA" when the taking the first steps videos are posted one after the other or like previously written, 50+ (or even more!) photos of the baby eating the mashed peas.
To post or not to post. This is one dilemma that parents need to consider when posting on their Social Media accounts. Below are a few reminders on what to post or what not to post about babies:
To post (but not the same photos in no more than 5-10 pictures):
• Baby's milestones
• Baby's firsts
• Baby's monthly pre-birthday celebrations
Not to post:
• Babies without clothes on
• Babies taking a bath
• Babies with other parents' children
• Baby's geotagged daycare center place
• Photos with information about the baby
• Photos of baby while unwell
If you parents, however, feel that you need to share these photos and videos on your Social Media accounts, there is no stopping you.
Here are guidelines which may help you ensure you do not endanger the baby's safety and privacy from exposure to social media:
1. Tinker with the privacy settings of the Social Media accounts to make sure photos are not shared indiscriminately.
2. Turn off geotagged photos which show locations.
3. Only share with people you really know.
4. Ask yourself if you want people you do not really know see the photos you are sharing.
5. Ask yourself if you are willing to take that risk to have your baby's photos used in other sites without your knowledge and permission.
6. If still you want to share, put watermark on the photo or least blur the baby's face a bit.
We should value our privacy now more than ever especially since social media accounts are vulnerable to having its contents used by people of bad intent. This has happened and is happening. At this very moment, who knows that photos of your little ones have already been posted elsewhere?
written by Julie Fuertes-Custodio, as originally published at the Philippines Online Chronicles