The deaths of eight innocent civilians is tragic. The Filipinos are grieving. Families of the victims are sad and angry. The family of hostage taker, grieve too. Mourning and outrage pour out in Hongkong. Imagine my shock upon my arrival in Manila last Monday, after a brief and happy weekend with my husband at Kota Kinabalu. No words could express my disbelief as I listened to the news over the car radio all the way from the airport to my home. My husband and I just sat there stupefied, and trying to comprehend the tragedy.
Criticisms are now raised on the blaming game. Concerned Filipinos are asking for the accountability of President Noynoy Aquino, his communications staff, the media , police authorities, and the government as a whole.
Are all these emotions of anger, sadness, denial, and blame valid? ""Some netizens lambasted the administration over the "mishandling" of the hostage crisis. Criticisms over the Philippine government's role in the tragedy riddled social networks like Facebook and Twitter, especially the fan page of President Aquino." Juned points out ""one need not have to contribute to the wave upon wave of comments and statements. It was all there the news, the reactions and the rumors. One could sense the frustration and anger of those watching the events unfold. Hostages to this hostage drama. Hostage to the coverage. Reacting to every bit of news that comes in."
I too was frustrated with silence of media organizations on their live coverage. A broadcast journalist thinks I was ""emo". Maybe he is "emo" and taking it out on me. Even if he and I were ""emo", there is nothing wrong with emotions per se. He might be right. Maybe it is my grief is talking. Perhaps media organizations are in that stage of denial. Painful as it may be, ""a significant emotional event can be the catalyst for choosing a direction that serves us-and those around us – more effectively. Look for the learning." Let us look at the grief process.
Lessons on grief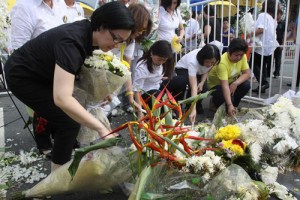 Grief is a process, a moving through. It is a roller coaster ride. Sometimes we go forward, but sometimes backward, and sometimes we get ""stuck" for a while. While emotions are quite high right now, it is a process and eventually people will move through it. We need to understand that within the grief process there are ""stages": shock, denial, anger, bargaining, acceptance and hope. The emotions don't necessarily come in that order and each one will grieve differently from the others.
So why are we blaming media, the police, President Noynoy? Maybe it is to probe for answers or, to clarify the reasons for the tragedy.
Anger is a very natural, normal reaction to a loss. Questions of "What if", "Why?" , "Why God?" form part of this process. It is good to recognize anger and try to focus it, learn to use it as a tool. The angry comments at President Aquino's facebook are meant to get answers that can be translated to action.
One of the comments read: "We need the truth, not lie. We need Justice, not excuse. I'm angry. Everyone is angry."
The comment section has since been closed. ""Left unexamined, anger will typically escalate, and often drives people toward aggression and attack." Understanding the real message of anger allows one to transform it to something useful. The basic ""message" of anger is that we want something to change, but the answers are not clear.
The shift of the anger of the tragedy moved from the hostage taker to the government.
"People were looking to the government to act in a matter that demonstrated competence and professionalism, and that wasn't apparent," said Michael Alan Hamlin, a Manila-based marketing consultant and author of "High Visibility."
The president was obviously smarting from the hateful comments in his facebook page that he pleaded them to stop the bashing. That was not helpful to know. He should allow us to identify and express anger constructively since this is one of the steps on the way to recovery. In the press conference, he begs for understanding and affirms that they could have done better. He shows optimism and gives assurance to us that ""given enough time we can recover".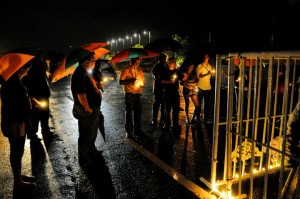 Grief will transform to hope
While the president begs for understanding, he should also understand that angry reactions are normal. We will get through this.
It is a fitting gesture that he declared August 25 as a national day of mourning to commemorate the deaths of eight civilians killed during the hostage crisis on August 23. It is good gesture not just to be in solidarity with the Hong Kong government . We are all part of the this. The people want to express mutual grief over the deaths, to commiserate with the victims' families, and also to mourn the tragic circumstances in which they died. The mourning rituals of public institutions, embassies and consulates are lowering their flags to half-mast.
What about us? Mourning can extend beyond the national day of mourning . We can either light a candle at our homes, offer prayers or simply sit still and reflect. I know Anton Sheker and Carlos Celdran are going to do their own memorial gathering at the Quirino grandstand, where the tragedy transpired. Anton and Carlos will bring along white flowers and candles to show respect and remorse in behalf of all the Philippines. This is their process. Each of us will have a unique way of coping with this tragedy.
In the past few days, I chose to ask questions, tweet and probe. Yes, in a roller coaster ride of anger, blame and acceptance. In time, the answers will come.
And so, I allow myself to grieve this tragedy but not to be consumed by it. That anger, blame and sadness will soon transform to acceptance and finally hope. My grief, our grief hopes to be resolved.
Hope- that media and the authorities learned from mistakes, and not repeat the same mistake.
Hope – that President Aquino truly deliver his promise to initiate reforms in the police force , our disaster preparedness and related government agencies.
Hope- that our country can rise above this tragedy.
A ray of hope will come as soon as the roller coaster ride subsides.
Credits
Presidential Sisters, Maria Elena ""Ballsy" A. Cruz, Pinky A. Abellada, Victoria Eliza "Viel" Aquino Dee offers flowers and prayers for the victims of the bus hostage-taking on Friday (August 27, 2010) at the Quirino Grandstand. (Photo by Ryan Lim/ Malacanang Photo Bureau).
The above article "A grief shared" was posted originally from Blog Watch"
Candlelight photos by Anton Sheker