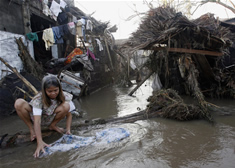 Every now and then I look for causes that are close to my heart. Sometimes I discover them through newspapers or magazines But I really don't know the reliability of the persons behind the noble cause. I admire my friend, Cathy Babao-Guballa for spearheading A Silver Lining For Bicol's Mothers along with other women and mothers. I might know everyone in the group but I definitely know Cathy as an honest and sincere person who pursues a project till the end.
So please take time to read the mission behind A Silver Lining For Bicol's Mothers and know you are in good hands with the organizers.
Early last month, five of us, representing various exclusive girl's schools, got together to form Silver Lining '82, a group whose mission is to help bring cheer to women and children affected by calamities throughout the Philippines. Our group is made up of Dimples Reyes-Rara (St. Paul), Mickey Rodriguez (St. Scholastica), Alya Honasan (Institucion Teresiana – now, Poveda Learning Center), Vina Francisco (Assumption), and myself (Maryknoll – now, Miriam College).

For our first project, it is our hope to bring some cheer and hope to the women in the towns of Daraga and Guinobatan, Albay, who to this day languish in evacuation centers, caring for their children while living under appalling conditions and suffering from various women's illnesses. Urinary tract infection is the most widespread and prevalent ailment among the women. Many of these women are single parents, having lost their husbands because of Typhoon Reming. Now, they have become the sole breadwinners and caregiver for their families.

To help alleviate their plight, our target is to bring 500 bags containing toiletries and underwear to the women in these centers. Five hundred may not be much, but providing care and kindness to even one soul can sometimes spell the difference between hope and despair in the life of a woman who toils day and night for her family.

Each bag is worth P200, and contains the following items—one toothbrush, a tube of toothpaste, bath soap, three pieces of underwear, a wash towel, a bottle of shampoo, and a bar of laundry soap. The items will be placed in a re-usable katsa bag to be sewn by a community of indigent women here in Manila. These seemingly insignificant items, basic stuff which we often take for granted, will mean a lot to the women we hope to reach. When you think about it, the price of one bag is equivalent only to a medium-sized coffee at your favorite coffee shop. Our target is to raise P100,000 by May 13, Mother's Day, so that we can bring the bags to the Bicol mothers the week after.
How can you help?
continue reading Cathy's entry on A Silver Lining For Bicol's Mothers