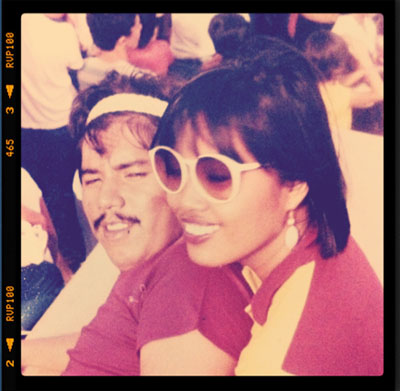 Taken on the stage of Sinulog 1985 celebration
The cries of
Pit Senyor
rings in the air right now as Cebu's Sinulog celebration heats up. Sinulog holds treasured memories of the two loves of my life: My dad and my husband.
Thirty one years ago , I first attended it with my then fiance. A lot of milestones happened in Sinulog 1985.
– my first Sinulog
– I got engaged the day before
– Dad was the chair of Sinulog 1985
– the 1985 model was a great organizational model
The Pamanhikan
How in love we both were ( and still are). Sinulog 1985 holds precious memories as that was the day Butch asked my dad for my hand in marriage. On that day, the two loves of my life finally got to talk for the first time. In all the 7 years that Butch and I were steadies, Dad never spoke a single word to Butch except "hi and bye". That day, I finally asked Dad why he treated Butch that way . Dad's two lame explanations were that he didn't want Butch to be too familiar and secondly , he didn't know how to talk to the boyfriend of his daughter. Oh well, that was cleared up that fateful Sinulog eve.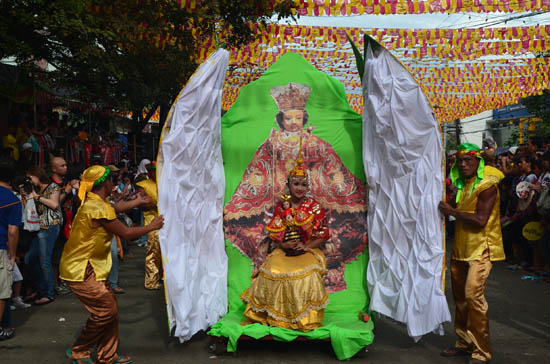 Sinulog 2012
Dad, the organizer
I missed the Sinulog so many times. During the Sinulog 2012, I brought my two girls to join the festivities and finally participate and take photos. It was not that crowded then in 1985 yet it was still festive.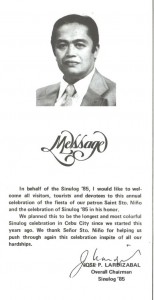 With the help of my sister, Lorna who assisted dad during the Sinulog, I was able to piece something about dad's last Sinulog as the overall organizer.
Dad was the chair for the Board of Judges committee, to judge the higantes and floats, starting 1981. I helped him find the judges and investigate their reputation and credibility. It is possible that the 1985 festival was the largest since it started but I do recall that even 1981 had already elbow-to-elbow crowds. I cannot remember the numbers. All I truly remember is that the 1985 model was a great organizational model.

The Sinulog Festival that started in 1980 was a modestly-managed event. David ""Boy" Odilao had started this project as a competition among school-based dance troupes. 16-year old Shelley Ann Roper from Connecticut, USA, the Rotary Exchange student hosted by the Rotary Club of Cebu-West (and who was living with us in our Lahug home) who was a member of the Southwestern Dance Troupe, was acknowledged as the first American to dance in this first official celebration that had commercial appeal. Shelley certainly stood out — blonde hair, fair skin, dancing barefooted in Sinulog attire.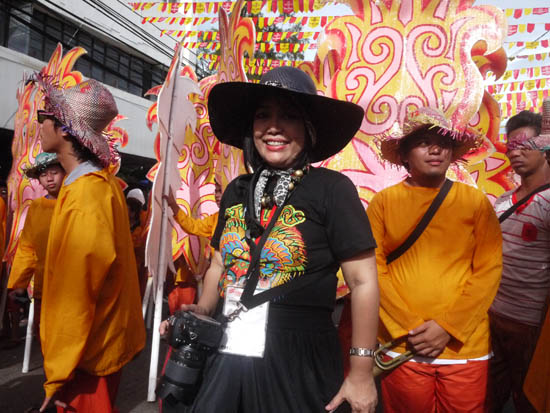 Sinulog 2012
The glitters, the dances, the fancy trimmings and the pageantry are only expressions of how important Santo Nino is to the Cebuanos but for me Sinulog is a day filled with treasures of love .
My dear Sto. Nino . These days in January we are again celebrating your feast. How fitting to celebrate your feast in this first month of the year, since as a child, you invite us to grow and mature with you through the year!
Pit Senyor