How in love we both were ( and still are). Sinulog 1985 holds precious memories as that was the day Butch asked my dad for my hand in marriage. On that day, the two loves of my life finally got to talk for the first time. In all the 7 years that Butch and I were steadies, Dad never spoke a single word to Butch except "hi and bye". That day, I finally asked Dad why he treated Butch that way . Dad's two lame explanations were that he didn't want Butch to be too familiar and secondly , he didn't know how to talk to the boyfriend of his daughter. Oh well, that was cleared up that fateful Sinulog eve.
Born in Cebu, the Sinulog Festival was alien to me until I went home to Cebu on January 1985 for my "pamanhikan" (engagement). My dear father, was the overall organizer for the 1985 Sinulog Festivities. Sure I have seen old women dancing in front of the Santo Niño at the Basilica. You gave them money to dance and ask blessings from the Sto. Nino. In the Sinulog version, the dance moves two steps forward and one step backward to the sound of the drums.
As Sinulog nears, I remember my dad. After all, he suffered a stroke while promoting the Sinulog in California. In 2007,  I did a search for the origins of Sinulog, no word is mentioned of my dad, Jose P Lardizabal. One thing I have learned about my dad's illness is that you know your friends at your worst times. One by one, dad's friends forgot about him. Due to dad's incoherent speech, he was often ignored and humiliated. I can't blame them for the distance. There are a handful of friends who stayed behind who had compassion over a sick man. Inspite of his disability, my dad is a great man who lived a new life without his speech faculties. In my little corner of cyberspace, I want to remember dad.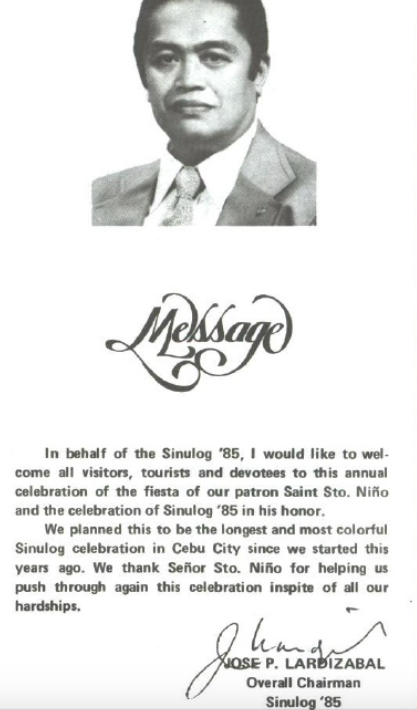 Back in 2007, and with the help of my sister, Lorna who assisted dad during the Sinulog, I was able to piece something about dad's last Sinulog as the overall organizer.
Dad was the chair for the Board of Judges committee — to judge the higantes and floats, starting 1981. I helped him find the judges and investigate their reputation and credibility. It is possible that the 1985 festival was the largest since it started but I do recall that even 1981 had already elbow-to-elbow crowds. I cannot remember the numbers. All I truly remember is that the 1985 model was a great organizational model.

The Sinulog Festival that started in 1980 was a modestly-managed event. David "Boy" Odilao had started this project as a competition among school-based dance troupes. 16-year old Shelley Ann Roper from Connecticut, USA, the Rotary Exchange student hosted by the Rotary Club of Cebu-West (and who was living with us in our Lahug home) who was a member of the Southwestern Dance Troupe, was acknowledged as the first American to dance in this first official celebration that had commercial appeal. Shelley certainly stood out : blonde hair, fair skin, dancing barefooted in Sinulog attire.(read more of Lorna's comments below)
My sister graciously scanned the Sinulog 1985 souvenir program (see below). Sinulog 1985 as my dad predicted was the longest and most colorful Sinulog celebration in Cebu City since it started in 1981.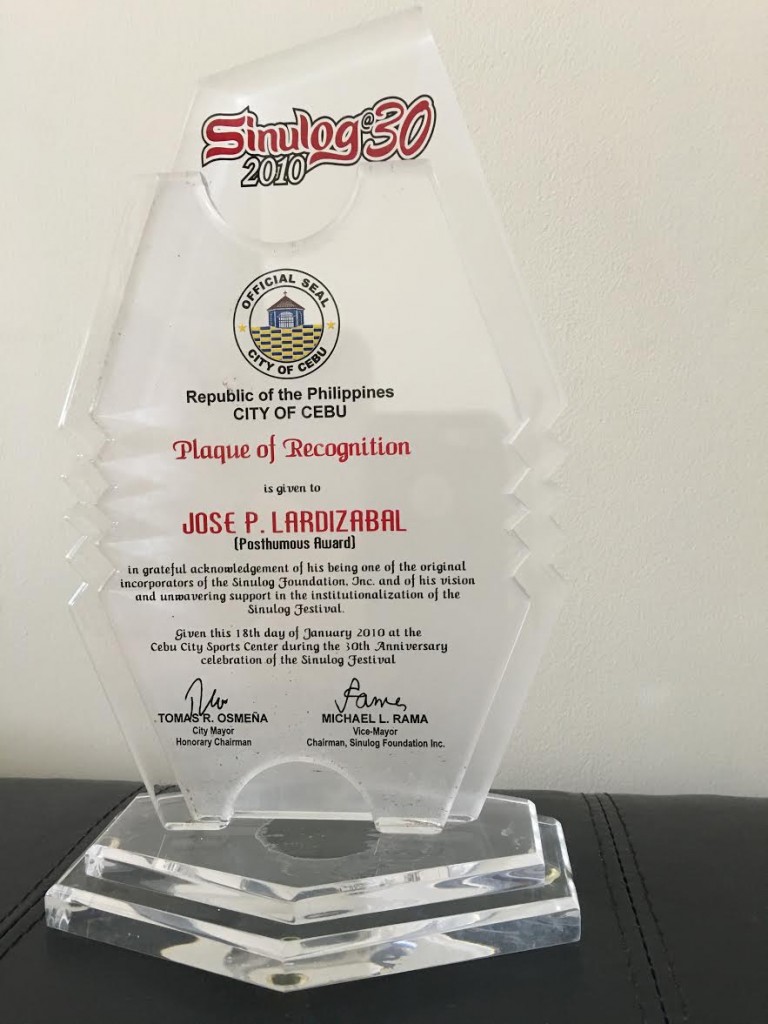 It was a pleasant surprise that my dad received a posthumous award in " grateful acknowledgment of his being one of the original incorporators of the Sinulog Foundation and of his wisdom and unwavering support in the institutionalization of the Sinulog Festival."
Ricky Ballesteros, Executive Director of the ExecCom, Sinulog 2016, informed my sister that he told the committee that these original board members (and other unsung heroes among the volunteers) needed to be recognized because if it wasn't for their start-up efforts, resources, and sacrifices, the Sinulog Festival wouldn't be what it is today.
Dad must be smiling .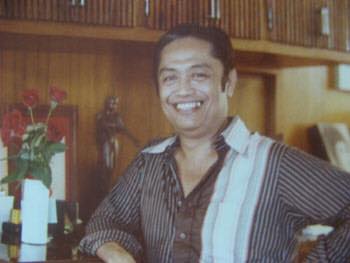 Sinulog 1985 holds precious memories as that was the day Butch asked my dad for my hand in marriage. On that day, the two loves of my life finally got to talk for the first time. The glitters, the dances, the fancy trimmings and the pageantry are only expressions of how important Santo Niño is but for me Sinulog is a day filled with treasures of love .
Sinulog 1985 Cebu Souvenir Program, From Lorna Lardizabal Dietz's Archives by Lorna Dietz