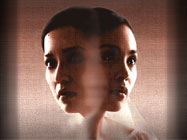 No I haven't watched Sukob but my daughter thinks it's a more horrific film than The White Lady. Notice how the Philippine Movie industry is spewing Filipino film [tag]horror[/tag] genre like its Asian counterparts? As the movie's title (""Sukob") states, the movie is about all the horrible things that happen when two siblings are married within the same year.
Well fellow bloggers, my sister B and I married on the same year, 1985. Another sister , M got hitched in 1986 and another sister, L in 1987. And guess what? We all encountered marital problems like most marriages. But how would I know it back then? The year 1985 was originally reserved for me. Oh yes, we had to book our wedding dates in advance as my father is overly superstitious. Dad was a typical traditional Filipino father. Also, we wanted to play it safe. M wanted to get married in 1985 as well but gave in to me because I was the older sister. Besides , Butch and I were already steadies for 7 years. M and her fiancee just met that year. M thought we should get the wedding date of May 1985. I had seniority and first priority. One day in October 1985, B suddenly announced her [tag]wedding plans[/tag] for November 1985. M and I were furious.
How could you? Don't you know one of us will have bad luck? I cried.
M protested " I gave in to Noemi because I didn't want both of us to be married the same year"
B argued "That's just a superstition!"
Shock and disappointment was our initial reaction . B remained adamant. She pushed through with her wedding plans and got married in November 1985. My father forgot all about the superstition because he suffered a stroke a few days after my sister asked permission.
If B didn't insist on marrying in 1985, her wedding date would have been slated for 1987. Imagine 2 more years. And L would have protested too. That's what happens when there are 4 sisters in the family. How can one predict wedding dates anyway?
Twenty-one years later, my attitude towards superstitious beliefs changed. Superstitious beliefs are so negative and it means one does not even have faith in God. If one continues to foster negative vibes about marriage, then it will lead that way. I had to remove the "sukob" belief in order to lead a positive attitude of my married life. I have learned that a marriage is about imperfect people doing their best to nurture and minister in love. Caring, long-term commitment, integrity, togetherness and maintaining a positive focus are qualities of character that foster lasting love. God is also the center of our married life. He controls the details of our life and we lift our problems and plans to Him. Of course, I only knew this much later in life after much pain and trials.
Inspite of my initial disappointment, I learned to let it go. M forgot about it. May all the sisters in the world continue to live in love and understanding. Pooh "sukob". It's not true.