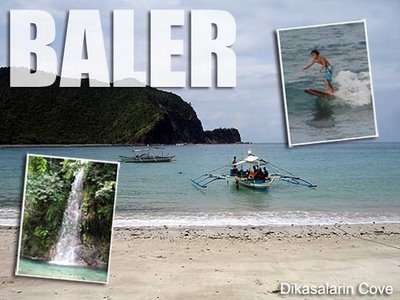 (Photo credits from
IvanHenares.com
)
May is going to be a travel month. Remember my travel plans? My husband and I plan to travel to Batanes and Cagayan if he can get off from work. And I thought of the perfect wedding anniversary gift for my husband on May 5. A DSLR Camera! Hush…
I have another gift for you too.
You and a friend can fly to Baler, Aurora and go surfing with two SEAIR tickets up for grabs! aboutmyrecovery.com and the SEAIR Adventure Club is giving away (again) two round-trip tickets to Baler and free surfing lessons for two to one lucky person. All you have to do is leave a comment in "Summer fun in Baler" , Surfs up in Baler and tell us why surfing is fun and why Baler is such a great place by Sunday, 3 May 2008, at 8:00 p.m.
Like the previous raffle, make sure you place your full name in the name field since you will need a valid ID to claim the tickets if you win. The winner will be drawn at random and will be notified by e-mail so make sure you double check your e-mail address before submitting your comment. Finally, one entry per IP address so only the first entry from each IP address will be counted. Tickets will be valid from now until 15 October 2008. Good luck!
—
I witnessed the raffle draw.
Our Batanes ticket raffle got 396 comments posted before the 8 p.m. deadline last Sunday, April 20, 2008. Members of the SEAIR Adventure Club met Tuesday to draw the winning comment. To do this, each comment was numbered 001 to 396. The draw was done lotto style. Three piles of numbers were made, the first pile had the numbers 0 to 3, while the second and third pile had the numbers 0 to 9. And the winning number is 190 which is the comment of William Gilbert Agravante. Congratulations, you just won two round-trip SEAIR tickets to Batanes!
But since we enjoyed reading your comments, we've decided to give one round-trip ticket to the best comment with the word ""SEAIR" in it. And that comment belongs to Dorcas Juliette Ramos. Congratulations on your graduation! You win one round-trip ticket to Batanes! To both our winners, please wait for the notification e-mail on how to claim your tickets