Of course, I never imagined the wrath of Ondoy as it poured rain in Manila. I arrived in Singapore that saturday noon and saw a twitter message from my daughter.
"Oh no, the flood is entering the house. and mom is not here".
No matter, the age of your child, they still look for good old mom. Their dad was around to help out move things to the second floor. Never in our wildest dreams did we expect the floods to reach neck deep in the house. Our former residence in Magallanes got flooded once and it was just ankle deep so the kids were pretty much exposed to floodwaters in the house. This time it was far more serious.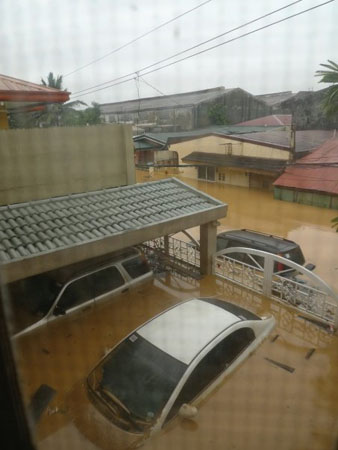 Our 3 cars submerged. Only 2 cars had insurance coverage for "Acts of God".
Naturally, my first reaction is, "oh the furniture, the oven, the ref, the piano..". I thought, what if the water rose up to the second floor? Oh Lord, I was asking my sister to help me get them out of the village. Luckily, the flood water subsided saturday night but it was still too deep to venture out and even for a van to deliver food and water. So many relief goods were mobilized but the delivery was futile without a rubber boat.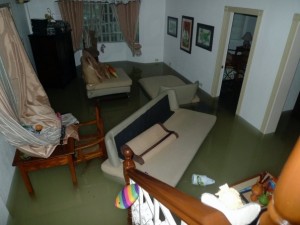 this is not yet the peak of the flood waters. It rose to chin level.
My daughter described her ordeal:
I spent my Saturday afternoon and most of Sunday trapped in the second floor of our house with my dad, sister, helpers, and pets as the streets turned into rivers at the height of tropical storm Ondoy. To cope with it all, I tried to think of the wh…ole ordeal as a cool survival game where I become awesomer and awesomer the hungrier I get. Truth is, I was really quite scared that we'd be trapped there for days and that I'd end up eating my kitty out of desperation. But luckily, the floods did eventually subside. And thanks to our awesome relatives who managed to get us Sunday evening, my sister and I were able to eat a warm meal for the first time all weekend.

Looking at the photos makes me feel tremendously sad, which in turn makes me feel silly and bourgeois. I mean, we were perfectly safe; it's not like we had to climb up to the roof and wait for help there. Besides, the only things we lost were furniture. But I still can't shake off this weird sense of loss and survival's guilt. I want beer.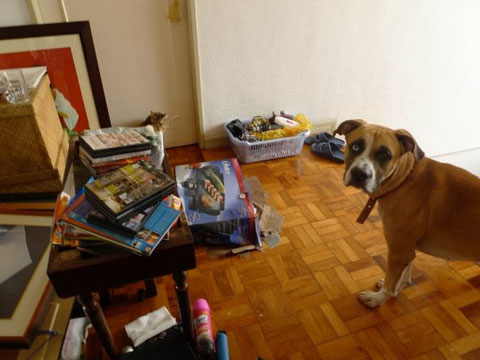 My family tried their best to move everything from downstairs, including Humphrey the dog. He's never allowed inside, but he was surprisingly very tame and well-behaved.
i assured the kids that we can hurdle this. We have gone through the greatest pain ever, the death of my son. These are just material possessions that can easily be bought in time. I am truly grateful my family is safe yet feel sad that others suffered more. Being alive is all that matters.
I arrived in Manila early this morning and right now, I am staying temporarily at my sister's house in Quezon City. My two daughters are with me but my husband is left behind to watch over our house clean up operations.
Slowly, I am picking up the pieces. I gazed at my home and it still looks good from the outside. It's just a mess inside. I started to work on priorities, one step at a time.
1. Called car insurance if flood damage is covered. Two cars will be fixed through the comprehensive insurance. Mapfre Insurance is the best. Malayan Insurance sucks. Sometimes cheap insurance is not worth it. Read the fine line and check if "acts of God" are included.
2. Cleaning of the mud and debris is in progress. Things have to be dried so that molds don't eat up our things. I have four people cleaning it now. The floors are clear of mud but so much drying needs to be done.
3. Called the service center of our Samsung Ref and La Germania oven to see if they can still be used and repaired. Service is being scheduled tomorrow.
4. Electricity is back but electrician is checking all outlets to make sure it is safe to use.
5. Food is hard to buy near our village so we have to buy it further away.
6. Checking if our home insurance covered flood damage. I am hoping for the best. Maybe the government will be kind enough to provide us with soft loans to rebuild our homes.
I am hoping the piano can still be saved. Among all the material possessions damaged by the flood, the broken piano hits hard. My beloved father bought the piano for me because he wanted my two girls to learn the piano. The girls feel bad that it is broken. I hope I can still fix it. Thye are poignant memories of my father.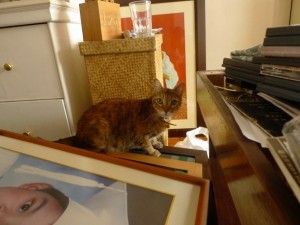 Yes , I am taking it one step at time. My neighbors are on the streets drying their furniture and discarding unusable items.
There is so much work to be done and as long as the refrigerator and oven is in place, we can move back.
The Ondoy devastation is indeed a tragedy but we have survived far worst in the past . I know in the face of adversity, we learn to be stronger and hopeful that our flood-damaged home will once be beautiful and cozy.
One thing we can learn from this flood:
1. Get your own rubber boat or "salvavida"
2. Never trust Pag-Asa forecast. Keep food, water, battery powered lights on standby.
What have you learned from Ondoy flood?
Other Ondoy Stories
Typhoon Ondoy rain and flood aftermath [photos n video]
How To Help Ondoy Victims
Help for Typhoon Ondoy Victims