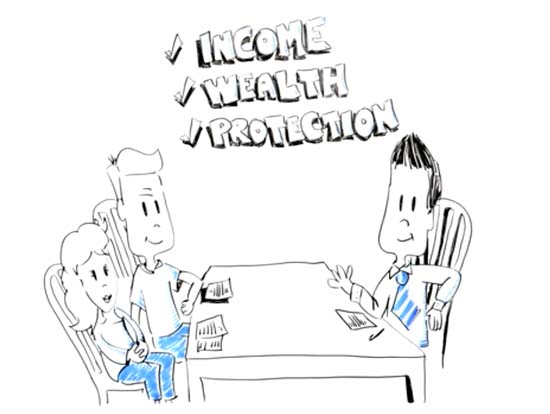 It's that stage in my life where I am an empty nester. My two girls are now financially independent and not living in the family home anymore. It is that stage in my life when I am preparing for my golden years…not retirement because  I will never retire. Life is so much fun being a blogger. These days, one can still continue work and yet enjoy life at the same time using online opportunities.  My goals are income, wealth and protection.
Who doesn't want money for life? I know I do. It does not mean I want to covet luxurious items. When I say wealth, I want money for life to take care of my basic needs: food, shelter , (still paying for my house loan), utilities, health needs and clothing .
My retirement plan revolves around sudden illness. Health is wealth but I need to prepare for accidents, complications, if ever, on my diabetes.  The best care is preventive health care. I do that now by walking daily (at least 10,000) steps and removing beef, pork, and chicken from my diet.
I cannot imagine my children supporting me in my old age especially if they have families already which is one reason that I stopped giving them financial support once they started work so I could rebuild my savings. My kids often say that they will help us in our old age but I don't want them to think that is our plan. If they want to give us gifts, well and good. It is not an imposition but more out of love.
What do I want my legacy to be?
Leaving a legacy means different things to different people. But what is leaving a financial legacy?  Each of us today, has a financial future.  My next goal is now leaving a legacy but not necessarily for my children…Yes, I do want to preserve my estate but most importantly, I want to have enough money to tide us over during our golden years of over 50 and above.
The  Money for life eplanner at moneyforlife.com.ph is a good start , which guides me on achieving this legacy.
My desired goal is staying protected from sickness and accidents.
The next step is identifying my needs and the amount of my goal.
I have options to explore that I can now talk to my Sunlife advisor, Kendrick Chua. He has been my advisor since 2011.
I will update you soon on how I have been achieving my "money for life" goals.
You can get a headstart by joining the Bus to the Future
To help inspire the public to create their own Money for Life plan with a financial advisor, Sun Life created a 360-degree visual reality (VR) video, transporting them to different scenarios based on their chosen life stage. This will enable the viewer to live the dream for a minute and be encouraged to start planning for their future through Money for Life and Sun Life's life insurance and investment products.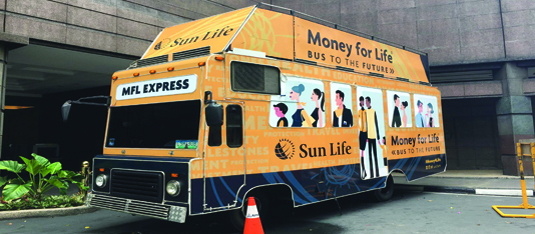 Viewable with a VR headset, the video can be experienced in a customized bus called "Bus to the Future," which will be making its way to different malls and campuses nationwide. Among the stops are:
| | |
| --- | --- |
| MALL | DATE |
| Bonifacio Global City High Street | June 11 |
| Eastwood | June 19 |
| SM City Cebu | June 25 |
| | |
| --- | --- |
| UNIVERSITY | DATE |
| MAPUA Institute of Technology | June 2 |
| Ateneo Graduate School of Business | June 12 |
| De La Salle University | June 16 |
| | |
| --- | --- |
| University of the Philippines Diliman | June 16 |
| San Sebastian College | June 20 |
| University of San Carlos Cebu | June 24 |
| Lyceum of the Philippines University Manila | June 29 |
| | |
| --- | --- |
| University of the Philippines Los Banos | June 30 |
In all these stops, Sun Life financial advisors will also be on hand to accommodate inquiries.