Bloggers Meet and Greet with Joy Rojas on April 18. Please sign up here here
A journey of a thousand miles begins with a single step. Lao-tzu
I remember running (half-walking) in that Island Cove "Amazing Race". I remember feeling proud that I made it that far. I felt proud as I saw the distance I traversed. Now I finally understand runners like my friend Cathy and Pia as they inch closer and closer to their goals. I am not surprised that Joy Rojas will run 5,000 kilometers in 120 days, through 12 states and four time zones in the United states of America.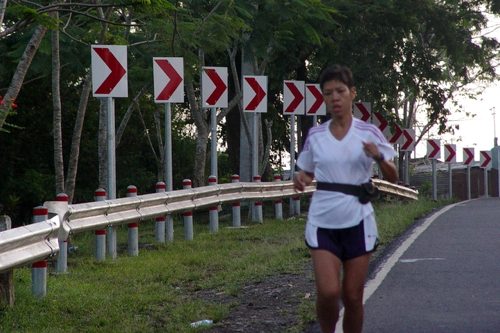 I first met Joy Rojas in early 2006 when she interviewed me and two of my friends for The Compassionate Friends. Her article came out in the Sunday Inquirer which paved the way for the awareness of my support group. The success of the article comforted so many bereaved parents and eventually inspired me to be a blogger so I could spread the awareness further.
Now I want to give back, and help Joy achieve her dream.
This freelance journalist will begin her ultramarathon run in Eagle Rock, California and continue through Nevada, Utah, Colorado, Kansas, Missouri, Illinois, Indiana, Ohio, Pennsylvania and New Jersey towards New York City, where Filipinos will welcome her and accompany her to her finish line on Fifth Avenue.
This is a dream come true for Joy.
Do you have a dream deep in your heart that you want to pursue? Taking the first step is perhaps the most difficult thing to do in achieving a dream. Take a look at Joy.
Joy started off with a modest goal when she was in her 20s—to finish one loop around the park in Bel-Air Village, Makati. Estimating it to be just about 1 km, Rojas said she barely made it halfway on her first attempt.
She persisted until one day she made it all the way around—once, twice, thrice, 10 times—until she eventually joined her first race. From races, she moved on to long-distance running, conquering on foot town upon town all over the country.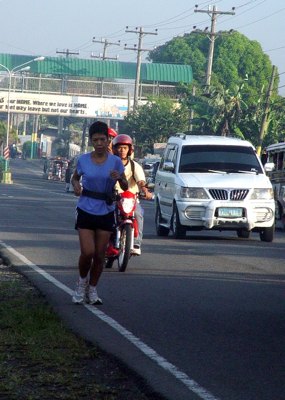 Joy will surely rewrite history when she begins her journey on her 44th birthday, May 11, 2009. Once she reaches the finish line at the Philippine Consulate in Manhattan on September 8, she will go down in record as the only Southeast Asian woman to have accomplished such a deed. All in all, approximately 182 men and 11 women have run across the world's fourth largest nation. Her endeavor, ambitious and promising as it is, is named Takbong Pangarap. Literally translating into ""Dream Run," the trans-America sprint is not something Joy will be doing only for herself. A tuberculosis survivor, Joy will make sure that her run will benefit the Anti-Tuberculosis Program of the Inner Wheel Club of Quezon City District 378 and the Social Services Division of the Philippine Heart Center.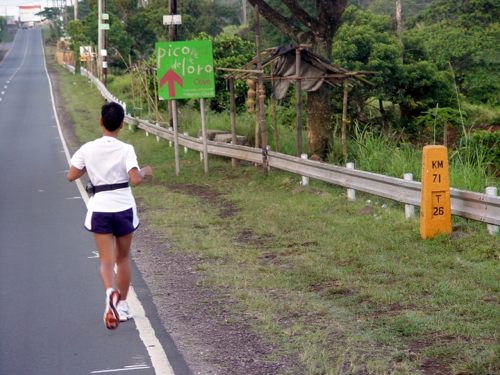 ""This will be a completely new experience for me not only because I've never been to the US, but also because I will be covering miles and miles of nothingness," she adds. ""In the Philippines, you never feel alone for long because somewhere along the road you'll find a house blasting karaoke music at seven in the morning."
As Joy makes her way through the roads in America, she will touch base with the Filipino-American and share how it is actually possible to achieve impossible dreams if one simply works on it—as she has, and as she will.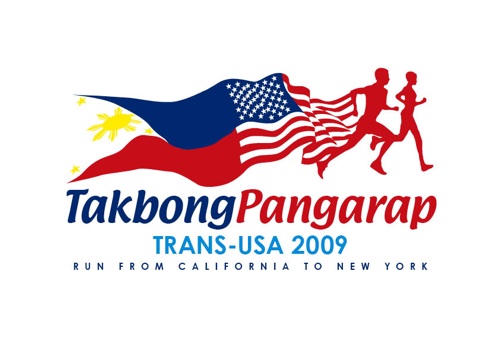 What joy it is to reach one's dream! Let's support Joy Rojas achieve her "Takbong Pangarap".
""Takbong Pangarap" is sponsored by Adidas, Smart Communications, HSBC, Rustan's/Shopwise, Sen. Pia Cayetano, Sony Ericsson Phils. and the Manila Peninsula. Beneficiaries are the Social Services Division of the Philippine Heart Center and the Anti-TB Program of the Inner Wheel Club of Quezon City, District 378.
Bloggers Meet and Greet with Joy Rojas on April 15. Please sign up here
How to help Joy Rojas
1. Sponsor or pledge. Call Buensalido & Associates at +632- 817-4471 or Chuck Crisanto at +63917-898-3621
2. For Pinoys in the US, run a few kilometers with Joy for moral support. According to Chuck, they are hoping that Pinoy runners in New York (calling Mike Mesina and Jud) can accompany Joy in the last 20km of her run. This will be on Sept. 8, around 1 p.m., starting at the foot of George Washington bridge until Joy crosses the finish line at the Philippine Consulate around 3 p.m. For inquiries, email [email protected]
3. Buy these patriotic Coach shirts. A portion of the proceeds goes to Takbong Pangarap. For more info, call Chuck Crisanto at +63917-898-3621 or email him at: [email protected]
Click here on more information on How to Help Joy Rojas
Related Articles on Joy Rojas
Joy Rojas Channel at the Philippine Online Chronicles.
Crossing countries, carrying dreams by Philippine Online Chronicles
Running into Joy, Business Mirror
Championing the Filipino spirit , Manila Bulletin