At 7:00 PM, The Compassionate Friends held the 11th Worldwide Candle Lighting event at the Ateneo Loyola Schools.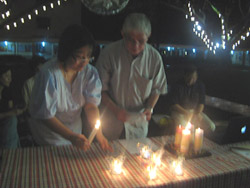 Our Candle Lighting Service is done with love,
A tribute to our children who have gone on above.
We light our candles so others will know,
We remember our children and we still love them so.
We will continue to cherish our children so dear,
Through this service of remembrance we have every year.
We validate the high place of honor our children still claim,
As with acclamations of pride we honor their names.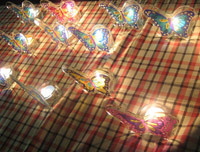 As we light our candles and share our love,
Our thoughts are lifted to the heavens above.
Our children so precious, so loved and so missed,
We feel their presence – right here in our midst.
Lighting our candles and remembering our children's smiles,
Is the perfect combination of our children's lights and lives.
For their lights still shine brightly and help us to see the way,
And their lives now serve to motivate us to reach out to others every day.
All the music that is provided, each thing that is done,
Each candle that is lit, each song that is sung.
Is dedicated to our children's memories that never grow dim,
Because this Candle Lighting Service of Remembrance is in honor of them.
~ By Faye McCord ~ TCF / Jackson, MS
In loving memory of my son, Lane McCord (1/26/65 – 9/13/98)
View photos of 11th Worldwide Candle Light Event
Thank you to Hector and Cathy Guballa for taking care of the venue at the Ateneo Loyola Schools.
And Epson (through Jayvee) for lending their Epson EMP 1815 Multimedia Projector. The projector was a fitting touch to the Candle Light Ceremony as it gave clear and crisp presentation of our beloved children.