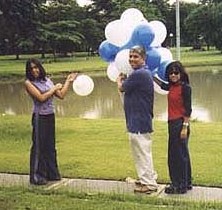 This photo was two months after Luijoe's death. Here are my two daughters in their early teens about to release balloons on Luijoe's 7th birth Anniversary. The sunny skies greeted us as we celebrated that day with balloons, his favorite gummy bear, flowers , candles and incense sticks. All of us signed something on the smiley balloon by Luijoe's grave. As I look at this photo, I could not imagine my children's grief until many years after. This was how Lauren expressed her grief 3 years after the death of her brother:
Everyone has their own way of dealing with grief. I chose to deal with my sadness through writing down what I felt in my journal. I suppose I could have talked to my friends about it, but I knew in my heart that they could not comprehend the magnitude of my sorrow and guilt unless they themselves have experienced death, which they haven't.

During my bereavement, one thing that exasperated me was when people would tell me things like, 'At least your brother is an angel in heaven now.' Though I know they meant well by these attempts to comfort me, I did not want to picture Luijoe hovering in and out of the clouds with a pair of wings and a halo. I wanted him to be alive, to be as annoying as little brothers are; anywhere but inside a wooden casket buried six feet under a fine carpet of Bermuda grass.

Grief is a never-ending process. The beautiful thing about grieving is that even though you will never get over the death of your loved one, you will learn to move on and live without that person. Death like any great wound leaves a scar that will heal with time. But the mark will always remain, and so will the memories of your loved one.

I never really knew the depth of my children's grief. In their case, it is sibling grief. They didn't want to talk much about it. I just noticed that their grades improved tremendously soon after. They are impatient with triviality and shallowness of their peers. They are mature for their age. I knew they questioned life as "No one I know lost a sibling".
I also recall a friend who advised my daughters to ""you be sure and take care of your parents". I bet my daughters wondered "who was supposed to take care of me?". I read somewhere that sibling grief is like ""Discount Grief." Why? Because siblings appear to be an emotional bargain in most people's eyes. People worry so much about the bereaved parents that they invest very little attention in the grieving sibling.
I realize that some people are unaware that they are discounting a child's grief. But then, that's why I'm blogging about this…so people will know.
Do you know a child (between the ages of 3 to 18) who is grieving? Are you interested in helping that child?
I am inviting you all to a special seminar on "Helping Children Grieve" tomorrow, Monday, September 24, 2007 at the Greenhills Christian Fellowship church on Ruby corner Garnet Roads in the Ortigas business district. Cathy Babao-Guballa and her husband, Hector will be facilitating a two-hour video/workshop on how to better understand a child's grieving process. This will be very helpful to doctors, parents, educators or anyone working with children. The workshop starts at 6:30 PM.
There is no fee. Just call 0917-529-1964 to register or email [email protected]
Grieving is an individual wilderness experience that is not exclusive to adults. Shock, anger, denial, guilt and behavior changes are human responses. Children need adults to help them connect to their resources, maintain a positive attitude, and walk in faith believing that they will heal and get through it. Knowing that someone cares will help make their ""wilderness" journey easier to bear.