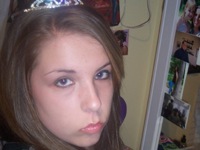 I first read Megan Meier's suicide from my husband's entry Online Hoax Leads to Suicide of Teenage Girl. The sad story starts with an online friend, Josh Evans who Megan never met in real life. Josh became mean to Megan and told her ""The world would be a better place without you.". Sobbing, Megan ran into her bedroom closet. Her mother found her there, just 15 minutes later, hanging from a belt, another fatal teen statistic.
Six weeks after Megan's death, her parents learned that Josh Evans never existed. He was an online character created by Lori Drew, the 47-year old mother of Megan's former best friend, who lived four houses down the street from the Meiers. Mrs. Drew created the character ""Josh Evans", according to a neighbor, because she ""going to mess with Megan" for apparently breaking up the once-close friendship with her daughter. Lori Drew did more than that. She drove Megan Meir to kill herself.
I can't believe how Lori Drew together with her employee took the pain of her daughter by pretending to be Josh. As a mother, I do feel the heartbreak of my daughter's failed friendships or relationships but I cannot fight their battles. It's natural for a mom to protect her daughter, but a reasonable mature adult would have gone to the other parents and start a discussion on how to resolve conflicts.
No charges were filed against Lori Drew because she did not break any law. Sure, she was rude and immature but her actions were not illegal. Oh dear. Latest news is Megan's neighbors turned against their neighbor Lori Drew demanding the Drews to move out. Through her lawyer, Lori denied saying hurtful things to Megan over the Internet. Prosecutors have said they found no grounds for charges against the woman. Nevertheless, the community reaction has been vengeful and the pressure on the Drews intense.
I strongly agree on this comment that both parents are partly responsible:
While I do not condone the actions of the Drew family, for I believe they should feel responsible for contributing to the death of Megan, I think the Meier family is also responsible. I question if they took her depression seriously. After all, why allow your teen on MySpace where bullying and harassment is apparent. Parents need to monitor their teens actions on the computer no matter how much flack you get from them. You are the parent. As for adults harassing the Drews, or thinking of doing something, they have been punished enough by the community. Charges have been tried and nothing came of it, but hopefully this will get a law started for those who get their jollies from bullying others online. To all parents, monitor your kids online activities. It's your responsibility.
Cyber bullying is a reality in the recent internet years since there are a lot of social networks like friendster, multiply and myspace. If you notice your kid is being bullied online, get help. Even mature experienced adults often cannot handle bullying and harassment by themselves.
The whole situation is so sad. I find it hard to believe a mom would knowingly allow her kid to bully someone. Teens are already saddled with enough real or imagined problems. I find it sadder that a whole community is into a vigilante type of justice. It's like how they used to do in the 1700s and 1800s. If you wronged a community, you were basically shunned. That's basically what happened to the Drew Family.
Would you take justice into your own hands by being part of this "lynch mob"?