God grant me the serenity to accept the people I cannot change, the courage to change the one I can, and the wisdom to know it's me. ~Author Unknown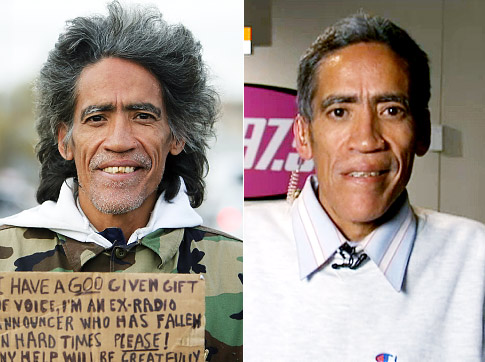 (Before (as homeless alcoholic) and after
Photo credit: NY daily news)
I am so touched with Ted Williams' story. Williams' story is "the epitome of how dreams can come true in the internet age". And yes, practically overnight. What makes it even more touching is he left a life of alcoholism and drugs two and a half years ago.
I am such a sucker for stories that deal with the theme of "second chances". Two days ago, the web got introduced to Ted Williams, a 53 year old homeless recovering alcoholic. The Ohio area man held up a sign that read he had the "God-given gift of a great voice" and he was willing to share it with anyone who could donate some change. In exchange for a few coins, his patrons get a treat to sound bites of his bottomless, buttery, baritone voice.
I've seen homeless men on the side of the road in my recent US visit and it often piqued my curiosity on the words they scribbled down on that piece of paper. It must have been Ted's lucky day because a kind patron encountered Williams on the highway , uploaded a video of Williams using his golden voice. The video turned out to be viral hit on YouTube with 9,871,461 hits as of January 5,2010. As a result of the video's success and the former homeless man's perfect voice, the Cleveland Cavaliers offered him a job as a full-time announcer for the Cavaliers and even offered him a house.

I also watched a tearful Williams tell the CBS' "The Early Show" about the best gift of all.
The biggest blessing from all of this sudden fame was the chance to visit his 92 year old mom, whom he hadn't seen in at least a decade.
"I apologize. I'm getting a little emotional. I haven't seen my mom in a great deal of time," said Williams, who was coming to the city to do an interview on the "Today" show on Thursday morning.

"One of my biggest prayers that I sent out was that she would live long enough for me to see me rebound or whatever, and I guess God kept her around and kept my pipes around to maybe just have one more shot".
The Cleveland Cavaliers administration is aware of his past criminal records yet the job offer still stands. People like him, the recovering alcoholic or substance abuse user should be given a second chance under certain conditions, of course. He was also asked and accepted the position as the official voice for Kraft Macaroni and Cheese.
Recovering alcoholics will always be alcoholics but with proper programs, chances of recovery is higher. He seems to believe in God, which is important in recovery. These are the people that ought to be given a second chance, to make amends to their loved ones and make it right. Ted Williams can earn back most of what he lost throughout his drinking but never the Lost Time.
"Just to get back to some normalcy and responsibility — If I can a job, whether it's a twenty-five or even $18,000, I'd be happy," he said. "At least I know God has me where he wants me."
I respect Ted Williams and similar recovering substance abuser for their courage to admit their faults, served their misdeeds and face the world. This homeless man with the 'golden radio voice' has a second chance to do it right again, thanks to the internet and the Columbus Dispatch, with this request:
My request to all. Whenever you run across a story such as this, don't assume it'll take a life of its own, on its own. It won't. It can't. There are too many other stories that drown out the one before it.

You need to spend time to get that story and its word out to many. If you care, you'll do it.

Keep the faith, pay forward and always lend a hand; even if you're the one who needs it.
Let's keep the faith and believe that there is a second chance in life.
"This time around I have God," Williams told NBC's "Today" show this morning, just 48 hours after a video of one of his radio-ready voiceovers — performed while panhandling on the side of a Columbus road — went viral. A "new sense of spirituality," he said, would help him handle his sudden success.
Take a look at Ted Williams' full Today Show interview today:
Visit msnbc.com for breaking news, world news, and news about the economy