Gone are the days when I'd wait patiently by the lobby of the ballet studio, the Cultural Center of the Philippines, the Folk Arts Theater or wherever my 2 girls performed piano, ballet, voice recitals or a choir performance. Ohh, how enthralled I was listening or watching them on stage! Tying their hair to a neat bun, dabbling with their makeup or lugging their costumes were now a thing of the past. Those were my stage mother years. My hubby thought I was this frustrated mother who used her girls as a tool for her unfulfilled ambitions. Haha. Funny. My maternal instinct sought to develop the God-given talents of my daughters. I cannot for the life of me, carry a tune or tap my toes so there were no ballerina or opera singer dreams.
The stage mother years span from the time L was a precocious 4 year old painist till her early teens. M, my second daughter , gifted with a singing voice, followed suit. The girls danced ballet , sang, played the piano but when they discovered the Manila Children's Choir, they got hooked. Maybe because being with a group of kids was a blast. I even had my own "barkada" of stage mothers. As the mother of 2 minor children, I accompanied them to cultural exchange trips to the USA or Canada. Meanwhile, hubby whined that I constantly left him in the Philippines with my son. Feeling guilty, I resolved to curb these trips or at least train the girls to travel on their own. As we travelled , I gave pointers on airline , immigration procedures, packing, and basic travel .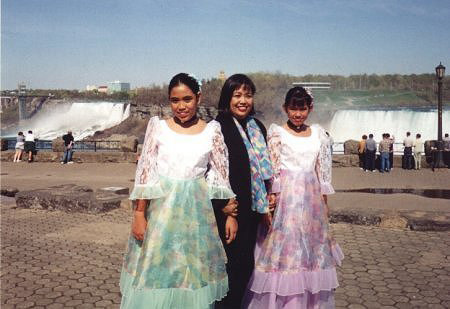 The beaming stage mother with her daughters in Niagara Falls
In the summer of 2000, I announced to the girls that the Europe tour was cancelled because of a much needed family vacation in Cebu. Now this is where I constantly have regrets. See , if we were in Europe, we would not have gone to the beach resort. If we did not go to the beach resort, my precious son would have not died. Regrets! Regrets! How could a family day turn into this nightmare? Through the years, those regrets and guilt have been resolved. We just don't know when death comes . It's HIS master plan.
And so, my stage mother years ended in the year 2000 . However, the girls continued their singing performances and managed to travel on their own. In one of those trips, my daughter received the blessings from the frail Pope John Paul II in the Vatican. Then one day they realized they were too old for the children's choir and quit.
It's been 5 years now. Or so I thought!
A few weeks ago, M sent me an urgent text message:
"I need hairpins, gel, fine tooth comb, makeup bag"
"I need it for the concert tomorrow." I can sense the panic.
"and stuffing for the hairnet! My hair is too short"
She joined a chorale in the University of the Philippines during her second semester because she missed the singing and performing days. See! I was not a stage mother for nothing.
Whaaaaat? I will drive all the way to Quezon City just to bring those things? Blah blah blah. Yakkity yak!
She sweetly persuades me to concede , with an invitation to watch their show.
How could I resist? I'm still a stage mother hehe.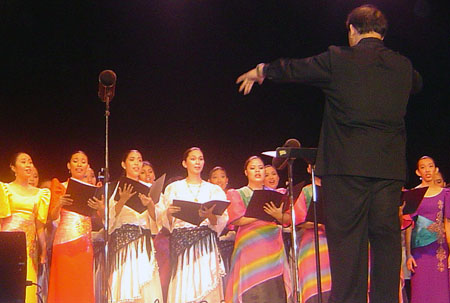 My daughter is the one in white gown beside the girl wearing the orange terno.