Twenty years ago, Freedom Constitution took effect .
Twenty years ago, my husband was cramming for his labor law exams.
Twenty years ago, I was squirming in the labor room of Cardinal Santos Memorial Hospital.
Twenty years ago, I gave birth to a beautiful baby girl, Lauren.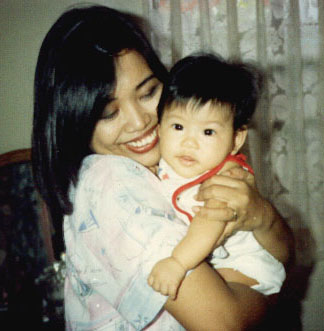 When I first heard her wail, it caught me by surprise. I felt so much joy hearing her melodious cry. Tears started streaming down my cheeks. The nurse brought her to me and I immediately noticed her almond-shaped eyes peering towards the ceiling. Did the lights fascinate her?
Her arms curled up towards her face and I noted the cheese-like coating and the fold of fats. Her toes felt like rosary beads in my fingers.
What a cute , adorable baby!
The next day, the nurse gave us the birth registry form. Silly parents! We didn't have a name.
Butch suggested : "Ninotchka. From the writer Ninotchka Rosca"
I think it's a weird name. I wrinkled my nose.
The second day, we still didn't have a name for our baby. The nurse nagged us to fill up the form.
Then Butch face lit. "Lauren. From the perfume of Ralph Lauren"
That's more like it. Feminine, sweet and pretty. It suits our baby.
As Lauren grew up to be a sweet and soft-spoken girl, I often whisper in her ears, "Lauren , you are God's gift to me. I thank God for you. I love you" then shower her with hugs and kisses.
But I am not the most patient mother. One night as I taught her cursive writing, I yelled at her for a little mistake.
Her face crumpled and she sniffed "I am God's gift to you".
Aww. My face fell.
I wanted to put a shoe in my mouth.
Lauren , my daughter keeps me on track.
Memories come flooding back to me as I look back over the years. I want to cradle her in my arms and hold on to that moment. But at the same time , I want to watch her grow and soar high like a free spirit in this crazy world.
Lauren has been God's greatest gift to me and I love her so much.
In celebration of her 20th birthday, I am cooking dinner tonight. I also created a digital greeting scrapbook :

And a digital collage of Lauren through the years:



View the Collage
Thanks to the Digital Scrapbook digital kit freebies from shabbyprincess.com and ,a href="http://www.creativesnaps.com/">Creative Snaps! Awesome sites.