""The young do not know enough to be prudent, and therefore they attempt the impossible, and achieve it, generation after generation." –Pearl S. Buck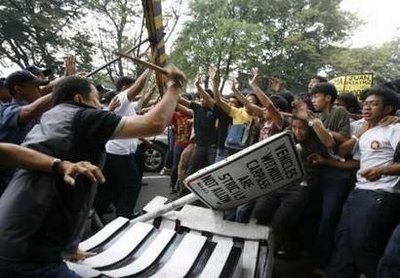 courtesy of Romeo Ranoco
unarmed protesters are no match for a baton, steel barrier, concrete barrier, and a metal signpost
Once upon a time, I was a student who joined lightning rallies in the seventies. But in the days of Martial Law, we knew that anyone caught in such rallies meant torture and immediate imprisonment in the military stockade for months. Lightning rallies entailed being with a buddy of the opposite sex. We ended up pretending to be steadies just strolling in the park. At a pre-arranged signal, the buddies converged towards the center of a busy place such as Luneta Park and chanting "Marcos , dictator , tuta" in front of a startled public, similar to what you would see in this Flash mob dance. Instead of dancing, we yelled , marched then scampered away as "love-struck steadies" on a date, even before the military or police authorities arrived. Our leader knew the dangers of such rallies and warned us to be careful at all times. I knew my limits but even then I got some close calls.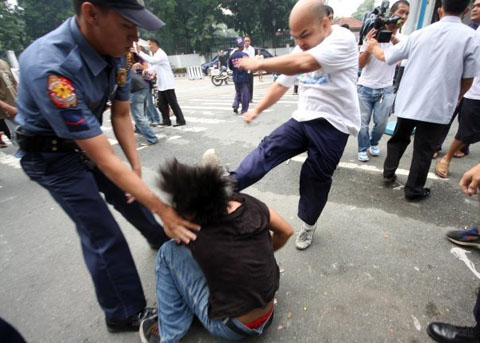 courtesy of Danny Boy Pata
A member of the Presidential Security Group kicks a protester in the face even after he is subdued

Times have changed. Today, our fragile democracy enables us to have freedom of speech and to organize rallies. Seeing photos of the brutal dispersal of these students was just painful to watch. I bet these kids never knew they would be treated so violently like that. True, these kids went beyond the "no rally zone" to protest the alleged "overspending" of President Gloria Macapagal Arroyo and her entourage during their recent US visit.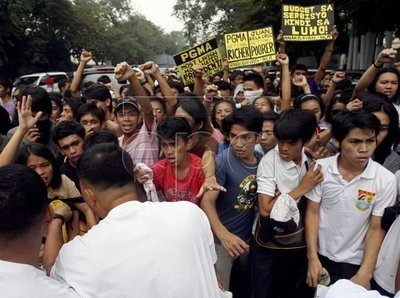 courtesy of Alanah Torralba
the placards read:
"PGMA: Most Lavish Most Hated President"
"Budget sa Serbisyo, Hindi sa Luho"
They may have acted immature and tested the law just a bit wee too much but I think they never expected to be hurt in such brutal manner. As you can see, the Manila anti-riot police and members of the Presidential Security Group (PSG) violent actions prove to be over the top. I was not there to witness the students but a friend who was in the vicinity said the students were also "violent".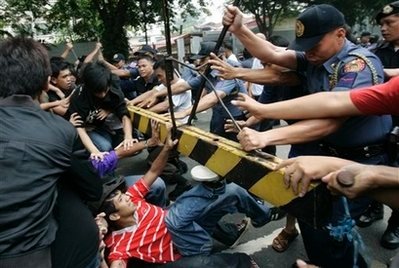 courtesy of Aaron Favila
Cops attempt to crush a downed protester with a steel barrier
Now pray tell me how "violent" were the students? Were they carrying sticks, throwing stones or were they pushing their way through the gates? ""It is clear from the TV footage and photos that the police and the Presidential Security Group used excessive force in dealing with the activists. Even the arrested activists were beaten up," said Bayan secretary general Renato Reyes Jr. in a statement.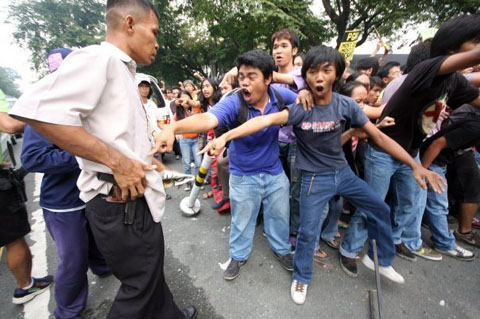 courtesy of Danny Boy Pata
A plainclothes soldier draws his gun against unarmed protesters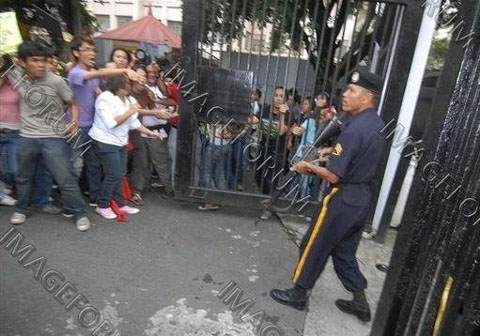 courtesy of Junie Doctor
a member of the Presidential Security Group in the process of pointing his automatic rifle at unarmed protesters

There are lessons to be learned from this rally.
1. Students should not assume the definition of maximum tolerance because there is a limit. Students may think that maximum tolerance is that they will not be harmed in a violent manner. But for the Presidential Security, going beyond Gate 7 was the limit as it is a security breach…and they needed to be ejected in that area, however
""They suddenly hit us with truncheons the moment they saw us in Malacañang. I thought they were supposed to observe maximum tolerance," Anakbayan-PUP chair Chaser Soriano added in Filipino.
2. The Manila Police District (MPD) and the Presidential Security Group (PSG) should know the boundaries of engagement. Was excessive force necessary? Does kicking the face of a subdued student one of the protocols for engagement?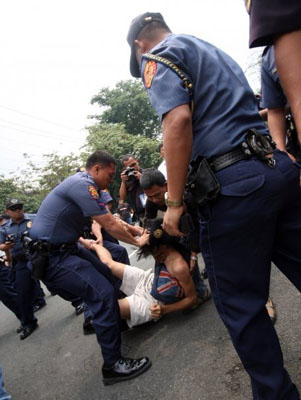 courtesy of Danny Boy Pata
a protester is reduced to near-nakedness after police tear his clothes to shreds.
Clearly, a congressional inquiry on the violent dispersal of these student protesters should be initiated. What do you think?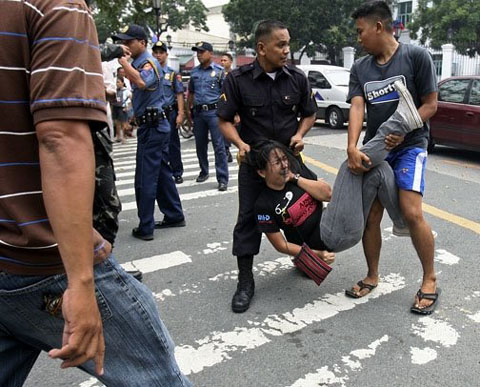 courtesy of Alanah Torralba
the chairperson of the UP-CSWCD Student Council is lifted by her hair by a member of the PSG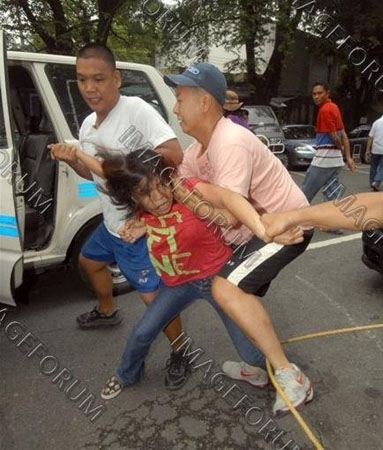 courtesy of Junie Doctor
a member of the LFS in UP Diliman is collared by two plainclothes soldiers
More photos
Militant Youth Successfully Entered Malacanan Complex
View this video

For the latest Philippine news stories and videos, visit GMANews.TV
Photo Credits and captions to Anton Dulce from Facebook