What a beautiful tribute to the man she loved and who loved her as well. Zsa Zsa Padilla sang THROUGH THE YEARS during the Necrological Service for Dolphy – Comedy King at the Dolphy Theater of ABS-CBN yesterday. I recall in 1989 when Dolphy dropped Alma Moreno because of his love for Zsa Zsa Padilla. At that time, I also wondered in disbelief for his reasons. The public didn't take the news kindly, that it prompted them to leave for the USA . For the next two and a half years, they lived in exile. The popular "John and Marsha" folded soon after . Without Dolphy, there is no John.
Through the years, Dolphy and Zsa Zsa Padilla proved that their love was real and strong. Despite the controversies surrounding the start of their relationship, Dolphy and Zsazsa Padilla stayed together for the past two decades and have two children, namely Nicole and Zia .He is 36 years older than her, and had relationships with different women before her, five of whom bore him his 18 children.
I got the following statement from Zsazsa Padilla facebook wall said .
"To Dolphy, thank you very much for being so proud of me; for giving me my two girls; for being so thoughtful; and for doing your best to provide for us. Kung mayroon siyang kapintasan, 'yun ang pagiging sobra niyang mapagbigay. Mahirap magsabi sa kanya na may gusto kang bagay kasi kung mahal ka nya, gagawin nya ang lahat para maibigay nya sa 'yo,"
What she and Dolphy went through was not easy.
"In loving the man I came to accept… Hindi po naging madali lahat ng yun. Pero he was worth it," she said.

"Hindi ko na kailangan balikan ang nakaraan. Saksi kayo sa lalim ng pagmamahal na binigay ni Dolphy sa akin. At napatunayan niya nga sa loob ng 23 years kung gaano kalalim at katatag ang aming love story," she added.

She said the family got closer when Dolphy was diagnosed with Stage 4 chronic obstructive pulmonary disease (COPD) two years ago.

"Naramdaman ko na talagang isang tunay kaming pamilya. Posible naman pala na kahit ang mga anak ni Dolphy ay nanggaling sa ibang nanay ay pwede naman kami magkaisa," Padilla said.

Padilla also thanked television networks ABS-CBN and TV5 for supporting Dolphy's career.

She said TV5 renewed Dolphy's contract and continued to give his salary "despite knowing that he could never tape again."

She thanked ABS-CBN for taking care of Dolphy's legacy and preserving his body of work "for generations of Filipinos to enjoy in perpetuity.

"I know that this service will make Dolphy so happy dahil mula pa sa panahon ni Kapitan Geny Lopez, si Dolphy sa buhay, kamatayan at sa langit ay isang tunay na Kapamilya."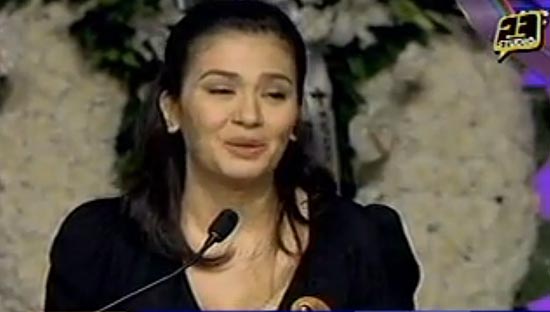 I can't remember when you weren't there / When I didn't care for anyone but you / I swear, we've been through everything there is / Can't imagine anything we've missed / Can't imagine anything the two of us won't do / Through the years, you've never let me down / You've turned my life around / The sweetest days I found, I found with you / Through the years, I've never been afraid / I love the life we've made / Im so glad I stayed right here with you / Through the years
After the song, Padilla broke down in tears when she said: "Kagaya ng huling ibinulong mo sa akin bago ka mamaalam, lovey ko, I love you."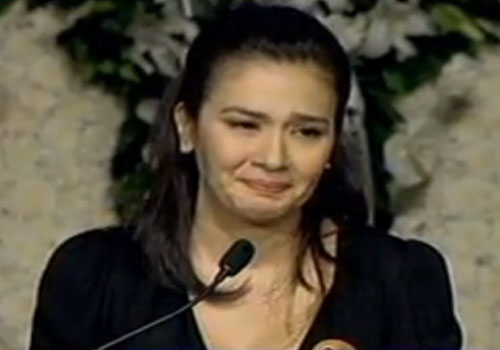 Here are the lyrics of Through the years:
I can't remember when you weren't there
When I didn't care for anyone but you
I swear we've been through everything there is
Can't imagine anything we've missed
Can't imagine anything the two of us can't do
Through the years, you've never let me down
You turned my life around, the sweetest days I've found
I've found with you … Through the years
I've never been afraid, I've loved the life we've made
And I'm so glad I've stayed, right here with you
Through the years
I can't remember what I used to do
Who I trusted, who I listened to before
I swear you taught me everything I know
Can't imagine needing someone so
But through the years it seems to me
I need you more and more
Through the years, through all the good and bad
I KNOW how much we had, I've always been so glad
To be with you … Through the years
It's better every day, you've kissed my tears away
As long as it's okay, I'll stay with you
Through the years
Through the years, when everything went wrong
Together we were strong, I know that I belong
Right here with you … Through the years
I never had a doubt, we'd always work things out
I've learned what life's about, by loving you
Through the years
Through the years, you've never let me down
You've turned my life around, the sweetest days I've found
I've found with you … Through the years
It's better every day, you've kissed my tears away
As long as it's okay, I'll stay with you
Through the years…