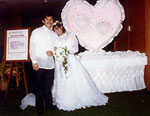 In all the 36 years that Butch and I have been a couple (as steadies for 7 years and as married couple) , not once have we celebrated Valentine's Day outside the home. During the 7 years that we dated, he'd say "I don't want to celebrate Valentine's day but let's go on a dinner date on the 16th". So theoretically, we did celebrate Valentine's day but not on the 14th of February. When we got married, I 'd cook a simple dinner just to celebrate the romantic nature of the day. Then the kids came. Their teachers often required a Valentine card project for daddy or mommy which prompted me to celebrate Valentine's Day at home. For the children, Valentine's Day meant candy hearts, cutesy cards and excitement in the air. Now I didn't want to be a killjoy. I'd decorate the house with heart shaped balloons, heart shaped cookies , red ribbons and other party fan fare. It was a family celebration of love.
I never really understood why my dear husband loathed Valentine's day until last night…. He can't be the Valentine's Day equivalent of Dr. Scrooge. Butch is a very romantic person. He says the most sappy phrases ever and that's probably the reason I fell in love with him. Now back to the reason for this Valentine's Day aversion. I teased him, "Will you buy me flowers?". He said "not on the 14th. Flowers are very expensive that day". He reminded me, "Didn't I just buy you carnations a week ago?"
I laughed. "So it's an economic reason?", I joked. He nodded. Ah now I recall, Butch was only 18 years old when we first became steadies. Naturally, he didn't have the money to buy me the overpriced flowers or presents. All these years, I always thought that he wanted to be unique. Kuripot lang pala. (or is it being thrifty)
Tonight, as restaurants are filled to the brim with loving couples, I prepared an Italian-themed dinner. The non-celebration or not eating out on Valentine's Day is our tradition carried through the years.