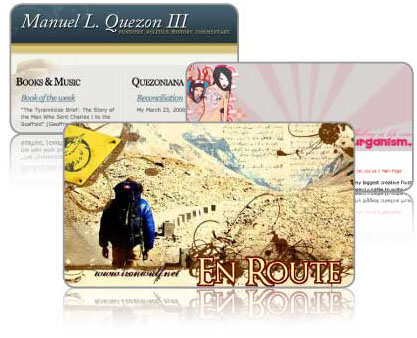 Allow me some bragging rights, okay? Congratulations to my daughter, Lauren for being chosen as one of the WikiPinoys of the Year: Bloggers (for People and Society) given by Wikipilipinas.org. Wiki Pilipinas chose the Filipino Bloggers as the WikiPinoys of the Year. Why?
WikiPilipinas honors the Filipino Blogger in 2007. From their rudimentary beginnings, Filipino blogs have evolved to become important sources of information, and are now dubbed as the ""new media." Currently, an extremely wide variety of blogs can be read and accessed online, offering everything from travel tips, restaurant guides, technology updates, and the latest news and events. Blogs are also liberating platforms for personal expression – they are one's opinion column to the world. Through them, bloggers look out of themselves and give their readers a view of what they think and feel about issues as diverse as politics, environment, family and the state of their love lives. Blogs can also be used to further important social advocacies and to attract people to causes which appeal to their own interests and commitments.

WikiPilipinas believes that Filipino bloggers are models for WikiPinoys: wired, technologically savvy, and informed knowledge workers who—through their blogs—help raise awareness about the Philippines to an international audience and uplift the image of the Filipino worldwide.
Congratulations to the other bloggers too:
Media and Entertainment
Inside PCIJ
Sports and Leisure
Who Rides a Vespa ?
Government and Politics
Manuel L. Quezon III: The Daily Dose
Culture and Arts
Butch Dalisay: The Penman
Business and Economy
Reflections of a BizDriven Life
Geography and Travel
Enroute
Science and Technology
Yugatech: Philippine Technology News and Reviews
Communities
The Filipino Librarian
History
Ang Tarlakin
I know most of these bloggers too. Butch Dalisay is Lauren's professor in one of her Creative Writing classes.
Here is a photo of that section:

Click on the thumbnail to view the press release.
Source: Manila Bulletin, Students & Campuses, J-2- J3, January 6, 2008

Lastly, I'd like to thank WikiPilipinas for recognizing FilipinaImages.com as WikiPilipinas: Newsmakers of 2007 (Website category) and as one of the four Proudly Pinoy WebSites of 2007.