Is the Yaya Meal really an issue?
Is it justified, or overblown?
This is a question raised to some women interviewed by the Manila Bulletin, Sunday Lifestyle issue. The issue arose from an encounter at the exclusive Balesin Island Club. The Balesin Island Club does not find the term "yaya meal" discriminating and inappropriate. "Maggie Wilson-Consunji first brought the issue on social media through her April 4 post claiming that a certain staff barred Consunji's mother from ordering the same meal as their family helper's, saying that it was a "yaya meal". I don't claim to be the authority on yayas, or the household help but I have had years of experience dealing with yayas. In the interview with Manila Bulletin, I wrote my opinion on the matter.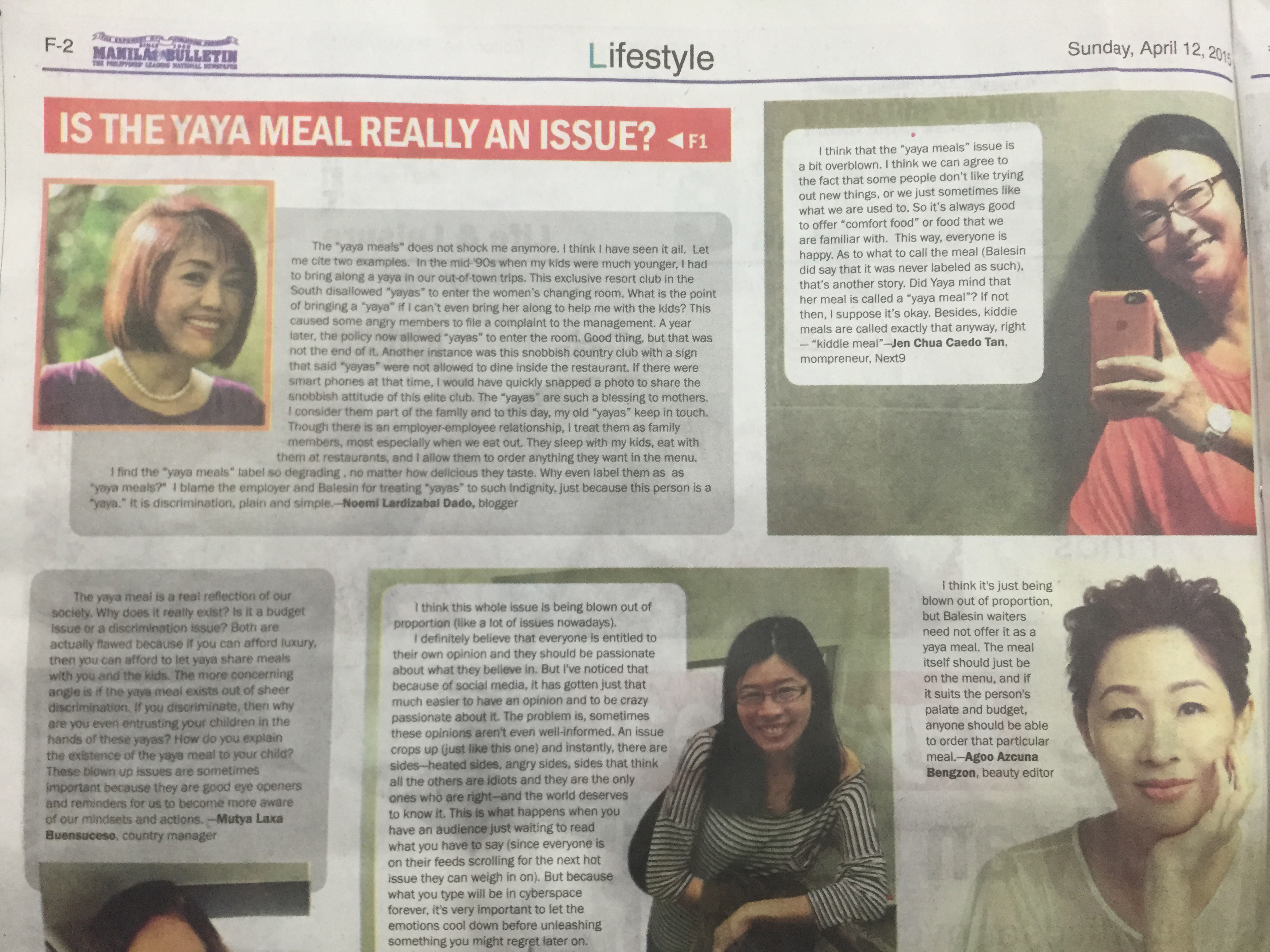 The "yaya meals" does not shock me anymore. I think I have seen it all. Let me cite two examples. In the mid-nineties when my kids were much younger, I had to bring along a "yaya" in our out-of-town trips. This exclusive resort club in the South disallowed "yayas" to enter the women's changing room. What is the point of bringing a "yaya" if I can't even bring her along to help me with the kids? This caused some angry members to file a complaint to the management. A year later, the policy now allowed "yayas" to enter the room. Good thing, but that was not the end of it. Another instance was this snobbish country club with a sign that "yayas" are not allowed to dine inside their restaurant. If there were smart phones at that time, I would have quickly snapped a photo to share the snobbish attitude of this elite club. The "yayas" are such a blessing to mothers. I consider them part of the family and until now, my old "yayas" keep in touch. Though there is an employer-employee relationship, I treat them as family members, most especially when we eat out. They sleep with my kids, eat with them in restaurants and I allow them to order anything they want in the menu.
Ines Bautista Yao, thought the yaya meals "is being blown out of proportion (like a lot of issues nowadays). Ines seems to think that in social media, "it has gotten just that much easier to have an opinion and to be crazy passionate about it". I disagree with her because in social media, one raises an issue to seek changes for social good. This is not simply about ranting about an establishment. For Maggie, it is seeking to right a wrong even if Balesin management disagrees. Apparently, Balesin just made it worse by referring to this "yaya meals" as hullabaloo.
Jamie Lyn Arcega, said "Instead of "yaya meal", why not just "chicken/pork adobo"? In fact, Agoo Azcuna Bengzon adds that "the meal itself should just be on the menu, and if it suits the person's palate and budget, anyone should be able to order that particular meal."
I find the "yaya meals" label so degrading , no matter how delicious it tastes. Why even label it as as "yaya meals" ? I blame the employer and Balesin for treating "yayas" to such indignity, just because this person is a "yaya". It is discrimination, plain and simple.