I love my children every minute of every day. My beautiful children.
I gazed at you today
and the same beautiful eyes
glowed with love just
like it was
when you were a baby.
Me and 4 month old Lauren


Oh those lovely tiny eyes
It seems a long time ago
since I cradled you in my arms
long after your colic spells
and I just kept rocking you
till you fell asleep.
Me and 6 month old Marielle


What beautiful round eyes like mine
Me and 6 month old Luijoe


round and cute
I want you to always know that
in good and bad times
I will always love you.
1 year old Lauren with newly born Marielle

No matter what you do
or how you act
or how you think
or what you rant about
you can depend on
my guidance, support
love and friendship
1 year old Marielle

2 year old Lauren and 1 year old Marielle
7 year old Lauren, 6 year old Marielle and Baby Luijoe

Every minute of every day,
I enjoy being your mother.
I love being your mother.
What joy it is to be a mother!
[tag]Happy Mother's day[/tag] to all the mothers in the world.
Edit- May 13 – How I spent my Mother's Day Weekend
1. Attending an International Culinary Class in traditonal Japanese Rolls the day before.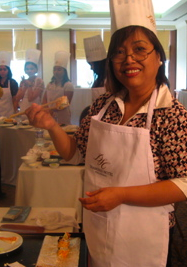 2. Checked in at Diamond Hotel at Roxas Boulevard at around 1:30 PM shortly after my culinary class

3. Watched a campaign parade/rally from the 25th floor

4. Husband and Marielle join me at around 7:00 PM. Lauren is with friends in Boracay.

5. Treated Marielle to dinner cocktails

6. Light dinner at the Palm Court Cafe

7. Breakfast Buffet

8. 30 minutes workout at the Diamond Spa and an invigorating steam bath after

9. Checked out at 12 noon

10. Butch bought me a bouquet at the Dangwa Flower market en route to our home. Sweet!

11. Bought cheap bar stools for my kitchen counter over at the Dapitan Arcade, the perfect place to buy export over-runs

12. Munching on grapes as I am still full from this morning's buffet