Seven days after Typhoon Yolanda, and relief is slowly getting through. I will not talk anymore of the devastation but the many emotions that face us today and probably for the next few months.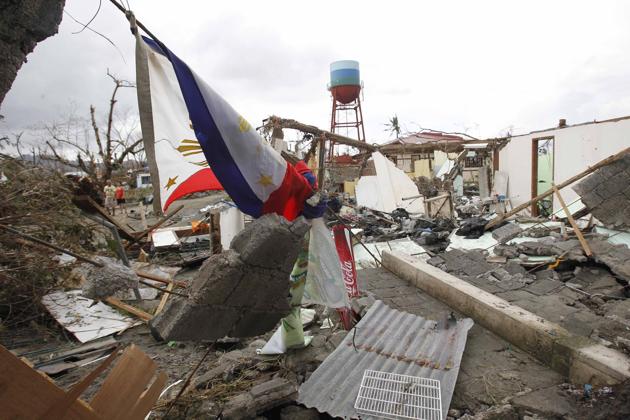 Denial , anger and shock are the initial reactions from this massive devastation caught on photos and videos. I was appalled when the President blamed the local government unit (LGU) In Tacloban for the high number of casualties. Blame is a natural reaction but I had to remind him that the local leaders are in shock. The local leaders in these devastated areas are also victims . They need help not blame which can be done another time. I was also horrified to read that the President kept harping on casualty counts when the best thing to do is to push for relief work. How can one stop this massive destruction? The people who were supposed to help were still in shock that is why a third party team is always required to step in. That should be the national government but apparently they too are in shock.
Yes, blame is also part of processing loss. Anger emerges. People grieve differently. Perhaps the President felt it too but decisive action needed to be done because the survivors need food , water and shelter. Local leaders are overwhelmed with so much loss that it causes them to make slow decisions.
I am aware of the emotions that come with grief and I know I should be a bit more patient. Yes I wanted to give some slack to our President but I needed to reach out to the government that lives are at stake.
I cannot even being to imagine the loss of the survivors . They are coping with multiple crises: loss of family members . loss of homes, loss of livelihood and struggling with pangs of hunger and thirst. Here is what the grieving process is like for natural disasters.
1. Denial- I don't deserve this! It didn't happen.
2. Anger- Why me? Who can I blame?
3. Bargaining- Maybe if I stay in my devastated property , my family member will come back.
4. Depression- I've lost everything; there is no hope.
5. Acceptance- I can get another job/home; it may not be what I had, but it will be something as I rebuild my life.
Each one of us grieve differently but it is good to understand the stages of coping. Even friends in social networks are in constant debates which I attribute to grieving for the loss of lives. My friend, Cathy says it in her Facebook status wall:
We are clearly a nation in mourning, and grief has many faces. I'm a peaceful person and I don't want any fights on my wall. Let's just stick to the facts. I love this post that a friend sent over today, it hits the spot.

"People are starting to fight with one another on my FB feed: accusing each other of being too negative, or of not being critical enough. Telling each other to stop talking about this or to start talking more about that. The way I see it, though, is that we are all in mourning. We are all one giant clan attending a relative's wake, and we are all grieving in different ways. Some are indignant. Some are in despair. Some are focusing on the little details of what they can do, to get them through the immensity of the pain. And some are still in denial, or at least trying to put on a stoical face.

So I am trying to be charitable. And whatever mode of grieving we find ourselves in, let's give each other a break and be kind enough, and gentle enough, to remember that right now, we are a nation in mourning."
Once we accept the devastation and realize there is no turning back the past, the leaders and the survivors can plan a course for rebuilding lives. There is hope. Miracles happened during the aftermath. It is heartwarming to see all the Filipinos, here and abroad including our friends who have done their share in providing relief through donations or volunteer work. Indeed this is the triumph of the human spirit. While lives, homes and livelihoods were ripped away, babies were being born like Bea Joy. Babies are reminders that life continues on and we too will go on moving to a new normal.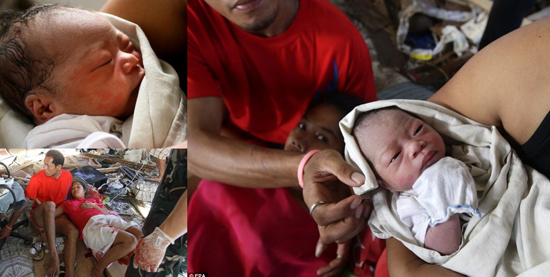 It will be hard work, but together with the rest of the country, we can do it.
In the meantime, here are ways you can help, donate or volunteer.
At the Villamor Air Base
!. Donate a teddy bear to the children. Drop off points are here.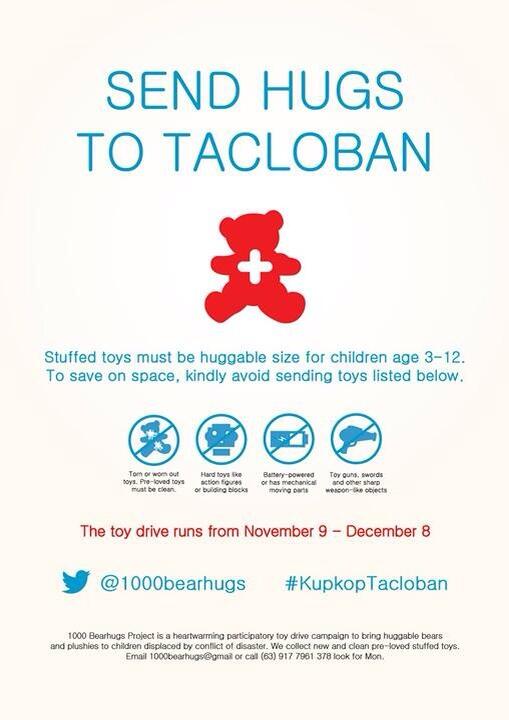 This is heartwarming toy drive campaign brings bears and plushies to children displaced by conflict or disaster. They collect new and clean pre-loved stuffed toys.
How to donate to the Red Cross via SMS
1.Globe users donate (5, 25, 50, 100, 300, 500, 1000) by texting: RED to 2899. #YolandaPH #Haiyan
2. Smart users can txt RED to 4143. Amounts: 10, 25, 50, 100, 300, 500, 1000
Here are other payment gateways on how to donate to the Red Cross redcross.org.ph/donatenow page.
How to volunteer
1. Red Cross- Volunteers are needed to re-pack relief goods Volunteer sign up here, goo.gl/EruKjR
2. DSWD-NROC, at NAIA Chapel Road, behind Air Transportation Office, Pasay City . To those who'd want to volunteer, pls. call 8512681 for schedule. Click image below for more places :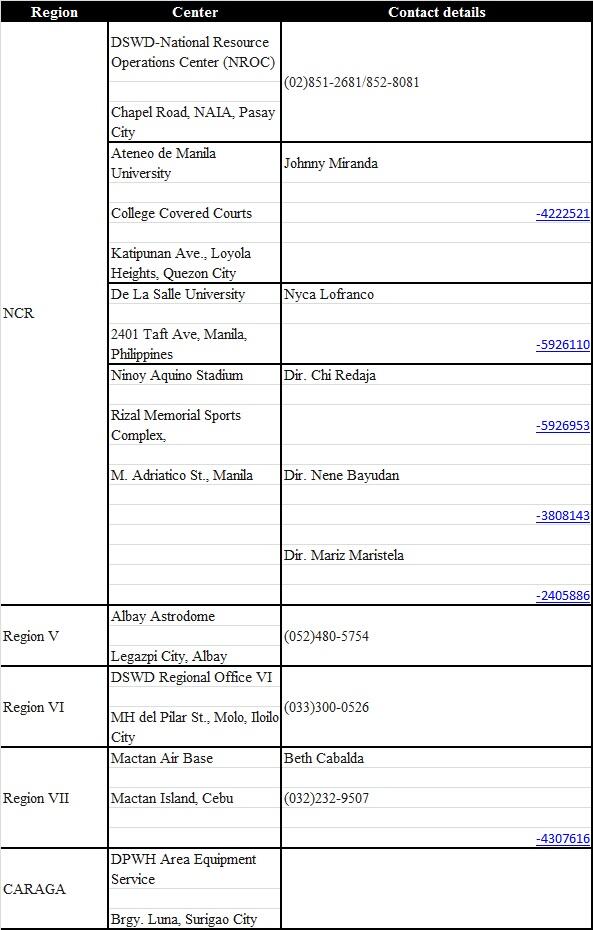 Click to enlarge
3. In Cebu, volunteers for repacking relief goods may call Ms. Evelyn Senajon at 254-7198 & 254-8397 for more info.
4. The Department of Education needs volunteers to help in conducting psychosocial intervention and stress debriefing for students and teachers affected by Typhoon Yolanda. DepEd is prioritizing health professionals with training on mental health & psychosocial intervention by National Center for Mental Health or accredited organizations. Sign up here.
Photo via 8list.ph