Updated (November 21, 9:00 PM) – Read Breaking news– DSWD Regional Director Alice Bonoan has announced the return of Operation Salubong to VILLAMOR AIR BASE.
How to volunteer for Villamor Air Base's Nanay Bayanihan
Register at the #NanayBayanihan sign up sheet
How to volunteer for Villamor Air Base's Oplan Salubong
Sign up here: villamorvolunteers.eventbrite.com
How to volunteer for Villamor Air Base's Oplan Hatid
Sign up here: oplanhatid.teleserv.ph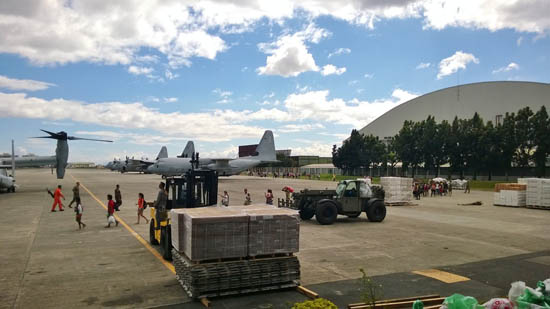 The tall young man teared amidst the claps of the volunteer marshals as he walked towards the grandstand. He was one of the many evacuees who came all the way from Eastern Visayas. I was not supposed to be near the tarmac. With the "Citizen's Project Yakap: Hugs, not Hogs" on my sleeve together with #ScrapPork anti-pork advocates, I needed to talk to the Department of Social Welfare Development (DSWD) Director Bonoan. The sight of new arrivals was just overwhelming. They have been through a lot. Maybe they lost their homes, their livelihood, or a loved one.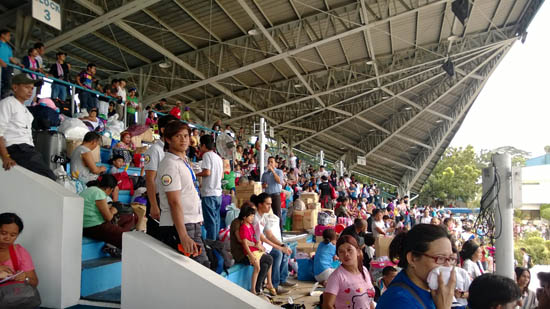 The grandstand was already brimming with previous arrivals and I could see the anticipation in the air as they await their ride to their friends or relatives.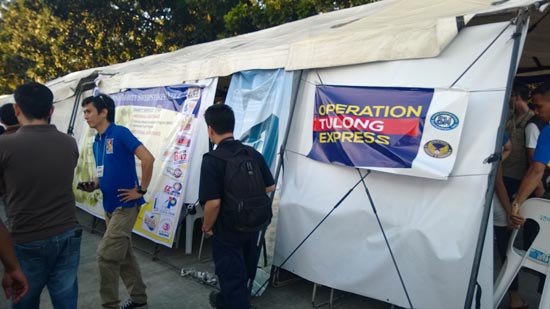 The new arrivals are brought into the waiting area at the grandstand .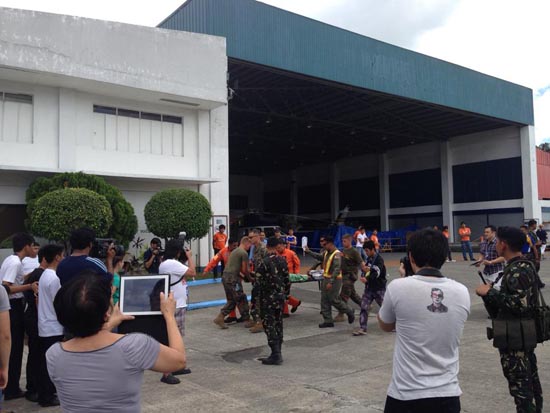 People with injuries are escorted to a medical assistance tent. I saw families, mommies with their children, senior citizens and young adults with their baggages or boxes .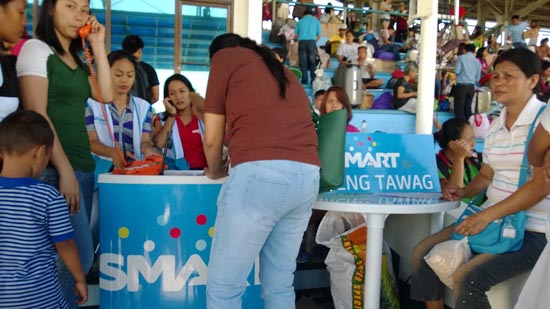 There are "Libreng Tawag" booths where they get to call their relatives that they are ready to picked up. Those without any relatives are brought to another waiting area and then transferred to the DSWD shelter in Mandaluyong. While waiting there, I overheard over the Public Address System that a group was waiting for a ride to Cebu. Apparently, not everyone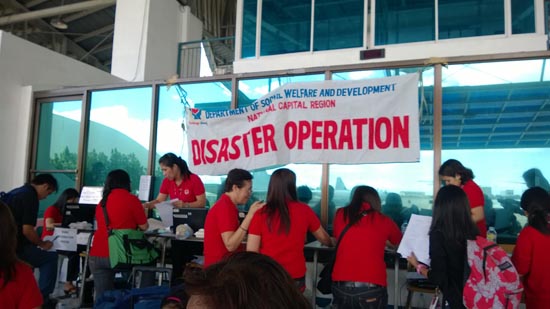 The DSWD is busy at work coordinating with the relief operations.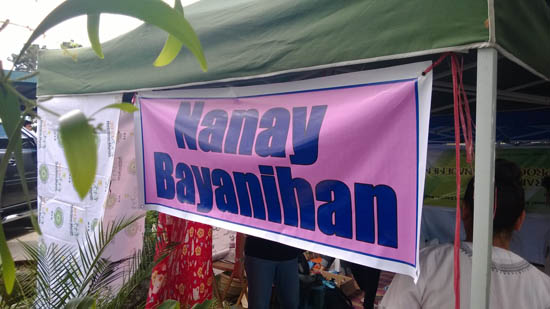 There is a tent for your donations of old clothes.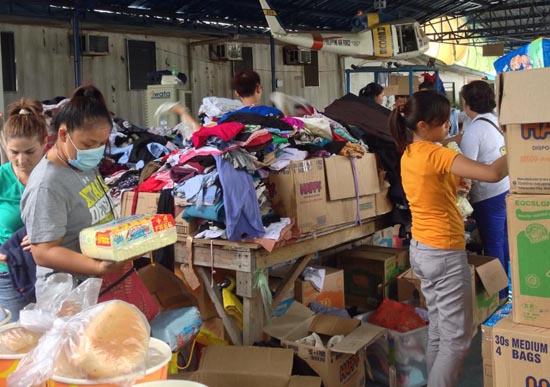 I first came across the mother-baby friendly spaces for the moms and their children arriving from Easter Visayas through Breastfeeding Advocate, Jenny Ong. There is so much love in this project (Check the Bayanihan para sa Mag-InaFacebook page). Jenny Ong explains the project in her post:
Several breastfeeding groups have banded together and will be working with DOH/IYCF Coordinators to set up mother-baby friendly places where moms can get affirmation and breastfeeding counseling. I want to correct the misconception na –pano na mga formula fed babies? mamatay? It is DOH's duty to dispense formula milk to babies who truly need them. Donations of formula milk are prohibited when made to the general public, when included with the individual relief good packs. However, if it is found that there are moms in the evacuation centers or crisis area who need it, they can get it from the DOH coordinator.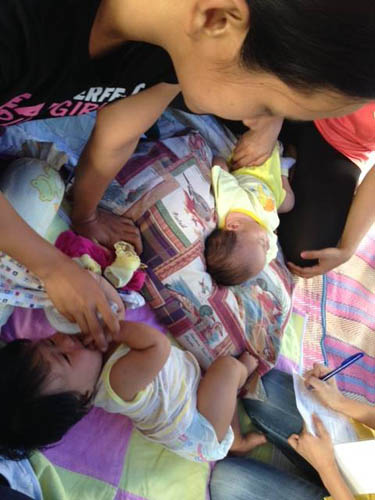 I volunteered last Monday because I know these mothers must be tired after waiting in line for their ride. They need a break even just for a few minutes.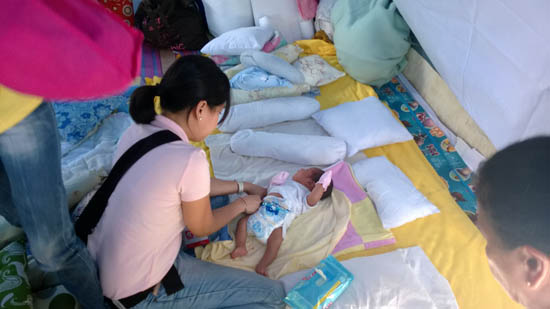 I was pleased to find out that most of the babies were breastfeeding with one or two with mixed breastfeeding. Jenny Ong explains the goals is " for these kids is to help them get past reliance on milk and eat more solids."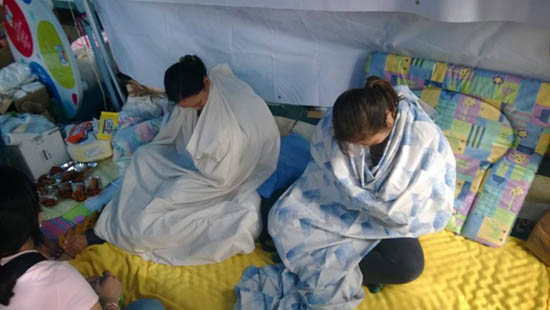 We want to encourage mothers to breastfeed and not give in to donations of Breast milk substitutes. It is great that mother-volunteers are donating their milk by or even serving as wet-nurses. "Breastmilk given to the kids if needed is pasteurized. Donated BM is not the end. it is a stop-gap. the end is put the babies back to breastfeeding."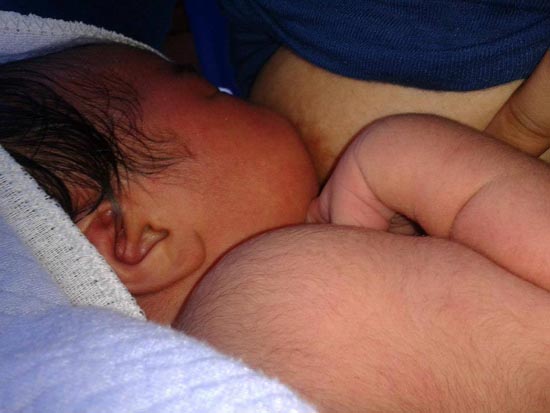 (Image via
Bayanihan para sa Mag-Ina FB Page)
Breastfeeding works in times of emergencies as the photo above shows. So much love shown by the mommy volunteers.
This 3 day old was temporarily separated from Nanay who needed to take care of Tatay. Si Tatay kasi may advanced lung cancer at kinailangan i-confine. To the rescue siempre si volunteer Nanay sa Nanay Bayanihan sa Villamor Airbase para protektahan si Beybi. Walang sinaksak na bote sa bibig ni Beybi dito. Wala sa ugali natin yun.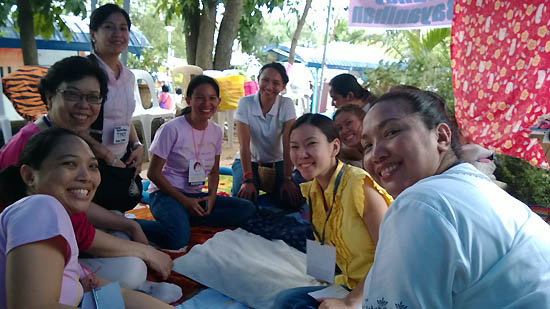 It was a wonderful experience to be with the mommy volunteers because I get to be updated with the latest advice for breastfeeding. While we attended to a baby, a mom proudly told us that she is "purely breastfeeding" then gazed lovingly at her daughter. We affirm her decision to breastfeed and enjoin her to keep it up.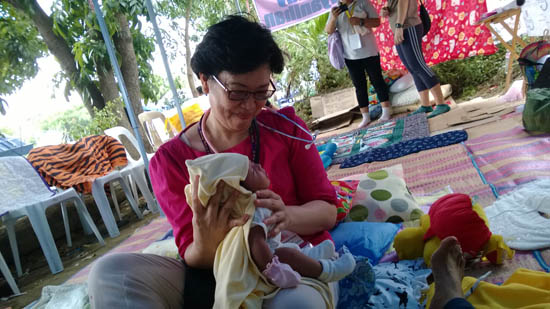 Dr. Mianne Silvestre helps us around with the medical needs of the babies. I just love her passion. Watch this video :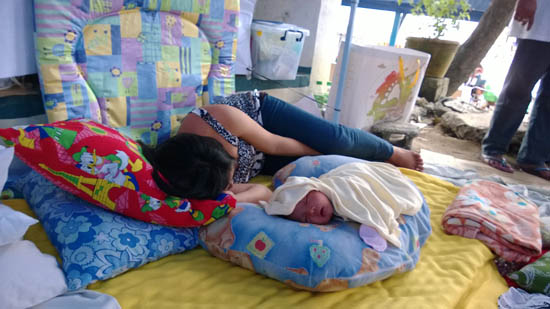 I met an 18 year old mother who came from Tanuan, Leyte but decided to leave because they did not feel safe in their community. Relief only came a few days ago or a week after the devastation. She is just so tired that she slept with her three-week old baby girl while the father watched over their one year old son. So many thousands of heart-wrenching stories out there and you can hear them out by being a volunteer.
Here is how you can volunteer:
How to volunteer for Villamor Air Base's Nanay Bayanihan
Register at the #NanayBayanihan sign up sheet
How to volunteer for Villamor Air Base's Oplan Salubong
Sign up here: villamorvolunteers.eventbrite.com
FYI for volunteers at the Villamor Air Base Granstand relief ops: To those with cars, park at the chapel then take an e-car to the grandstand . To those commuting, they have e-cars to get you to Villamor grandstand. There are 8 e-cars that will bring you back and forth from both Gates 1 and Gate 4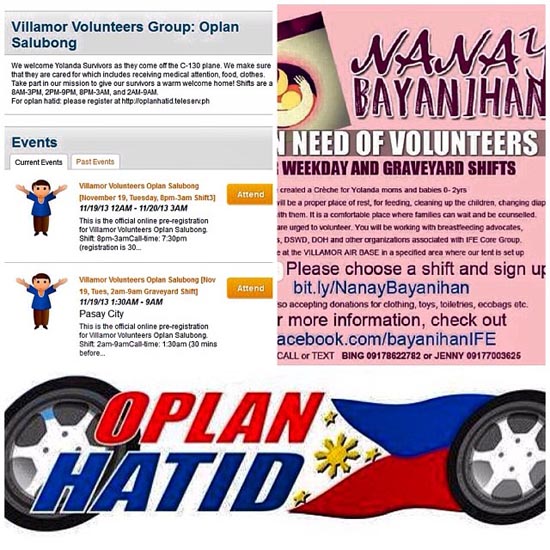 (Image via Manila Mommy)