'The two most engaging powers of an author are to make new things familiar, and familiar things new.' Samuel Johnson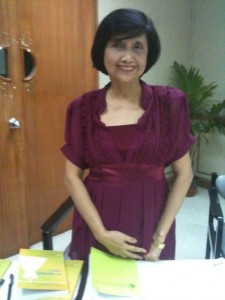 No, I am not the blogger with a published book. Meet 66 year old Annamanila, who blogs at ode2old.blogspot.com. She used to be the editor of my work when I was a researcher at the UP Institute of Small Scale Industries till 1986 when I got fired by the new director. Twenty years passed me by and one day in 2006, I received a comment from Annamanila because of my Philippine Idol post. I was glad to hear from her. A few weeks elapsed, she announced that she started a blog. I groaned. "Oh no, she will read my blog regularly now" but I learned to shrug my "writing skills' insecurities" off and taking up the challenge to equip myself to be a better writer.

So what is her book all about?
"In Another Dress" reveals in story after story, how she went into blogging as a hedge against retirement jitters and that sure enough it turned out to be something she could do with a passion well into antiquity ""as long as rheumy eyes can still squint and arthritic fingers touch type."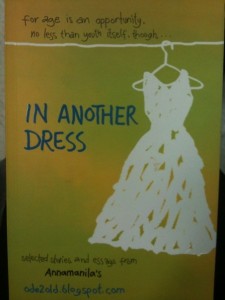 In her pieces, she reminisced about lost youth, paid tribute to people important to her, philosophized about her losses, made mountains of small mounds of achievement, laughed at her spotty record as mom-wife-friend-worker, and brooded over left-over dreams and aspirations.
Anna Manila revealed that she began writing her ode-to-old stories hoping to discover the secret to being old and happy but admitted she had not found this after two and half years trying. Nevertheless, she had learned ""without doubt that if I loved myself, I shouldn't care how old I get."
In Another Dress , whose title is a take-off from Henry Wadsworth Longfellow's ""… Age, much like youth is opportunity, though in another dress," is divided into four sets of stories: (1) To Keep the Heart Unwrinkled; (2) Simpering, Whimpering, Blundering Youth; (3) My Spotty Mom Record and Other Middling Stories; and (4) Tales of Women in Love and in Trouble (as told to Annamanila).
This afternoon, I gave a short oral review of the book. I believe that a great personal blog or writer has at least two qualities –
1. When you write about yourself, it's never just yourself. It can't be. Who the hell are you anyway? Why should your life be so interesting to people? It could be interesting only up to a certain point. There's got to be a point when you are no longer talking about yourself. Or even when you are, there are points others can relate to .
2. Educate , enlighten and entertain. Have a way to make them accessible and funny.
Now being funny in my entries is something I can't do yet. Being a blogger is a work in progress but Annamanila has all those qualities as a blogger and writer. She started blogging at 63 and so can you. If you need a role model, Annamanila is the writer to be, the blogger that yu can be. She is a role model to emulate.
So yes, buy this book at National Book Store for 350 pesos.
This book is worth every centavo as you can easily identify yourself in some of her stories on loss, betrayal, death, youth, getting old , being a mother , love, marriage , friendship and retirement. Even my husband is very impressed with her writing. I wonder what part he read.
I don't have plans to publish a book at the moment but I do plan to come out with an ebook because my archives are full of entries that are hard to dig into.
For my Philippine-based readers, I am giving away a copy of her book which I bought just to create buzz for my friend. Just comment below why you think you deserve a free copy.