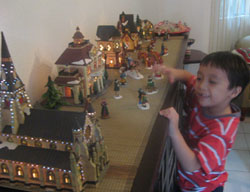 The lighted Christmas Village caught the attention of my daughter's friend as he entered our dining room a few Christmas-es ago I can't remember now what Lauren told me but from what I recall her friend imagined that lilting Pling pling pling pling pli-pli-pling music playing in the background as we eat dinner and babble in our fake British accents. The way Lauren said Pling pling pling pling pli-pli-pling sounded so much like Vivaldi's "Four Seasons".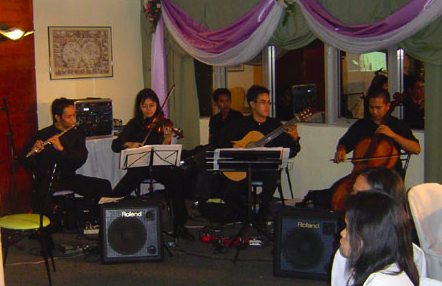 Haha I was laughing out loud because it is sort of true. I don't play classical music but baroque music, a big difference of which I will explain later on. And no, we don't play baroque music on dinner time alone. I play it any time of the day and have been playing it since the kids were little. I even hired Bagting Hangin, a string and wind ensemble to play it during Lauren's 18th Birthday Party.
Before I get any further, let me explain the display of the English Village set. The Christmas Village set reminds me of Stratford-upon-Avon, a town I visited many years ago in the UK. The town is a popular tourist destination owing to its status as birthplace and deathbed of the playwright and poet William Shakespeare. My walks in the breathtaking village is so memorable, the scenery is just picture pretty and forever imprinted in my memories. When I saw this village set offered for sale by a friend, I just knew I wanted it to be displayed in my dining room. The village set is not a pretentious display of shallowness and hypocrisy but rather a collection of memories of visits to similar cottages in Stratford-upon-Avon. The ancient church replica reminds me of that time I visited the Holy Trinity Church, a moment of calm away from the bustle of the town. Both the courtyard and the churchyard itself are breathtakingly beautiful. Okay so now you know why that Christmas Village sits there.
Now on to the Pling pling pling pling pli-pli-pling music with two reasons:
First, the objective was to calm Lauren's nerves.
Lauren was a sickly child often getting ill with asthma attacks every month. With visits to the emergency room every month, I had to do my share in making her calm and relaxed to ensure a faster recovery. I gave her "Visualizations for Mind Calming" of which the objective of the exercise is to gain practice in visualizing while at the same time soothing the mind. Calm and peaceful scenes from nature were quite helpful in erasing worries and distractions. I often said it out in a soft voice to imagine walking in a park, or in the woods, sitting by the lake, a walk on a hill or mountain, countryside or any spot that I though had a particularly soothing quality. Together with this mind-calming techniques, I added baroque music (specifically in largo beat) to get into slowed down body mind/body rhythms and manageable breathing.
Why Baroque music and why the largo or slow tempo?
Researchers have found that certain music types ease the brainwaves into the relaxed 'alpha state' that is ideal for Superlearning. One form of this superlearning music is the adagio movements of many baroque composers.

The adagio movements are around 40 to 60 beats per minute. In many string concertos and other works, the adagio movements often encapsulate the quintessential thematic and emotional material. However it is their 40-60 beats per minute and slow rhythm that slow body and mind functions and allow an alpha state of mind. This enables one to excel in retention and recall of materials presented in 20 minute intervals. It is also great for relieving stress.
From Baroque Music for Contemplation
There is a huge difference between baroque and classical music. The baroque music composers are from the likes of J.S. Bach A. Corelli, G.F. Handel, G. Telemann and A. Vivaldi in the 1600 – 1760. The classical music is from the time period 1730 – 1820 and right after the Baroque period. So if you want to refer to that Mike Villar's Pling pling pling pling pli-pli-pling, it's actually called Baroque Music.
Secondly, playing baroque music was to enhance the creativity in my children.
As reported in Ostrander and Schrader's Super Learning, research discovered that the ideal state for learning is when the brain is in a relaxed, but aware state. And when they say relaxed, they do not mean asleep, but relaxed, focused and aware. It is at this point the brainwaves run at about 8 to 12 cycles per seconds or hertz. This is called the alpha state. Alpha is simply a state when you are calm and relaxed, in a way similar to when you whistle a happy tune, or when you daydream.

Getting into the Alpha State can be achieved in a number of ways and most of us achieve it several times during most days. At this time the mind is clear, receptive to information, and rapidly making 'connections', realizations and joining up deep thoughts. Many an 'AHA!' moment comes when an individual is in "Alpha".

Years ago when this research was beginning, scientists were startled to discover that a certain kind of music can put the brain into an accelerated-learning state. Listening to Baroque Music was the number one method of getting into "Alpha". Again, the research shows that baroque music at 60 beats per minute causes your brain to produce more alpha [calmness] waves. This happens on both the left brain's analytical hemisphere and right side's creative spatial hemisphere. When both hemispheres are engaged, the brain is able receive more information. You can retrieve information quickly because the music acts as a carrier wave to long-term memory storage.
Not that I wanted my kids to be superlearners, I wanted them to be calm and relaxed and eager to learn to the best of their abilities. No one is too young or too old to enjoy relaxing baroque music. Let me show you a music list for baroque music. Mind you, it has to be the slow movements from Baroque instrumental music featuring string instruments that give the best results.
Vivaldi, A.

Largo from "Winter" from the The Four Seasons
Largo from Concerto in D Major for Guitar and Strings
From Baroque Guitar Concerti
Largo from Concerto in C Major for Mandolin, Strings and Harpsichord
Largo from Concerto in D Minor for Viola D' Amore, Strings and Harpsichord
Largo from Concerto in F Major for Viola D' Amore, Two Oboes, Bassoon, Tow Horns and Figured Bass
From Vivaldi: Three Concertos for Viola D'Amore, Two Concertos for Mandolin
Largo from Flute Concerto No 4 in G Major
Vivaldi: 6 Flute Concerti Opus 10

Bach, J.S.

Largo from Concerto in G Minor for Flute and Strings, BWV 1056 (2:53)
Bach and Telemann Flute Concertos
Aria (or Sarabande) to The Goldberg Variations
Largo from Harpsichord Concerto in F Minor, BWV 1056
Greatest Hits of 1720
Largo from Solo Harpsichord, Philharmonic Virtuosi of New York Columbia Records
Largo from Solo Harpsichord in G Minor, BWV 975
6 Concerti after Vivaldi
Largo from Solo Harpsichord Concerto in C Major, BWV 976
6 Concerti after Vivaldi
Largo from Solo Harpsichord Concerto in F Major
6 Concerti after Vivaldi

Handel, G.F.

Largo from Concerto no. 1 in F (brass)
from Music for the Royal Fireworks
Largo from Concerto No. 3 in D (brass)
from Music for the Royal Fireworks
Largo from Concerto No. 1 in B-flat Major op. 3 (woodwinds and strings)
Handel: Concerti Grossi op. 3
From Handel's Twelve Concerti Grossi, Opus 6, any of the largo movements can be used

Corelli, A.

Sarabanda (Largo) from Concerto No. 7 in D Minor
Corelli: 12 Concerti Grossi op. 5
Preludio (largo) and Sarabanda (largo) from Concerto no. 8 in E Minor
Corelli: 12 Concerti Grossi op. 5
Preludio (largo) from Concerto no. 9 in A Major
both from Corelli: 12 Concerti Grossi op. 5
From Corelli's Twelve Concerti Cgrossi, Opus 6, any of the largo movements can be used.

Telemanm, G.

Largo from Double Fantasia in G Major for Harpsichord
Telemann: 6 Fantasias for Harpsichord
Largo from Concerto in G Major for Viola and String Orchestra
From Telemann
There you have it, Pling pling pling pling pli-pli-pling bringing you in "reverie" state of relaxation.