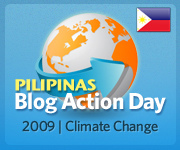 It is Blog Action Day today. Filipino bloggers will speak out and take a stand now on climate change.
Filipinos in Metro Manila witnessed the effects of climate change never seen before in my entire lifetime of 52 years. Sure, I have seen floods but not in such wide scale proportions. My family survived the Ondoy floods. I feel blessed and at the same time guilty that not much was lost. Material possessions can easily be bought but lives, precious lives have been lost in other families.
What do I propose?
It is about time politicians and our good government develop a political will to monitor all these urban developments not only of real estate developers but the squatters that line the rivers and the dams. Oh the squatters, the number of votes it brings these politicians. It takes political will to put this into action. It is time for urban renewal. We cannot avoid the climate change but we can certainly control the wide-scale calamity. Climate risk management and adaptation is a top priority in our government.
In the upcoming election 2010 , I will make it my business to ask each the presidential, senatorial and congressional candidates their platforms towards climate change and sustainable urban and rural development. Are they aware of the flaws in their respective regions and what needs to be done? The climate change will form part of my election 2010 coverage together with other bloggers in our upcoming project, called Blog Watch. The soft launch will be next week. Watch out for it!
We all need to make a stand in any capacity we can. What can you do?
Read what the other Filipino bloggers had to say on Blog Action day.