My prime-time life revolves around blogs, blogging, and bloggers, merely because I am a blogger.
1. The Philippine Blogger Awards, Inc.
Voted to head the 2008 Philippine Blog Awards, it was one of my duties to register a non-stock, non-proft corporate entity for the Philippine Blog Awards. It's easier to get sponsors if we show a legal entity. Now, I thought it'd be easy to get a legal name but no…The Security Exchange Commission (SEC) database on corporate names rejected the word "blog" because it is close to "Bldg". I tried "Blogging" or was it "Bloggers" and it got rejected because it was close to "logging". Much as we wanted Philippine Blog Awards, Inc, we settled for Philippine Blogger Awards, Inc. Just when I could breathe a sigh of relief, the SEC Examiner questioned the purpose of the corporation ("To hold an annual awards ceremony that recognizes excellence and diversity in blogging") What is blogging?" Darn, I didn't bring my macbook so I could show her what a blog is. She asked "is it food?" As I started to explain blogging, she got even more confused. We continued to discuss about blogs and it was at this point the SEC head of that division passed by and overheard the word "blogging".
The boss said to the examiner, "Remember that TV show where they were talking about libel in blogs because of Brian Gorrell? Approve the papers". Brian Gorell saved my day.
2. Political Bloggers
I am not a political blogger but my husband occasionally blogs on politics so I tagged along to dinner with a few political bloggers. I love listening to politics from great minds like Manolo, bloggers from FilipinoVoices.com, Juned and Ria.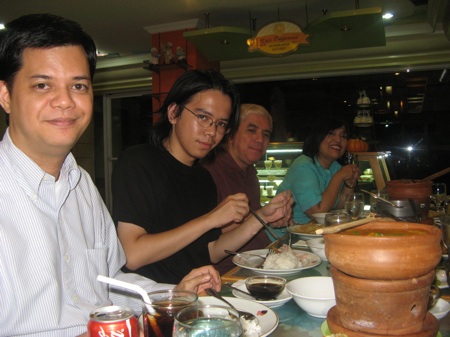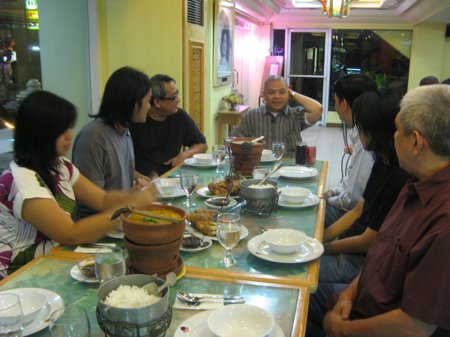 After dinner and coffee, my head was ready to spin trying to figure out how to save our country.
Time to head over to the The Banana Gangbang Rock Festival at Bela Bar to watch Lauren and the other Man Blog bands.
3. Bloggers in a Band- The Banana Gangbang Rock Festival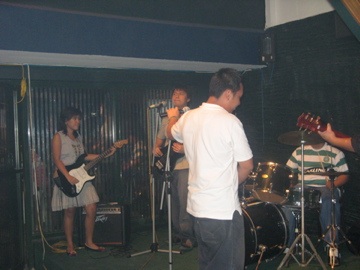 While waiting for Lauren's turn, my husband noticed that we were the oldest among the audience. We're bloggers too, you know!", I teased my husband.
Speaking of the rock festival, I enjoyed watching the gig. I thought I could only sit through one song. Congrats to my lovely daughter (more photos) and "Lose your Beer Belly" , Mike Villar, Ade Magnaye and Marco Palinar for such an awesome gig. That was one big party.
More of the gig in here:
TMB Presents BGRF: HOLY CRAP IT WAS AWESOMETASTIC.
The Banana Gangbang Rock Festival Aftermath – A night of Fail
The Banana Gangbang Rock Festival in photos
4. A Blogger's Hate Campaign
A blogger's rant or an opinion is not a hate campaign. Hate is such a strong word. Let's define hate in its usual context:
to dislike intensely or passionately; feel extreme aversion for or extreme hostility toward; detest
Is this hate?
Jon Limjap's opinion on Cebu Pacific and Navitaire is his personal stance on the matter but because of that, he received a death threat.
Just because I twittered my frustration with an accompanying url address does not mean I asked my twitter followers to hate the source of my rant. A rant is a rant is a rant. No malice in it. If it was truly a hate campaign, where are the hateful and mean spirited comments?
Just because my preference is no streaming music, I started a hate campaign? Hello? I have nothing against music in blogs as long as it is easy to locate the off and on button. Sometimes the music volume is too loud, I get startled. Maybe the younger bloggers has tolerance for loud music but I don't.
Did I espouse violence?
Manolo is right when we discussed about "hate". In the next Iblog 5 summit, maybe we should "have workshops for working definitions of things like "hate" etc."
5. Healthy Apologies
Sometimes an apology is needed to clear the air of misunderstanding. Asking for clarification on the issue is not about setting demands for an apology. It is not about conditional apology.
When I apologize, I want to know what I did wrong to that person especially when that person lambasted my daughter (i.e. posting a copyrighted entry in Youtube, threats to report to the NBI). Naturally, you want to know what are the issues. Is it about me, is it about my daughter, is it my opinion, my rant?
Then again, apologies are probably not necessary if both parties feel no need for it. I don't have to say ""I'm sorry" if I didn't do anything wrong. I don't have to apologize for taking care of myself, dealing with feelings and setting my boundaries. But I do apologize for hurting the person's feelings as that was not the intent of my comment, rant or opinion.
We can all co-exist peacefully and let it go. I don't have to react to flack or give it much attention. It doesn't deserve it. It will die down. If someone thinks otherwise of my actions, I often say that the person is entitled to feel that way. It is the person's choice to feel or react that way. The perception of my actions are not within my control. So I let go of that person's feelings. It belongs to that person.
6. Ethics should show in your blogs, says Luis Teodoro.
Blog, blogging, blogger and bloggers.. are once again the target of ethics and responsible blogging from an interview of Luis Teodoro. My husband posts an entry in FilipinoVoices.com, Blog or Perish on this issue.
Luis Teodoro pointed out that there are ""sound reasons" for editing news. While blogging is ""empowering," he said it has its ""downside" if you ""affect other people negatively." Hence, the need for responsible journalistic standards in blogging.
The last time I wrote on ethical blogging, I received the flack of a fellow blogger accusing me of being less ethical because of my stance on new media publishing.
You know what? Blogs are here to stay.
Standards will emerge. People and readers will develop a sense of good and bad. Someone will not set these standards. People will be discerning of the writer and the reader.
I will continue to blog and enjoy blogging and use my blog for my advocacies.
Nominate your favorite blogs today.