This entry is a continuation of PR Companies and the Milk Formula Manufacturers (Part 2)
I still remember my son tugging at my sleeve "Mom, did you do that to me?"
He led me to the room where Maan, his former caregiver was breastfeeding her son.
"Of course, I breastfed you." I hugged my boy.
"Are you sure mom? Breastfeeding is good for babies."
My son didn't seem to believe me. Too bad I didn't have photos of our breastfeeding moments. I pointed out the cross stitching projects in the kitchen .
I explained "When I breastfed you, I did cross stitch projects because it took you an hour to feed." He seemed satisfied with my answer but the next day, he nagged me with the same question. Memories like these often make me nostalgic. I will never forget his words.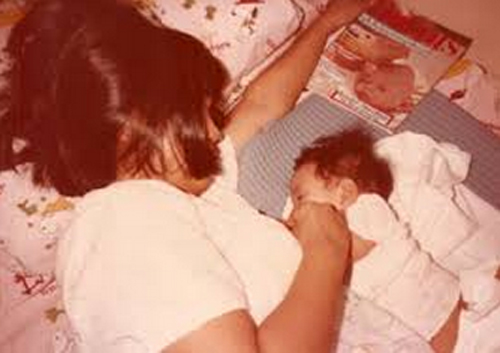 Breastfeeding Lauren at 5 months old
Though I am 51 years old now, with adult children and way past my breastfeeding days…my passion is now transformed into saving the lives of future babies of poor mothers.
A good friend wrote last year on Breastfeeding, breast-baring, before Supreme Court with staggering statistics:
Marketing by milk formula companies has become increasingly aggressive. The number of women who breastfeed their infants has gone down dramatically in just a few years, while the sales and profits of the companies have risen. The irony, in the words of Sen. Edgardo Angara, author of the Rooming-In and Breastfeeding Act of 1992, is that each year we import $400 million in milk formula, but spend P536 million to bury 15,000 bottle-fed babies, and another P3.5 billion to treat infant malnutrition and diarrhea. We needlessly fritter away our foreign exchange reserves. We forget nature's first form of immunization, enabling the infant to fight serious infection. We forgo the benefits of birth spacing as a form of natural birth control.
I know most of you can easily discern the merits of breastfeeding versus bottle-feeding. My concern lies on mothers who think bottle-feeding is far more superior than breastfeeding.
Formula for Disaster
Watch this youtube video on an eye-opening documentary that reveals how the marketing of powdered milk has caused fewer mothers to breastfeed in the Philippines. The milk companies' formula for profits is a formula for disaster.
Part 2 | Part 3 | Part 4 | Part 5
Yes, these Milk Companies are getting so aggressive that they have a renewed promotional campaign tagged as ask their doctor about the Hoffman study and how you can give your child +7IQ points, a copy of which was sent to my house for my review. Click image below.

The PR Company of a Milk Manufacturer also showed me research studies by prominent doctors and scientists.
PR Strategy based on Inaccurate Studies
I have problems with the Dr. Dennis R Hoffman (Phd) study on Recent Evidence that Dietary Supply of DHA and ARA in Early Infancy Leads to Possible Trends in IQ of 4-Year Olds. Allow me to show you some highlights.
1. The basis of the increase of 7 IQ points is this 2000 study called A Randomized Controlled Trial of Early Dietary Supply of Long-chain Polyunsaturated Fatty Acids and Mental Development in Term Infants You can Download the Study here (170 KB PDF file)
The study only dealt with a sample of 79 infants who were fed DHA and ARA supplementation of infant formula within 5 days of age. Only 58 infants completed the protocol until they were 18 months of age.
2. Another is the 2006 study on Visual Acuity and Cognitive Outcomes of 4 years of Age in a double-blind, randomized trial of long-chain polyunsaturated Fatty-acid-supplemented Infant Formula from the same group of scientists.
Only 52 infants were available for testing at 4 years of age. A breast fed group composed of 40 healthy infants provided the "gold standard" for comparison with formula-fed groups.
3. The advertorial shown to me by the PR Company was careful not to mention that another comparison group was the breastfed babies and that the DHA supplemented children had lower Verbal IQ scores than the breastfed kids after 4 years.
4. The PR company did not show me the largest scientifically designed study of breastfeeding ever conducted which concludes that breastfeeding raises children's IQs and improves their academic performance by Kramer MS et. al. released on May 6, 2008 . The study is called Breastfeeding and child cognitive development: new evidence from a large randomized trial. You can preview the Abstract here and another study on Effects of prolonged and exclusive breastfeeding on child behavior and maternal adjustment: evidence from a large, randomized trial. (88 KB PDF file)
The largest randomized trial ever conducted in the area of human lactation, provide strong evidence that prolonged and exclusive breastfeeding improves children's cognitive development. The sample size used was 17,046 healthy breastfeeding infants, of whom 13,889 (81.5%) were followed up at age 6.5 years.
Compare that to the measly 52 infants used in the Hoffman's study. No need to question the benefits of breastfeeding–'Res ipsa loquitor'–the thing speaks for itself.
Milk Company in Possible Violation of Philippine Code of Marketing of Breastmilk Substitutes (E.O. 51) that was signed in 1986.
What is my problem with the Promotional Strategy of Milk Companies?
1. I suspect that milk companies are going to claim that they are merely marketing milk for young children, not infants, therefore its milk product is not covered by the Milk code. Unfortunately, the Hoffman study that they are citing studied infants therefore the milk company is actually breaking the law with their claim of 'increased IQ' when the child drinks their supplemented milk.
2. Ever since the Milk Code was made into a law by virtue of President Cory's Executive Order 5, milk companies have become creative by marketing cow's milk as follow-on milk food, prenatal milk, milk for the elderly, etc. Still the same banana–all these undermine breastfeeding directly or indirectly by claiming these make our children and adults smarter and healthier.
3. Milk Company commercial ads are profoundly influential, especially with the masses. ""That's the problem with unethical marketing practices," Nona Castillo, one of the country's five International Board-Certified Lactation Consultants says. ""The ads make poor mothers feel deprived because they can't afford to buy infant formula. They will breastfeed their children because they have to, but if they get money, they will buy what is touted as a good product." Middle- and upper-class mothers have access to books and the Internet, where they can learn the facts about infant formula and breastfeeding. But poor mothers rely mostly on the ubiquitous TV, where formula ads are aired, day and night, for information. The result is a deeply ingrained belief that expensive, imported, and artificial is better than free, ideal, and natural.
I wish TV shows for the masses like Jessica Soho or Mel and Joey will feature a story on the merits of breastfeeding. If only they did, they are helping save the lives of Filipino children.
""The sad part of the advocacy is hearing mothers say 'I am breastfeeding because I am poor and I cannot buy this product'," says Castillo. ""Some even resort to stealing, and when you go to groceries you see pictures of mothers who were caught stealing cans of formula milk. It's actually painful."
Philippine Health Practitioners and Milk Formula Manufacturers
There are some doctors who are against the penalties for physicians and any health worker who prescribes milk formula when it is not indicated. There are specific disease conditions when any milk is harmful to the baby such as a metabolic problem like galactosemia. But this is so rare, why promote cow's milk for any and all problems that a new mother may encounter? You should have heard what these physicians said against the Milk Code—exactly the same arguments as the milk companies. Nakakahiya ang mga doktor na yan, trading our children's (and nation's) health for the protection of milk companies' profits.
What can we do?
1. Continue the breastfeeding advocacy: protection, promotion, and support. ""Protection means you fight those people who are fooling us. Promotion, that you make mothers want to breastfeed. And support, because even mothers who want to breastfeed need to be supported. They don't have models to guide them; their own mothers didn't do it anymore. And people around them are using bottles. So even if mothers decide to breastfeed, if there is nobody to help them, they end up succumbing to social pressure."
2. If you know any mother who has questions on breastfeeding, contact the breastfeeding clinic aside from their pediatrician or OB-gynecologist. I don't trust some doctors and other health practitioners anymore. I heard that some members of the Philippine Pedia Society got so disturbed by the new Revised Implementing Rules and Regulations (RIRR) for EO 51 RIRR of the Milk Code— nawalan ang mga pediatricians ng sponsors for their conventions and junkets. I know not all doctors are like these though.
3. Say NO to promo enticements from PR companies who support Milk Formula Manufacturers.
World Health Organization (WHO) has estimated that 16,000 children die every year from illnesses and complications caused by improper feeding practices, including the use of infant formula.
Help us save 16,000 Filipino children's lives every year and 1.5 million babies dying every year throughout the world, because they were not breastfed. This is a public emergency, but nobody seems to be noticing because babies cannot speak for themselves.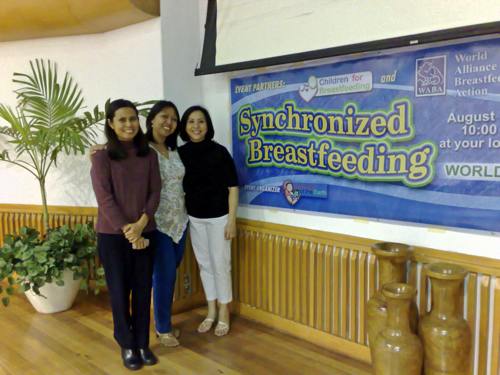 Left to Right: Nona D. Andaya-Castillo, Dr. Belen Lardizabal-Dofitas, and Elvira L. Henares-Esguerra during Synchronized Breastfeeding Event on August 8, 2007
Thank you to my sister, Dr. Belen Lardizabal-Dofitas, a dermatologist and breastfeeding advocate and Nona D. Andaya-Castillo and Dr. Elvira L. Henares-Esguerra, (two of the country's five International Board-Certified Lactation Consultants) for additional materials for this entry.
For questions on Breastfeeding, contact
The Breastfeeding Clinic:
Your Partner from Pregnancy to Parenting
(Managed by two International Board Certified Lactation Consultants)
Nona D. Andaya-Castillo, IBCLC
Elvira L. Henares-Esguerra, MD, FPDS, RPh, IBCLC
Telefax: 632-889-1105
Mobile: 63-919-839-5555
Breastfeeding Websites in the Philippines