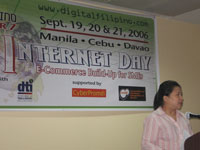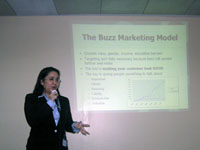 Yesterday , I celebrated One Internet Day which coincided with the Digital Filipino Club's 7th anniversary through the invitation of Janette Toral . I caught sight of J. Angelo live blogging during the event and Adrian.
This year's theme is E-Commerce Build-up for SMEs with topics on:
1. E-Commerce for National Competitiveness
2. Data Privacy and E-Commerce
3. Building Buzz with Blogs
4. State of E-Payment in the Philippines
5. New E-Commerce Opportunities
6. Making E-Commerce Work
But what caught my attention was Maoi Arroyo's talk on Buzz Marketing with Blogs. Take a look at this latest Blogosphere report (available only to Digital Filipino members which you should join if you're into e-commerce), there's an untapped way of talking to the young and upwardly mobile segment of Manilenyos:
18% of internet users read blogs
55% of bloggers are < 20 years old 20% of bloggers are between 20 to 29 years old 71% are male 84% are single 48% are students 97% have their own computers at home
So that means I belong to the 25% bracket of 30 years old and above bloggers and the 29% female blogger? Hey, that doesn't mean I have nothing better to do. It just means we , female oldie-bloggers know how to maximize the internet's capability other than just emailing or chatting.
Another aspect in building buzz with blogs is to pay attention to "long tail" influentials like Connie's
sassylawyer.com. Connie is so popular that her blog was mentioned twice by Maoi. I know that Connie cannot be easily influenced by PR practioners. Watching her on the Cheche Lazaro's ""Media in Focus", she mentioned that she will not compromise her blog having ads that are contrary to her food blog's theme. Corporations now realize that bloggers can create a buzz. Remember the Globe-Innove sponsored meet in Temple Bar? And there is blogcon sponsored by them for September 25. These corporations should be prepared for favorable and non-favorable feedback from bloggers. I even mentioned to Globe-Innove that you can learn a lot from your most difficult customer. Tomorrow, I got invited to an intimate gathering with them. I wonder what they have to say about their products and services this time. I do hope they offer superior services not available from other telecom providers.
Read related blogs on One Internet Day- Manila celebration: