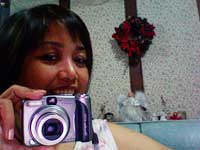 A month ago, I bought a new digital camera, a Canon Powershot A710 IS (Image Stablizer). You might have recalled I also bought a Canon Powershot A530 last June for a Boracay trip that never materialized. So why buy two cameras in a span of 4 months? Well I gave my old Canon Powershot A530 to L. Deprived of a digital camera for more than one year, L begged to have a new camera because it's her last year in Ateneo. I thought "L has learned her lesson so maybe it's time to give her a digital camera".
At the height of her blogging days, she had quite a collection of digital gadgets to enhance her blog entries. Unfortunately L seems to have a jinx with digital toys. I love L very much. Sadly, L just hasn't been lucky with anything containing "electronic chips" for the past two years. Let me count the ways:
1. For her 18th birthday, I bought her this nice camera phone. Two months after, the phone drowned as she slipped into the shallow waters of Tali Beach. She wanted to capture the breathtaking sunset. The dumbest thing one can ever do when a cellphone gets wet is to turn it on. Naturally, the battery will cause a short circuit, I told L. "Just remember to remove the battery when this happens and dry the phone"
2. Her Sony Cybershot digi cam together with her Panasonic Digital Camcorder w/ Still Mode/MP3/Voice Recording were stolen as she played a video game in the Power Plant Mall. She had placed the bag on the floor and was too preoccupied blasting away the enemies in the video screen . Little did she know that her bag was already snatched just a few feet away from her.
3. A sympathetic reader donated a part of the cost of a new digital camera, a Canon Ixus 430 in 2004. L used her savings and I pitched in the rest to buy this new camera costing 35,000 pesos in 2004. It was expensive because a 4 megapixel camera was a new thing back then. Barely a year after, she vacationed in San Francisco. As she toured one of San Francisco's aquariums, she slipped and the contents of her handbag fell into a pond. Her handbag's zipper was not zipped and the camera fell off head first . What did she do? She picked her camera and turned it on. ugh, read number 1 above. Don't turn on a wet electronic gadget.
There are a lot more. I cannot even fathom how her CPU's motherboard ended up in smoke.
L 's misadventures with digital gadgets is a mystery so I told her "Maybe you shouldn't have any digital gadgets for some time". And so it's been a year. Should I buy her a new camera that is less expensive? Or should I give her my camera and buy a new one for myself? I chose the latter after I got attracted to the features of this model, the Canon Powershot A710 IS. For someone who is farsighted with slightly shaky hands, this is the ideal camera for me. What I like about the features are:
6x optical zoom with optical Image Stabilizer
It takes great photos from a distance. I saw the clarity of my photos whenever I watch Philippine Idol at SM Cinema . Usually I am seated 3 to 4 seats behind the judges and still my photos are sharp when I use the 6x digital zoom. It also has Image stabilizer. Digital zoom photos are less likely to be blurry. Sensors inside the camera detect the tiny movements of your hands ("camera shake"), and a lens element is shifted to compensate for this motion (which often blurs your photos).
7.1 Mega Pixels
I love the vivid colors of my photos. I used to think there is no difference between a 5 megapixel and a 7 megapixel camera. The sharp and vibrant colors make a difference indeed.
2.5″ LCD with wide viewing angle and real-image optical viewfinder
I thought why would anyone want a wide viewing angle. In the dark ages, our analog cameras used a viewfinder to shoot a scene. A farsighted person like me found this functionality very pleasing to the eye.
I'm a big fan of cameras that use AA batteries because when I forget to charge the battery, I can easily buy buy off-the-shelf batteries when the rechargeables die. There are more exciting features but the three I mentioned above were the deciding factors for making the purchase. The cost is 23,000 pesos or roughly $460.00. It's just the perfect camera for an amateur photgrapher and the ideal companion of a photo blogger. L is now happy with her "slightly used" Canon camera.
With these cool features not found in my old camera, I've emerged as an eager photo blogger waiting for my next interesting subject. Sometimes I think my husband brings me to places just so I can happily click away with my camera. I'm loving the well-exposed photos, with pleasing colors and a nice "smooth" appearance.
And if you didn't know yet, photo galleries have income potential by monetizing it with Google Adsense, especially old photo galleries. I should know. I adopted L's abandoned photo gallery.
Actually, the title of this entry should have been The Two Canon Digital Cameras that Photo Blogging Bought *wink*