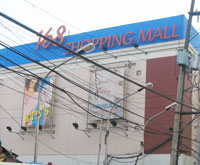 Shopping with my daughters is always an opportunity to bond with them. Stress and worry from schoolwork sometimes makes it difficult for them to really talk to us. When I ask how they are , a usual reply is "okay lang". I sometimes wonder if that means they are ok or they don't feel like talking about it yet. When I notice a little downtime, I treat them to shopping or a rejuvenating spa. I suggest "Do you want to go shopping or need a massage?" More often than not, the sparkle in their eyes show that they appreciate this gesture. So this is what I told L . "Since you have no classes on Thursdays, maybe we can shop in Divisoria" .
One unusual trait with L is her frugal nature. As a daughter, she is very generous giving everything she earns to us. But with clothes..no! She refuses to buy "branded" clothes. Her favorite shopping places are Divisoria or the "ukay-ukay" (thrift stores). I even gave her money to buy Levi's jeans but she won't hear of it. I often tell her that she should own at least a pair of Levi's jeans or splurge once a year on a branded dress. One day, she finally got a Levi's jeans only because she got it at a discounted price from a fund raising project of their Katipunan Magazine. L only buys if it is a bargain. Haayy. Her logic is clothes are so trendy that the next month, they just go out of fashion. She doesn't want to spend unecessarily on clothes, shoes or bags. Maybe she will change when she is working.
Isn't it silly that a mother is practically telling her daughter to splurge a little more on clothes?
Today, we went to Divisoria to buy materials for her crotchet gift project she planned to give her friends. We dropped by 168 Shopping Mall to see if there was anything new with this mall. Right now, 168 mall has more stalls and more interesting shopping finds compared to our June shopping adventure. The problem was the deluge of christmas shoppers.
The crowd at 9:00 AM was hampering our movements especially in the first floor. I bought two handbags and I could barely walk down the crowded aisles. Moving around was difficult. L bought a dress worth 250 pesos , a pair of shoes worth 200 pesos and a few belts and accessories. After buying my gym outfits, I discovered I could not continue shopping . (TIP: bring an assistant to help you carry the load) . We carried shopping bags that we could barely hold on to.
My plans to buy Christmas presents were aborted because of the maddening crowd. L and I proceeded to Tabora Street to buy her crotchet materials. Along the way, I saw this sidewalk vendor selling shopping bags. I asked "how much for the medium sized shopping bag?" The vendor replied "75 pesos". I bargained "50 pesos" and the vendor counteroffered a price of 60 pesos. My soft-hearted daughter was horrifed and gave me an exasperated look.
"Mom, you should never bargain with street or sidewalk vendors. They are earning an honest living. At least they are not begging in the streets. Give them the little profit."
Feeling guilty, I meekly explained myself "Trust me dear, their profit margin is quite high . The cost of the shopping bag is worth 30 pesos "
My daughter would not be appeased. "Let's not bargain if it's way too cheap and we can very well afford to pay for it".
My frugal daughter may be prudent with her savings but is quite soft-hearted to the poor. Maybe she feels guilty whenever she spends but sometimes I think she shouldn't be. I just wanted to hug her for her compassion. Such a sweet and generous daughter.
Traversing from Sta. Elena St. to Tabora St. seemed like Hell Road. The piercing heat and the stench of rotten food along the way caused my head to throb. But we finally got to the air-conditioned craft store. The array of pretty, colorful crotchet threads, buttons and beads kept L busy for the next thirty minutes.
Divisoria is a haven for wholesale shopping but it isn't worth it if one is buying a few pieces of an item. Maybe I will do my [tag]Christmas Shopping[/tag] at those popular Christmas Bazaars. I am so behind in my Christmas shopping. Are you?